NATO activates 5,000-strong task force for first time
By
Stars and Stripes
February 25, 2022
---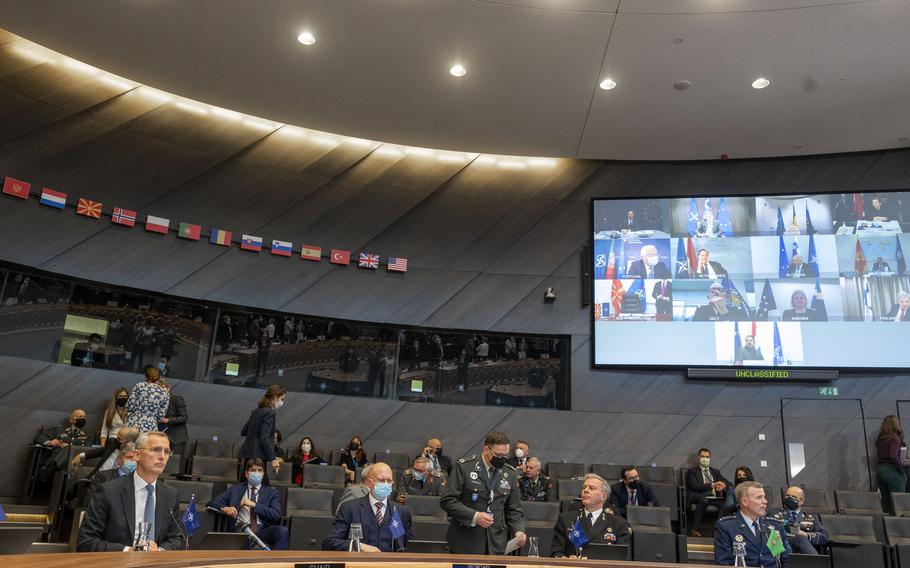 RZESZOW, Poland — NATO on Friday activated a spearhead force created in the aftermath of Russia's intervention in Ukraine eight years ago, marking the first time in alliance history that the quick response unit has been put into real-world action in Europe.
The decision, announced after President Joe Biden and other allied heads of state met for an emergency summit on the crisis in Ukraine, means thousands of additional forces will be headed to the eastern part of the alliance, NATO said.
"We have activated NATO's defense plans to prepare ourselves to respond to a range of contingencies and secure Alliance territory," NATO said in a statement.
Those plans include "drawing on our response forces," NATO said.
The 5,000-strong unit, formally known as the Very High Readiness Joint Task Force, is carved out of NATO's larger response force of 40,000 troops. Both the spearhead unit and other elements of the response force will deploy, NATO Secretary-General Jens Stoltenberg said. But not all 40,000 troops will mobilize at this time, he said.
"We are now making significant additional defensive deployments of forces to the eastern part of the Alliance," the NATO statement said. "We will make all deployments necessary to ensure strong and credible deterrence and defense across the Alliance, now and in the future."
NATO's spearhead force is intended to respond to a crisis within about five days, but it is capable of deploying within 48 hours when there are signs of trouble.
NATO's response forces have all been at a higher levels of alert for weeks as allies watched Russia mass troops around Ukraine's border.
The decision to mobilize the spearhead unit, currently led by the French with supporting German forces, is a political victory for the 30-member security pact, which requires unanimous support for decisions.
Questions have long persisted about whether allies would be able to reach consensus, given differing views and threat perceptions related to Russia.
Germany typically has been among the most reluctant of NATO allies when it comes to taking military steps that could be viewed as provocative by Moscow. But Germany on Friday said its forces were ready.
"Together, we are ready if needed," Germany's diplomatic mission to NATO said in a Twitter post Friday.
Stoltenberg said Friday that Russia's actions mean "shattered peace in Europe."
"We must stand ready to do more even if it means we have to pay a price, because we are in this for the long haul," Stoltenberg said. vandiver.john@stripes.com Twitter: @john_vandiver
---
---
---
---