Restart of large-scale military drills reinvigorates anti-war protesters in South Korea
By
Stars and Stripes
September 7, 2022
---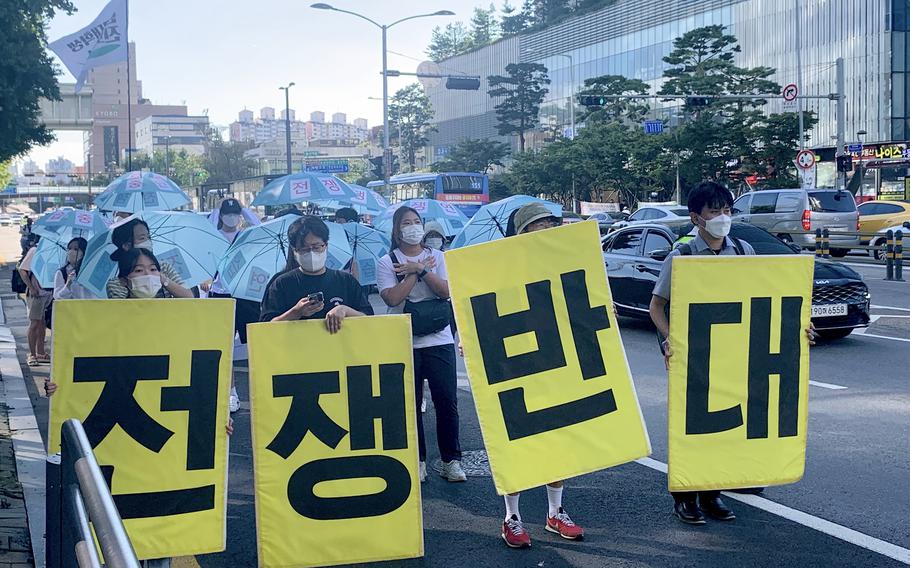 SEOUL, South Korea — The recent end to a five-year pause in large-scale military exercises by the United States and South Korea has reinvigorated critics who view them as unnecessary and shielded by a lack of information.
The start of Ulchi Freedom Shield on Aug. 22 also opened a protest season in Seoul. While the allied armies kept details of the exercise purposefully vague, its opponents marched on the streets of the capital. The military drills ended Sept. 1.
Lee Seung-Bin, 28, a semiconductor engineering student taking part in a protest Aug. 27, was skeptical of the claim by the Ministry of National Defense and U.S. Forces Korea that the exercise improves the defense of South Korea against a North Korean attack.
"The fact is that this is not an exercise of a defensive nature but an exercise for attacks against North Korea," Lee told Stars and Stripes. "It is too obvious that these drills do not bring peace to the Korean Peninsula but can cause confrontation between North Korea and the U.S. and a war crisis."
Lee was one of nearly 150 protesters who marched more than two miles on the Hangang River Bridge toward the busy streets of Seoul. The protest was one of several this year organized by the Korean Confederation of Trade Unions. With over a million members, it is one of the largest trade unions in the country, according to a Ministry of Employment and Labor survey in 2020.
Anti-war demonstrations have become a common sight in Seoul and around military bases in South Korea. Roughly a week before the start of Ulchi Freedom Shield, an estimated 7,000 protesters marched in the capital city, according to local news reports.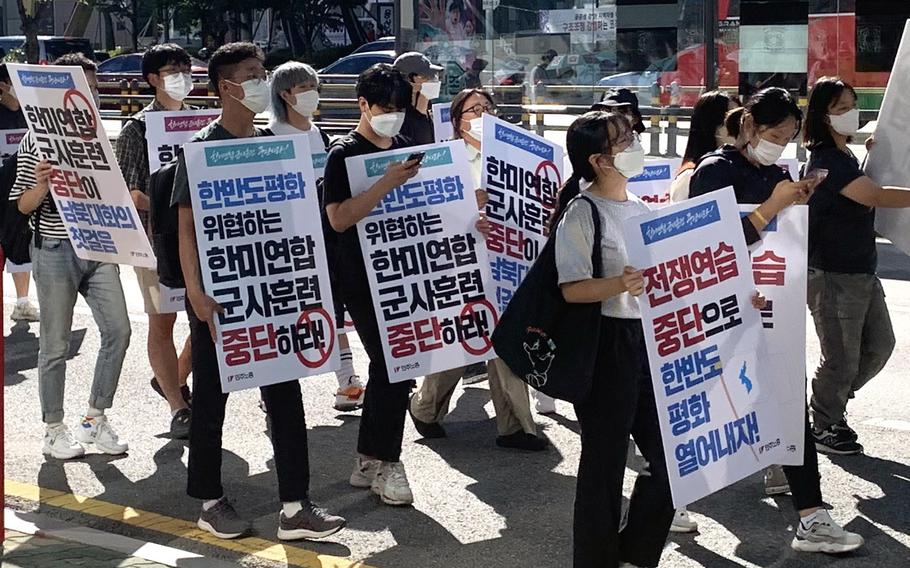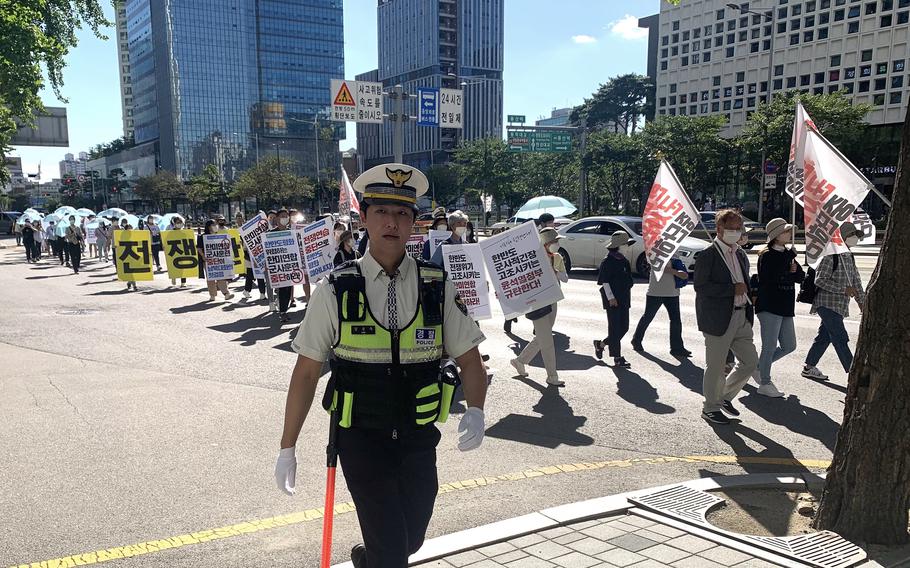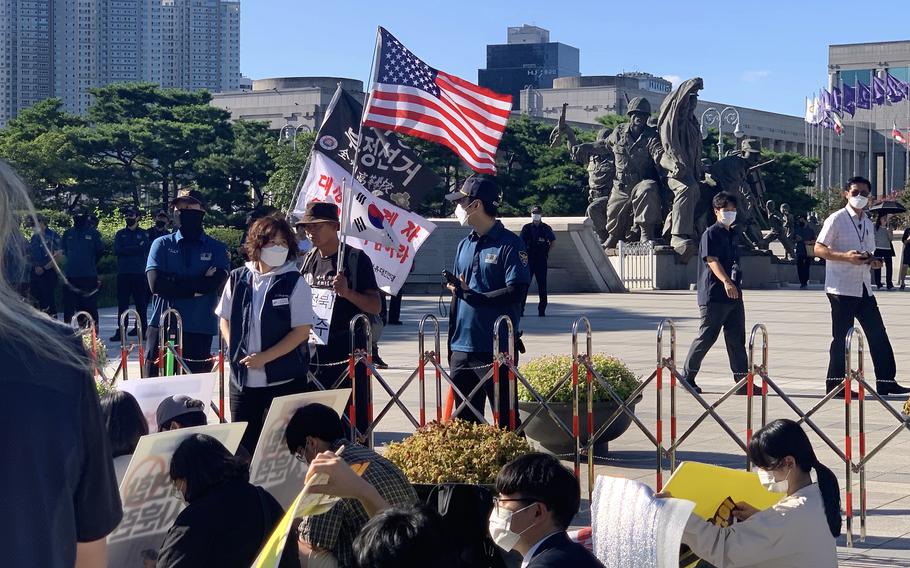 Protests outside Yongsan Garrison in Seoul and 40 miles south at Camp Humphreys prompted gate closures and text-message warnings from the Defense Department to avoid the area. Outside Humphreys, activists took turns holding banners with messages criticizing their government's relationship with Washington.
In Seongju, roughly 130 miles south of the capital, protesters have regularly staged demonstrations in front of a South Korean military base that has housed the U.S.-made Terminal High Altitude Area Defense, or THAAD, system since 2017. Protesters there previously blocked roads leading into the base and prevented the delivery of supplies.
Transparency issues
Military commanders from both countries say Ulchi Freedom Shield, suspended since 2017 while previous South Korean and U.S. administrations negotiated with North Korean leader Kim Jong Un for his nation's nuclear disarmament, continue a broader strategic partnership forged in the crucible of the Korean War. They see the exercises as a deterrent to Kim's provocations, including a record of more than 30 ballistic missile tests in 18 rounds this year, so far.
USFK, which commands 28,500 U.S. troops in South Korea, rescheduled the biennial training event after South Korean President Yoon Suk Yeol took office in May.
Yoon resumed the exercises that Donald Trump and Moon Jae-in, at the time their countries' chief executives, suspended while they met with Kim. The 11-day Ulchi Freedom Shield exercise is named after a seventh century Korean general.
USFK has not publicly released detailed information on Ulchi Freedom Shield, such as troop numbers, the nature of the exercises or their locations. Media access was restricted.
A single press release announced the start of the exercise and a two-sentence statement on Twitter announced its end. In previous years, USFK documented the exercises with regular updates and photographs.
The lack of transparency has bolstered protesters' calls for the military drills to end and for more government transparency.
"I believe no one would respond positively to this exercise if they got to know the explanations about the realities of this [South Korea]-U.S. joint military drill and its details," said Lee, the engineering student.
Lee was part of an orderly column of protestors of all ages carrying banners and shouting chants. A small pickup truck led the way, with a speaker playing the group's anthem, as well as critiques of the exercise and Yoon's administration.
Dozens of uniformed police officers directed traffic away from the demonstration while escorting the group. As the protesters crossed a street, the police detachment handed them off to another detachment.
At the War Memorial Hall of Korea, the protesters settled in on the sidewalk. The small truck's cargo bed unfolded into a stage where protest leaders made brief remarks to activists sitting on foam mats handed out by the event organizers. The marchers, admonished to stay hydrated, drank water and snacked on strawberries.
'War crises'
Park Mina, 26, a university student studying Korean language and literature, said she and her family grew up near the 38th parallel, the northern latitude line that roughly separates North and South Korea.
Along that line there are "war crises whenever these exercises are held," she said.
"My friends who know of these problems would like to participate at least once, knowing that things like these [protests] are just and right," Park said. "College students aren't really aware about these things because they have to study and prepare for the job market."
Progressive South Korean lawmakers express reservations about the exercise but stop short of dismissing the U.S.-South Korean military alliance.
The exercise is vital for South Korea's defense, but it must be narrow in scope to avoid escalating tensions, according to an email to Stars and Stripes from the office of National Assembly member Bae Jingyo of the liberal Justice Party.
"South Korea is the only divided country in the world in particular," the statement said. "There may be a positive aspect to evaluate what the scale of national defense and combat capabilities [South Korea] … has."
Maintaining the alliance between Seoul and Washington is important, Bae's office said, but "it is inappropriate that the exercise unnecessarily exacerbates anxiety of South Koreans or is used according to political stances of political circles."
Stars and Stripes reporter Yoo Kyong Chang contributed to this report.
---
---
---
---