US, South Korea kick off 'counterattack' phase of Ulchi Freedom Shield exercise
By
Stars and Stripes
August 29, 2022
---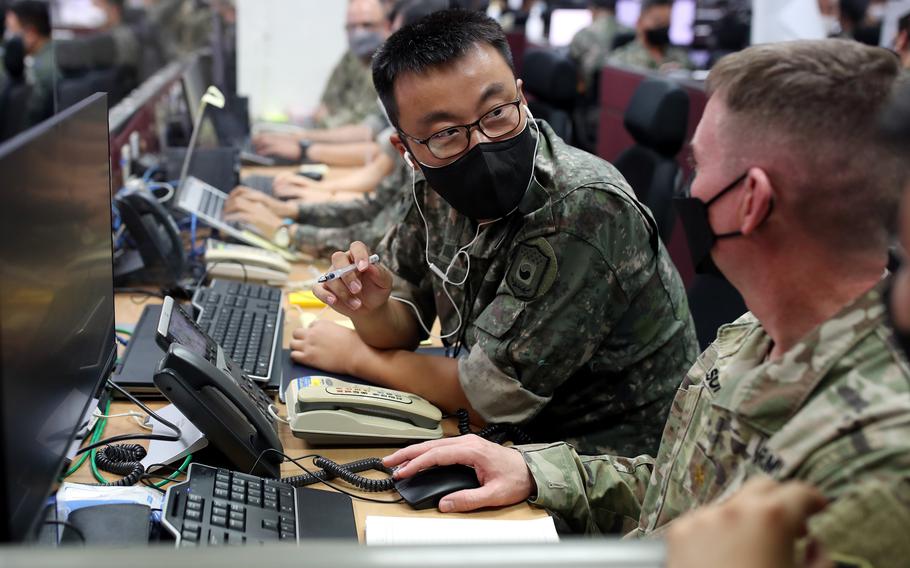 CAMP HUMPHREYS, South Korea — American and South Korean forces on Monday commenced the second phase of their largest joint exercise in five years, marking another milestone in Seoul's attempts to take wartime control of its military.
Ulchi Freedom Shield, the 11-day military drill ending Thursday, has entered the "counterattack operations" phase, a South Korean Ministry of National Defense official told Stars and Stripes by phone Monday.
The second phase aims "to ensure [South Korea's] safety in response to enemy attacks," the ministry official said.
North Korea condemns the exercises as rehearsals for invasions of its territory; U.S. and South Korean military chiefs say they are preparations for defense against a North Korean attack.
The communist regime has made preparations for its first nuclear weapons test since 2017, U.S. and South Korean defense officials warned since July.
The training sites, troop numbers and other details have not been publicly disclosed by the United States and South Korean military. U.S. Forces Korea, the military command responsible for the roughly 28,500 troops on the peninsula, has said it does not comment on ongoing training as a matter of policy.
Military units are taking part in field exercises and in computer simulations "all over the country," the ministry official said.
South Korean officials customarily speak to the media under the condition of anonymity.
Media access to Ulchi Freedom Shield has been scant. Publicly released information has been limited to a few news releases and photographs of USFK commander Gen. Paul LaCamera and Defense Minister Lee Jong-sup discussing the operations at a command bunker near Seoul.
Information about the counterattack training is unavailable, but in previous exercises the two allies have focused on a central theme, said Yang Uk, an associate research fellow at the Asan Institute for Policy Studies in Seoul.
"It could be a limited attack or a full-scale attack" from an adversary, he told Stars and Stripes by phone Monday. "There's many aspects to war that you cannot train for all at once; each year, you have to specify and have a theme."
By focusing on a central theme, the military can train for several versions of that scenario, he said.
Yang said this year's exercise is "really important" and its theme is likely related to South Korea's overall defense capabilities.
Exercises like Ulchi Freedom Shield are one of many requirements South Korea's military must satisfy for the U.S. to relinquish its wartime authority, according to the numerous, evolving bilateral agreements spanning several presidential administrations, including most recently between Defense Secretary Lloyd Austin and his South Korean counterpart, Suh Wook, in 2021.
Seoul retains control of its military in peacetime; however, that authority will be superseded by Washington in the event of war.
South Korea's military has been undergoing a decades-long evaluation by its U.S. counterpart for more autonomy. USFK announced in a news release Aug. 23 that a South Korean army general would lead the large-scale exercise alongside the command's chief for the first time, one of the requirements set out by the defense leaders from both countries.
The exercise was suspended after 2017, when then-President Donald Trump and then-South Korean President Moon Jae-in negotiated with North Korean leader Kim Jong Un for denuclearization.
That suspension was lifted when South Korean President Yoon Suk Yeol took office in May after campaigning for stronger military ties with the U.S.
---
---
---
---