South Korean trade unions say joint military drills with US fuel 'war crisis'
By
Stars and Stripes
August 26, 2022
---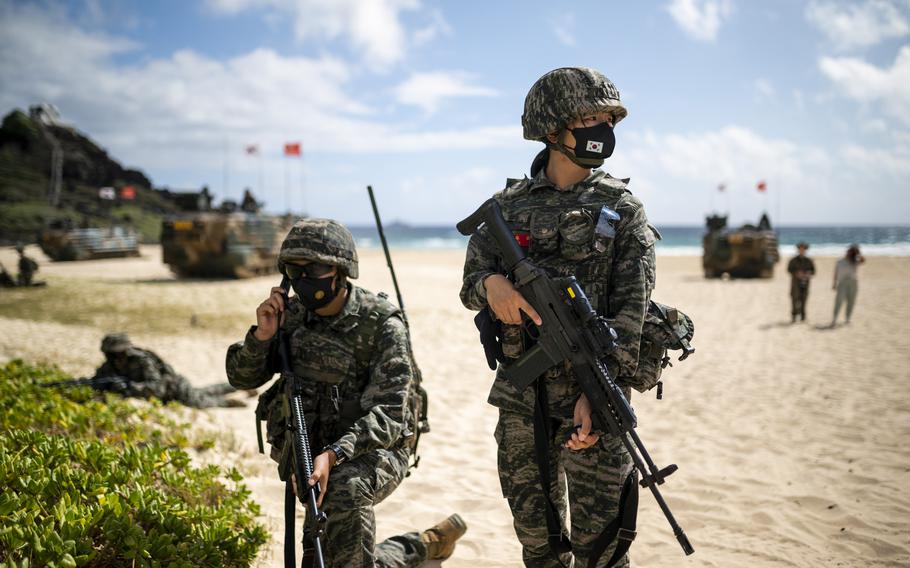 CAMP HUMPHREYS, South Korea — Representatives of South Korea's largest trade unions are warning that Ulchi Freedom Shield, the largest military exercise by the U.S. and South Korea in five years, runs counter to their members' interests.
The Korean Confederation of Trade Unions and the Federation of Korean Trade Unions together claim more than 2 million members working in government, schools, public transportation and the automotive and food industries.
Their street demonstrations against the large-scale drills have been frequent sights outside the presidential office in Seoul and U.S. bases like Camp Humphreys since the start of Ulchi Freedom Shield on Aug. 22.
"If a war breaks out, those who will suffer from the war are our people: workers and laborers," Lee Jihyun, spokeswoman for the Federation of Korean Trade Unions, told Stars and Stripes by phone Thursday.
The federation is focused on stopping the exercise because it raises "issues that are directly related to our people's safety and lives," she said.
The 11-day field exercise possibly involves thousands of troops and ends Sept. 1. Past versions saw up to 50,000 South Korean and 17,500 U.S. troops.
The annual drills were suspended in 2018 when now former Presidents Donald Trump and Moon Jae-in of South Korea met North Korean leader Kim Jong Un in a series of summit meetings to negotiate an end to the North's nuclear weapons program.
The five-year pause gave way as Pyongyang accelerated the pace of missile launches to more than 30 during 18 rounds of tests so far this year, a record. National security officials in the U.S. and South Korea have also said North Korea is prepared to test a nuclear device.
"The drill raises military tensions," An Hye Young, unification director of the Korean Confederation of Trade Unions, told Stars and Stripes by phone on Wednesday. "After the cease fire agreement [ending the Korean War in 1953], South and North Korea should keep talking with each other and be together on paths towards Korean unification."
The Korean Confederation of Trade Unions has a goal to facilitate the reunification of North and South Korea, An said.
Trump scrapped the exercise as "very provocative" and costing "a fortune," the former president said during an interview with ABC News in 2018. Holding the annual exercise was not prudent, particularly as he and Kim were "getting along" at the time, he said.
This year, U.S. Forces Korea and its South Korean counterpart have released few details on the scale of Ulchi Freedom Shield, other than a handful of photographs. USFK, which controls roughly 28,500 troops in South Korea, does not comment on ongoing training as a matter of policy.
North Korea routinely condemns U.S. and South Korean military exercises as rehearsals for the invasion of its territory. U.S. and South Korean officials describe the exercises as defensive in nature.
The defense of South Korea must be "urgently prepared" in light of threats from North Korea, South Korean President Yoon Suk Yeol said Wednesday, according to the presidential office.
An is skeptical, she said. The latest version of Ulchi Freedom Shield, she said, "is a war game targeting North Korea … and the U.S. should stop it right now."
"Is this a relationship between equal countries?" An asked. "Our country has been pushed around by the U.S. and has been sending its troops here and there when requested, such as the military drills in the Indo-Pacific region and so forth. Is this for our people?"
Lee said the U.S.-South Korean military alliance is critical to the nation's security.
But "we believe that this is not an imperatively necessary exercise that we must have," she said.
"We believe that this exercise heightens a war crisis on the Korean Peninsula, incurs great expense and contravenes inter-Korean agreements," Lee said. "Is it necessary to blow up a war crisis by carrying out this exercise obstinately?"
Stars and Stripes reporter Yoo Kyong Chang contributed to this report.
---
---
---
---