South Korean general takes reins of large-scale joint military exercise for first time
By
Stars and Stripes
August 24, 2022
---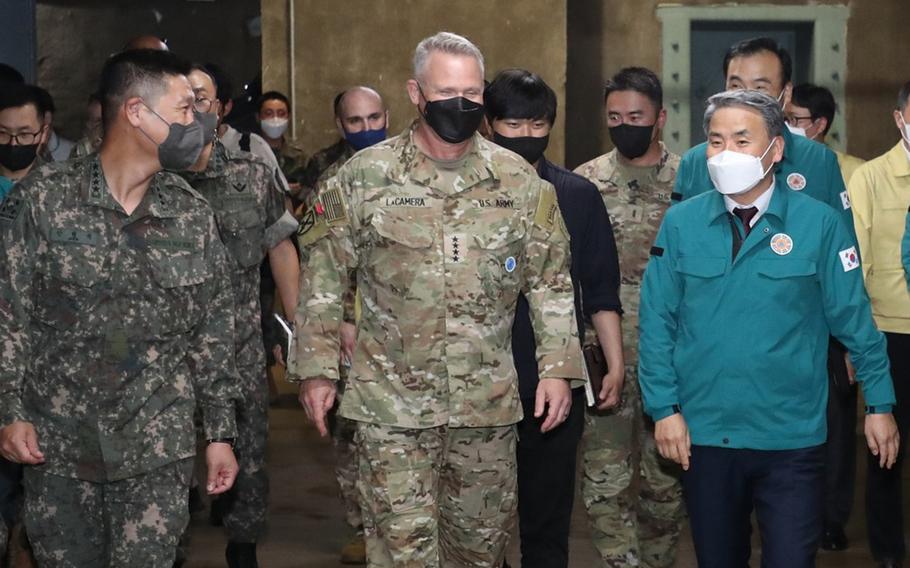 CAMP HUMPHREYS, South Korea — A South Korean general for the first time is sharing command of one of the largest military exercises with U.S. forces on the peninsula.
South Korean army Gen. Ahn Byung-Seok, deputy commander of Combined Forces Command, is leading the Ulchi Freedom Shield exercise with U.S. Forces Korea commander Gen. Paul LaCamera, USFK said in a news release Tuesday evening.
Ahn "will switch duties and responsibilities" with LaCamera during the 11-day exercise, the release said.
LaCamera also leads U.N. Command and Combined Forces Command, which is responsible for 600,000 U.S. and South Korean troops and up to 3.5 million South Korean reservists. Roughly 28,500 U.S. troops are stationed on the peninsula.
Ahn is the second-highest ranking leader of Combined Forces Command, one of the three major military commands responsible for the immediate defense of South Korea. The country's unique military hierarchical structure typically places South Korean generals as deputies in Combined Forces Command, second only to an American general.
The military exercise, named after Eulji Mundeok, a 7th century Korean general, kicked off Monday and ends Sept. 1.
Large-scale exercises between Seoul and Washington were suspended for five years as then-President Donald Trump, then-South Korean President Moon Jae-in and North Korean leader Kim Jong Un negotiated for Pyongyang's denuclearization.
South Korean President Yoon Suk Yeol lifted that suspension after his inauguration in May. Yoon, a member of the conservative People Power Party, pledged during his campaign to restart the exercises and strengthen the country's alliance with the United States.
Neither USFK nor South Korea's Ministry of National Defense have disclosed how many troops are taking part in the exercise; previous large-scale drills consisted of up to 50,000 South Korean and 17,500 American troops.
Defense Secretary Lloyd Austin agreed with South Korea's then-Defense Minister Suh Wook last year to have a South Korean general lead Combined Forces Command with his American counterpart during the exercise, according to the release.
South Korea's military structure retains its decades-old ties to the U.S. military due to the 1950-53 Korean War ending with an armistice rather than a peace treaty. South Korea took control of its peacetime military in 1994. However, U.S. military authority still supersedes Seoul's in a conflict.
The joint exercise is just one of several requirements, most of which are classified, South Korea must satisfy before the U.S. transfers wartime operational control of the military.
A successful performance by South Korea's military during the exercise would not necessarily result in a quick return of wartime operational control to South Korea, according to professor Hwang Jaeho of the Hankuk University of Foreign Studies in Seoul.
"The way I see it, the transition will be very difficult," he told Stars and Stripes by phone on Wednesday. "Even if South Korea earnestly talks and desires for change, because it is a political issue rather than a military issue, it will probably take ages until we actually see this transition being made."
The North Korean state-run news outlet Uriminzokkiri, or With Our People, on Monday criticized the U.S. and South Korea for partaking "in the most adventurous actual warfare exercise" designed to invade its country.
"How could anybody only see a terribly dangerous tumult playing with fire at the front door of the person's home," a columnist wrote. "Military drills committed by the invading forces surely have military responses corresponding to them."
Stars and Stripes reporter Yoo Kyong Chang contributed to this report.
---
---
---
---