South Korean cabinet minister proposes swap of military observers with North
By
Stars and Stripes
August 18, 2022
---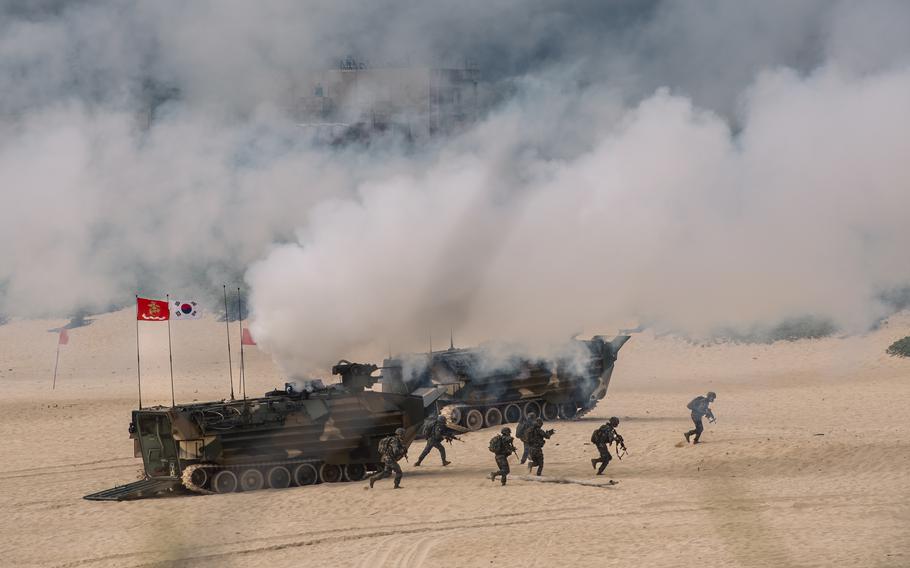 CAMP HUMPHREYS, South Korea — Military drills with the United States are nonnegotiable as South Korea looks for incentives to bring North Korea to the nuclear bargaining table, a South Korean cabinet minister said Wednesday.
Diplomatic overtures this week to North Korea by the South's president, Yoon Suk Yeol, do not extend to canceling upcoming exercises involving large numbers of U.S. and South Korean troops, the first of their kind since 2017, Minister of Unification Kwon Young-se said on Korean Broadcasting Radio.
But Kwon floated the idea of exchanging a "viewer group" from the North and South to observe each other's exercises to build trust.
If North Korea and the South were transparent about their exercises, Kwon said, that may lead to "trust building" between the two countries.
"It would be alright if you could think military trust-building is that both sides conduct military drills respectively and create situations that both sides can understand that their exercises are purely defensive exercises," Kwon said.
On Tuesday, Yoon offered to boost North Korea's economy and improve the livelihood of its citizens in exchange for Pyongyang's earnest steps toward denuclearization. He called his plan, unveiled in his Liberation Day speech, an "audacious initiative" toward North Korea.
"We will also help enhance North Korea's agricultural productivity, offer assistance to modernize hospitals and medical infrastructure, and implement international investment and financial support initiatives," Yoon said in his speech.
North Korea's Foreign Ministry frequently disparages the allies' military drills as rehearsals for an invasion of its country and demands they discontinue the provocative behavior.
"Maybe we could talk with [North Korea] about any issue in principle," Kwon said. "But there are parts we should not concede even though it is an audacious initiative, right?"
The U.S.-South Korean military exercises are defensive in nature, Kwon said, adding that North Korea conducts its own exercises.
The U.S. and South Korea plan to resume large-scale exercises after a five-year pause during which their leaders unsuccessfully negotiated with its leader, Kim Jong Un, for the North's nuclear disarmament. The annual exercises were suspended to lower tensions on the Korean Peninsula as then-President Donald Trump and then-South Korean President Moon Jae-in met with Kim several times.
Yoon, a conservative member of the People Power Party, after his inauguration in May agreed to lift the suspension and planning for the drills resumed with the United States.
Ulchi Freedom Shield, previously known as Ulchi Freedom Guardian and Combined Command Post Training, is scheduled to start Monday and end Sept. 1. Another large-scale exercise, Freedom Shield, is scheduled for early next year.
Details of the exercises, such as troop numbers, have not been publicly released; however, previous iterations included around 50,000 South Korean and 17,500 U.S. troops. U.S. Forces Korea oversees roughly 28,500 U.S. troops in South Korea.
North Korea continues to frustrate regional patience with its missile tests. The communist regime fired two cruise missiles off its western coast on Wednesday morning, according to South Korea's Ministry of Defense. The missile launches were North Korea's 18th round of missile tests so far this year.
U.S. and South Korean intelligence officials also believe North Korea is ready for its first nuclear test since 2017. During a South Korean parliamentary committee meeting on Thursday, Kwon told lawmakers the North has yet to conduct its seventh test of a nuclear device.
"We think [North Korea] has been taking in all kinds of political considerations, though it is hard for us to say definitely," Kwon said.
Stars and Stripes reporter Yoo Kyong Chang contributed to this report.
---
---
---
---