US, South Korean militaries mum on details of upcoming Ulchi Freedom Shield exercise
By
Stars and Stripes
August 16, 2022
---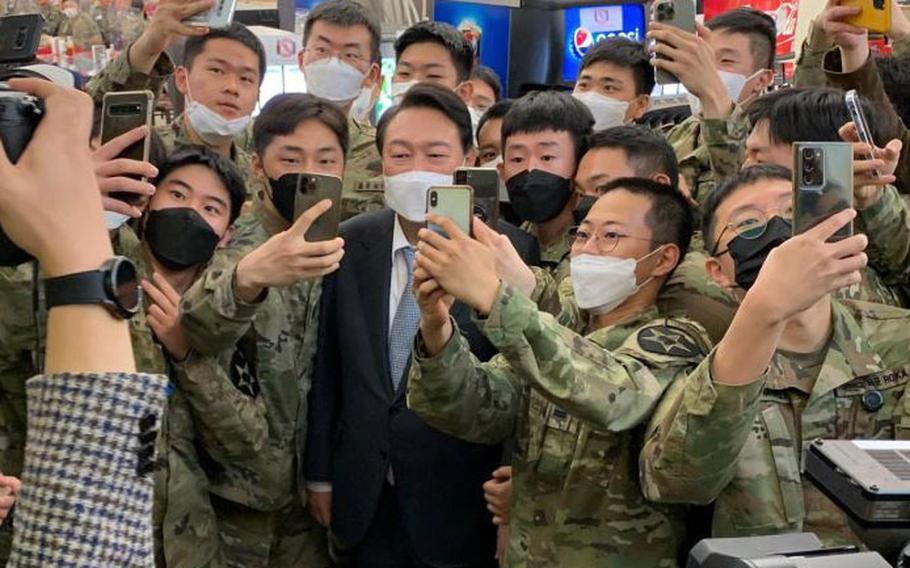 CAMP HUMPHREYS, South Korea — The United States and South Korea kicked off a four-day preliminary drill Tuesday in preparation for their largest military exercise in five years.
The preliminary drill, which consists of training simulations, ends Friday and is the precursor to Ulchi Freedom Shield, the first large-scale command-post exercise between the U.S. and South Korea since 2017, according to a Ministry of Defense news release.
Ulchi Freedom Shield, named after Eulji Mundeok, a 7th century Korean general, is scheduled to start Monday and end Sept. 1. The exercise was known as Ulchi Freedom Guardian between 2008 to 2018 and as Combined Command Post Training from 2019 to 2021.
Ulchi Freedom Shield is one of two major exercises traditionally conducted annually by the U.S. and South Korea. Exercise Freedom Shield is scheduled for early next year.
Exact troop numbers and equipment used for the upcoming exercise have not been publicly released by U.S. Forces Korea or the Ministry of Defense. During Ulchi Freedom Guardian in 2017, around 50,000 South Korean and 17,500 U.S. service members were used for the air, land and sea drills. USFK has roughly 28,500 U.S. troops in South Korea.
The military will take precautions to combat the spread of COVID-19, Defense Ministry officials said at a news briefing on Thursday. All participants are required to test negative on a polymerase chain reaction, or PCR, test prior to the start date and a self-test two to three times a week during the exercise.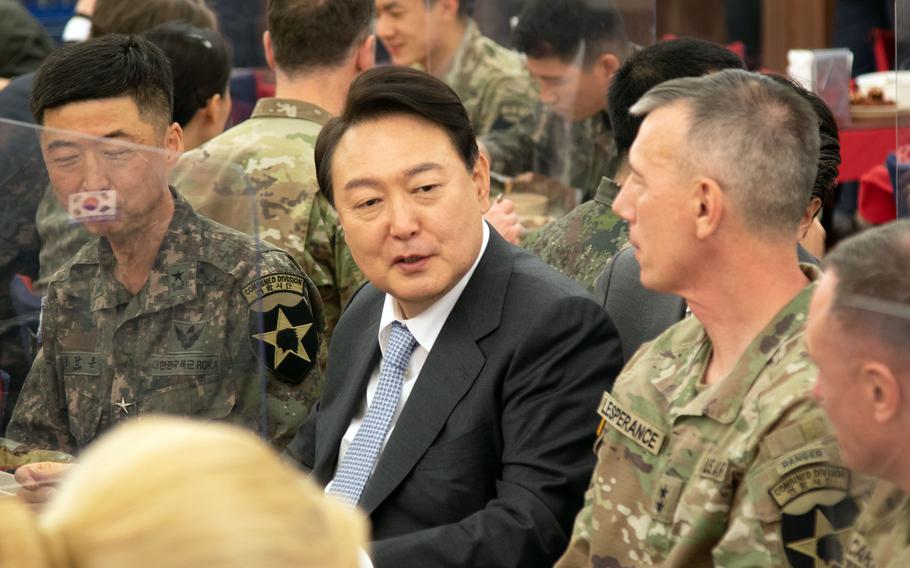 USFK spokesman Wesley Hayes in an emailed statement Thursday said he could not comment on upcoming training as a matter of policy but added that "protection of the force remains our number one priority."
The two annual exercises were downgraded to computer simulations in 2018 as then-Presidents Donald Trump and Moon Jae-in of South Korea negotiated with North Korean leader Kim Jong Un for the denuclearization of his country. The North's propaganda outlets frequently bristle at the U.S.-South Korea military exercises and claim they are a rehearsal for an invasion.
Planning for the large-scale military drills resumed after the collapse of the Trump-Kim summit at Hanoi, Vietnam, in 2019 and the inauguration of South Korean President Yoon Suk Yeol in May. Following his first meeting with President Joe Biden in July, Yoon, a member of the conservative People Power Party, said the two leaders would "step up" their joint military training.
The U.S. and South Korea characterize the drills as defensive exercises meant to reinforce their alliance in light of North Korea's provocations.
"We could say that there is a big meaning in this joint exercise — that South Korea and the U.S. are rebuilding the alliance between them and establishing a firm combined defense posture by normalizing the [South Korean-U.S.] joint drills and field training exercises," the Defense Ministry said in a news release Tuesday.
Ulchi Freedom Shield comes roughly two months after North Korea last conducted a missile test, its 17th so far this year. Pyongyang, which continues to accuse Washington and Seoul of destabilizing the region, is also believed to be preparing for a nuclear test, according to U.S. and South Korean government officials.
State Department spokesman Ned Price in a news briefing Monday told reporters that loosening existing sanctions against North Korea "is a complete hypothetical at this point because [North Korea] has heretofore not demonstrated any indication that they are interested in diplomacy or dialogue."
"We have continued to make clear that, for our part, for the part of some of our allies and partners, we are prepared for that dialogue and diplomacy" with North Korea, Price said.
---
---
---
---