North Korea launches cruise missiles as South's president marks 100th day in office
By
Stars and Stripes
August 17, 2022
---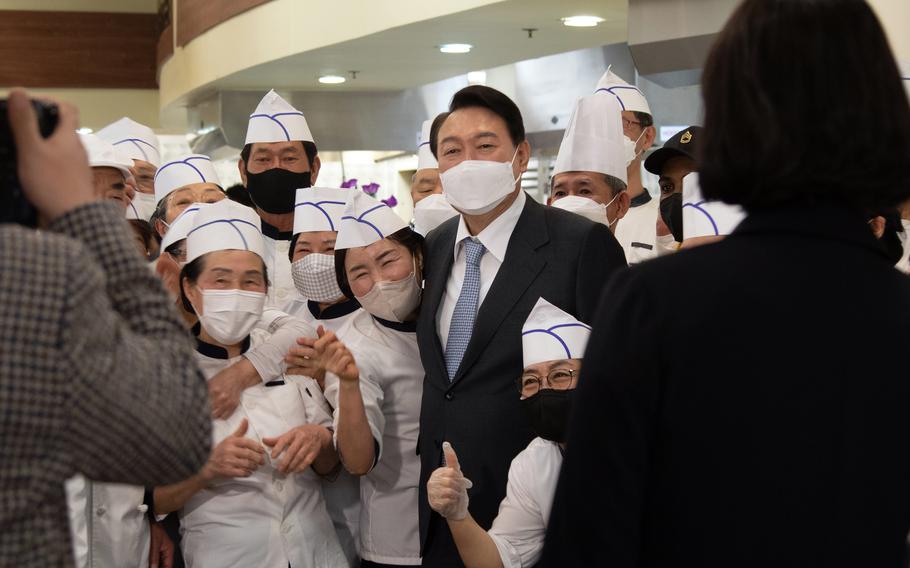 CAMP HUMPHREYS, South Korea — North Korea fired two cruise missiles toward the Yellow Sea on Wednesday, hours before South Korea's president again publicly offered economic incentives if the communist regime curtails its nuclear weapons program.
The missiles were launched around dawn from South Pyongan province toward the west coast, the South Korean Ministry of Defense said in a statement to reporters. South Korean and U.S. intelligence agencies were analyzing the launches, the ministry said.
The U.N. Security Council prohibits North Korea from launching ballistic missiles. Cruise missiles, however, are not banned.
Around 10 a.m., South Korean President Yoon Suk Yeol delivered a speech marking his 100th day in office. He spoke an hour after a meeting of the country's senior security officials.
In his remarks, Yoon repeated an offer of economic assistance he made the previous day. The offer is conditioned on North Korea displaying a "firm will" toward denuclearization, he said.
"If North Korea changes naturally as the results of a variety of our economic and diplomatic support toward North Korea, we welcome the changes," the president said.
Yoon made a similar offer to North Korea on Tuesday during his Liberation Day speech. The national holiday marks the end of Japanese rule in 1945.
Yoon offered an "audacious initiative" to boost North Korea's economy and livelihood if it stops its nuclear weapons program. He floated several incentives, including agricultural assistance and modernization of the regime's medical infrastructure.
After that speech, State Department spokesman Ned Price said the U.S. "strongly" supports South Korea's "aim to open a path for serious and sustained diplomacy with Pyongyang."
"Our shared goal, shared with [South Korea], as well as our other allies and partners, is the complete denuclearization of the Korean Peninsula, and we'll continue to coordinate closely with the Yoon administration to this end," Price said.
Yoon's speech on Wednesday made no mention of repercussions for further provocations by North Korea. He focused instead on strengthening the South's military and its alliance with the United States.
His administration does not support "changes by force" against North Korea, an apparent reference to challenging leader Kim Jong Un's rule, Yoon said.
"The most important thing is sustainable peace settlement between South and North Korea," he said.
The cruise missile launches mark North Korea's 18th round of testing — more than 30 missiles in total — so far this year. The communist regime last fired an unprecedented eight short-range missiles on June 5.
U.S. and South Korean officials have suspected for several months that Pyongyang is preparing for its seventh nuclear test. Kim's sister, Kim Yo Jong, in April threatened that North Korea's "nuclear combat force will have to inevitably carry out its duty" in a conflict. The North's most recent underground nuclear test was carried out in 2017.
U.S. and South Korean troops are preparing for their largest military exercise in five years. Ulchi Freedom Shield, the first large-scale command-post exercise between the two countries since 2017, is scheduled from Monday to Sept. 1. A four-day preliminary drill in preparation for the drills started Tuesday and ends Friday.
North Korea's propaganda outlets criticize the joint military exercises and regularly threaten to retaliate against the U.S. and South Korea. 
Stars and Stripes reporter Yoo Kyong Chang contributed to this report.
---
---
---
---