South Korean president makes 'audacious' offer to North Korea in Liberation Day speech
By
Stars and Stripes
August 15, 2022
---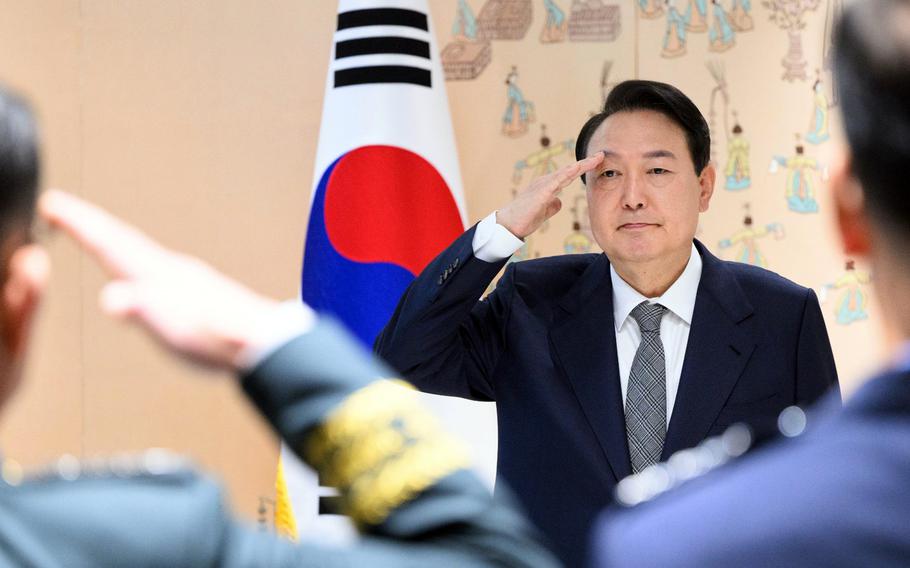 CAMP HUMPHREYS, South Korea — South Korea will provide economic incentives to North Korea if it halts its nuclear program, South Korean President Yoon Suk Yeol said in the annual Liberation Day speech on Monday.
He also promised closer cooperation on regional security with Japan, the end of whose 35-year colonial rule in the previous century the holiday celebrates. The two nations, though regional partners through the United States, sometimes clash over leftover historic issues.
The president's speech on Liberation Day is traditionally viewed as a blueprint for upcoming policies and pays homage to revolutionary figureheads who helped free the country from Japanese rule.
Yoon used his speech to float an "audacious initiative" that he said would improve North Korea's economy if it stops developing its nuclear program and takes earnest steps toward denuclearization. Yoon held out to Pyongyang several incentives, including a large-scale food program, power generation assistance and modernization of ports and airports.
"We will also help enhance North Korea's agricultural productivity, offer assistance to modernize hospitals and medical infrastructure, and implement international investment and financial support initiatives," he said.
Yoon mentioned no repercussions if the North fails to scrap its nuclear arsenal, but he previously threatened a unified response with the U.S. if the North continues its "provocations" and called for strengthening the South's missile defense systems.
North Korea so far this year has conducted 17 rounds of missile tests. South Korean government officials also believe the North is preparing for its seventh underground nuclear test and its first since 2017.
South Korean Defense Minister Lee Jong-sup in a news conference on Thursday said a North Korean nuclear test would prompt an "entirely different" response from the South.
Pyongyang, he said, must denuclearize to achieve "sustainable peace on the Korean Peninsula, in Northeast Asia and around the world."
Yoon, who was inaugurated in May, campaigned on bridging the divide between Seoul and Tokyo after diplomatic relations ebbed under former South Korean President Moon Jae-in and former Japanese Prime Minister Shinzo Abe. The persisting issues include territorial disputes over nearby islets and differences over the reparations for Korean women forced into sexual slavery.
Yoon took note of atrocities inflicted on the Korean Peninsula during Japan's colonial rule from 1910, but he also pledged to find common ground with Tokyo and "move toward a common future."
"In the past, we had to unshackle ourselves from the political control imposed upon us by Imperial Japan so that we could regain and defend our freedom," Yoon said in his speech. "Today, Japan is our partner as we face common threats that challenge the freedom of global citizens."
In North Korea, leader Kim Jong Un's sister, Kim Yo Jong, in a televised speech Thursday blamed the South for spreading COVID-19 through its border and threatened "deadly" measures against its neighbor.
---
---
---
---