North Korea's missiles to blame for upscaled US-South Korean military drills, South says
By
Stars and Stripes
August 1, 2022
---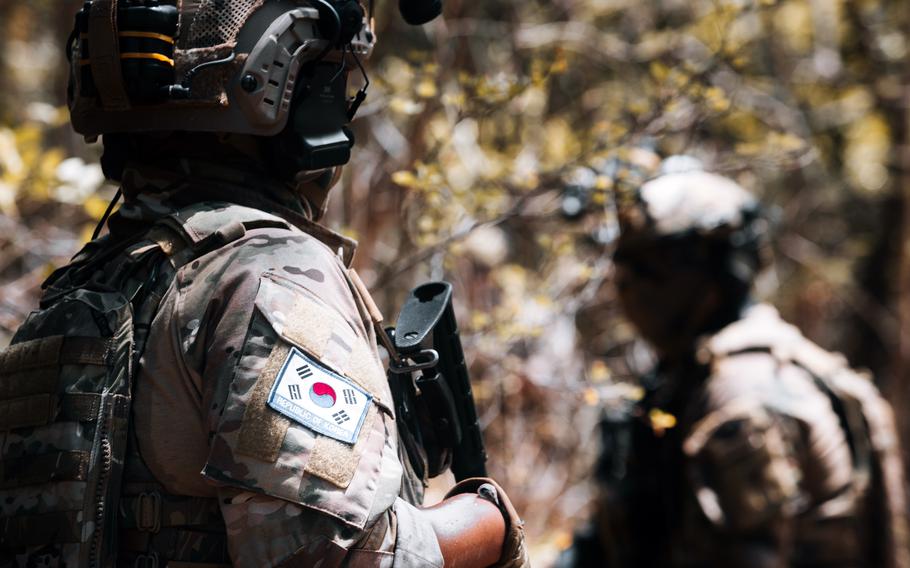 CAMP HUMPHREYS, South Korea — North Korea's "very fraught" and consistent provocations will strengthen the U.S.-South Korea alliance and a nuclear test from the communist regime will prompt a firm response from Washington and Seoul, according to a weekend statement from the South's Ministry of Defense.
Following a meeting between Defense Secretary Lloyd Austin and South Korean Defense Minister Lee Jong-sup on Friday, the two defense chiefs "reaffirmed the combined defense commitment" in light of North Korea's continuous provocations, the statement said.
North Korea has conducted 17 rounds of missile tests so far this year in addition to several artillery drills. North Korea last fired an unprecedented volley of eight short-range missile on June 5, roughly two weeks after Joe Biden's first presidential trip to South Korea and Japan.
The U.S., Japanese and South Korean militaries have also said in recent weeks that they have compiled evidence suggesting Pyongyang is preparing to conduct a nuclear test, which would be the regime's first since 2017 and its seventh overall.
Austin and Lee "emphasized a point that the more North Korea provokes, the stronger the [South Korea]-U.S. alliance would be," the statement said.
"They made it clear that if North Korea carries out its seventh nuclear test despite the opposition of global society, South Korea and the U.S. will firmly work together based on the adamant combined defense posture," the statement added.
In a separate statement from acting Pentagon Press Secretary Todd Breasseale on Saturday, Austin and Lee were said to have "emphasized the importance of close cooperation and maintaining 'fight tonight' readiness to reinforce deterrence in the face of [North Korea's] destabilizing activities."
The two leaders agreed that the U.S. and South Korea would expand their upcoming joint military drills in response to the North's provocations.
South Korea's military last month announced it would resume large-scale field exercises with the U.S. that were suspended in 2018. Exercise Ulchi Freedom Shield will start late August and run for a week; exercise Freedom Shield will commence the first half of 2023.
In addition to the drills, 11 separate field exercises between U.S. and South Korean troops are scheduled in the coming months, according to the Defense Ministry. Those drills will encompass a variety of unit-level missions, such as constructing bridges and special warfare training.
Meanwhile, a separate large-scale exercise between U.S. and South Korean forces is already underway. Rim of the Pacific, a U.S.-led multinational maritime exercise near Hawaii and Southern California, ends Thursday. The event includes the largest-ever fleet of warships sent by South Korea for the monthlong event.
The U.S., South Korea and Japan on Monday also kicked off Pacific Dragon, a ballistic missile defense exercise off the coast of Hawaii. The drills aim to detect and track simulated ballistic missiles, as well as share that information with allied forces.
The Defense Ministry stressed that the upcoming exercises are defensive in nature.
North Korea's leadership often bristles at the South's joint military exercises. In statements published in state-run media outlets, North Korean leader Kim Jong Un and the Foreign Affairs Ministry describe the drills as a rehearsal for an invasion of its country and threatened the allies with attacks.
---
---
---
---