North Korea says Pelosi's trip to Taiwan violates China's 'territorial integrity'
By
Stars and Stripes
August 3, 2022
---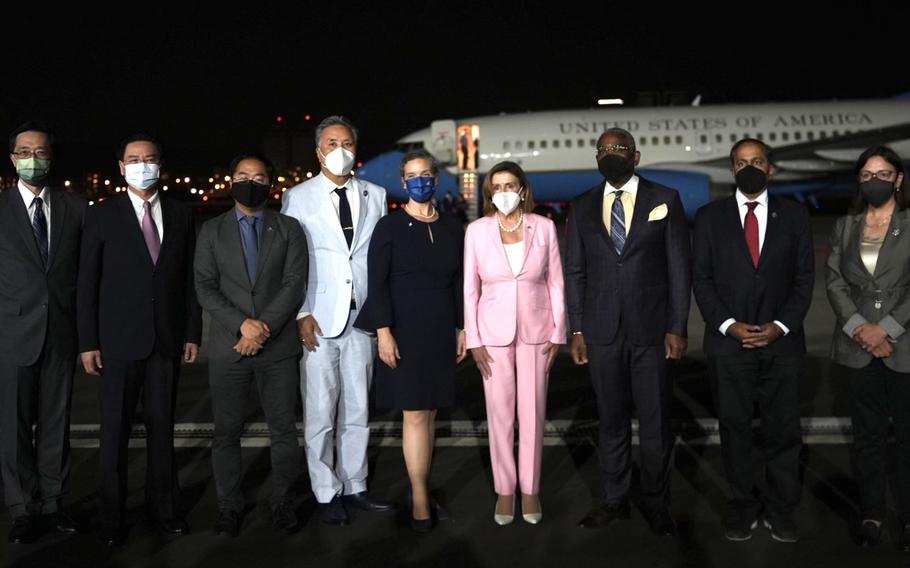 U.S. House Speaker Nancy Pelosi's visit to Taiwan was an "impudent interference" in China's internal affairs, according to a statement Wednesday from the North Korean Foreign Ministry.
The communist regime "vehemently" denounces any external interference in Taiwan and supports "the Chinese government's just stand to resolutely defend the sovereignty of the country and territorial integrity," according to a statement attributed to an unnamed Foreign Ministry spokesman published by the state-run Korean Central News Agency.
"Taiwan is an inseparable part of China, and the issue of Taiwan pertains to the internal affairs of China," according to KCNA.
Pelosi, along with five other members of Congress, landed in Taipei on Tuesday evening as part of a broader trip to Asia. The trip marks the first time in 25 years that a House speaker visited Taiwan; Newt Gingrich visited the country in 1997.
The delegation is scheduled to meet this week with South Korean National Assembly lawmakers. South Korean President Yoon Seok Youl, who is on vacation, hoped the delegation's trip "wrapped up smoothly as planned," presidential office spokeswoman Kang In-sun told reporters on Wednesday.
Kang said the government will be maintaining close communication with countries "concerned in the region about current issues" and declined to elaborate.
China denounced Pelosi's trip to Taiwan as a serious escalation of regional tensions. "Those who play with fire will perish by it," China's Foreign Affairs Ministry said in a statement on Tuesday.
"It gravely undermines peace and stability across the Taiwan Strait and sends a seriously wrong signal to the separatist forces for 'Taiwan independence,'" the statement added. "China firmly opposes and sternly condemns this and has made serious démarche and strong protest to the United States."
Pelosi's office in a news release Tuesday said her visit aimed to "honor America's unwavering commitment to supporting Taiwan's vibrant Democracy."
"America's solidarity with the 23 million people of Taiwan is more important today than ever, as the world faces a choice between autocracy and democracy," the release added.
In a joint press conference with Pelosi, Taiwan President Tsai Ing-wen thanked Pelosi and the congressional delegation for their commitment to her country.
"Taiwan is a reliable and trustworthy, cooperative partner of the United States," Tsai said. "We will continue to work with the U.S. Congress, as well as the administration, to strengthen cooperation in areas … so as to further elevate Taiwan-U.S. relations."
Chinese military aircraft tested Taiwan's response in the skies and Chinese warships prepared to exercise around Taiwan as Tsai and Pelosi met Wednesday.
"Taiwan will not back down," Tsai said. "We will firmly uphold our nation's sovereignty and continue to hold the line of defense for democracy."
Stars and Stripes reporter Yoo Kyong Chang contributed to this report.
---
---
---
---