Pelosi due in Taiwan on Tuesday despite warnings from China, Taiwan media reports say
By
Stars and Stripes
August 1, 2022
---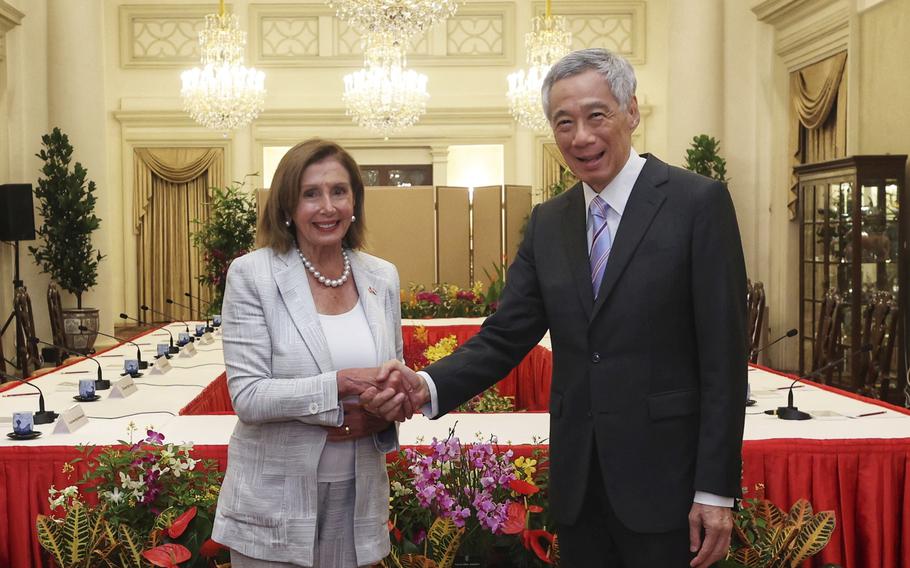 WASHINGTON — House Speaker Nancy Pelosi will arrive in Taiwan on Tuesday night despite warnings from China that such a visit would dramatically escalate tension with the United States, Taiwan's three largest newspapers reported.
Pelosi, D-Calif., has not confirmed she will visit Taiwan as part of an Asian tour that began Sunday in Singapore. But the three Taiwanese papers — The United Daily News, Liberty Times and China Times — said she will arrive Tuesday evening in the capital city of Taipei from Malaysia and spend the night.
Zhao Lijian, spokesman for the Chinese Foreign Ministry, warned Friday that the U.S. "must bear all consequences arising" from Pelosi's visit to Taiwan. China claims ownership of the self-governed, democratic island, which is about 110 miles from the mainland.
"The Chinese side has repeatedly made clear to the U.S. side our serious concern over Speaker Pelosi's potential visit to Taiwan and our firm opposition to the visit," Zhao said during a news conference in Beijing. "If the U.S. side challenges China's red line, it will be met with resolute countermeasures."
As news of Pelosi's visit circulated Monday morning, Chinese diplomat Cao Yi wrote in a Twitter post that the Chinese military's eastern theater command "stand(s) ready to bury any invading enemies."
National Security Council spokesman John Kirby on Monday said the U.S. "will not take the bait or engage in saber rattling."
"At the same time, we will not be intimidated," he told reporters at the White House. "We will keep operating in the seas and the skies of the Western Pacific as we have for decades and continue to support cross-[Taiwan] Strait peace, stability and support Taiwan."
Pelosi is traveling through Asia with five Democratic lawmakers, making stops in Singapore, Malaysia, South Korea and Japan, according to a statement from her office. The trip is meant to focus on "mutual security, economic partnership and democratic governance" in the Indo-Pacific region.
"Nothing about this potential visit [to Taiwan] — which, oh by the way, has precedent — would change the status quo and the world should reject any [Chinese] effort to use it to do so," Kirby said.
The last time a House speaker visited Taiwan was in 1997, when then-Speaker Newt Gingrich visited the island, according to reports from the time.
On Friday, Kirby said "nothing has changed about [the U.S.] One China policy" regardless of whether Pelosi visits Taipei. The policy, which has been the U.S. position since the 1970s, holds that the U.S. acknowledges China claims ownership of Taiwan, but the U.S. considers the island's sovereignty status unsettled.
President Joe Biden on Friday held a two-hour-long phone call with Chinese President Xi Jinping, during which Biden spoke about "tensions over Taiwan" and "reaffirmed that nothing has changed" about America's commitment to the One China policy, Kirby said.
"There's no reason for it to come to blows, to come to increased physical tension," he said. "There's no reason for that because there's been no change in American policy with respect to One China."
Still, Kirby on Monday said China conducted a live-fire exercise, launching weapons at sea over the weekend in anticipation of Pelosi's trip to Asia.
"China appears to be positioning itself to potentially take further steps in the coming days," he said. "These potential steps from China could include military provocations, such as firing missiles in the Taiwan Strait or around Taiwan, operations that break historical norms."
Beijing has not fired a missile into the Taiwan Strait since 1996, Kirby said, warning China could conduct a "large-scale" operation sending military aircraft through Taiwan's airspace.
Speculation of her possible travel to Taiwan have swirled throughout Washington since last week. However, a senior military official on Friday denied the U.S. had moved any military assets closer to Taiwan in advance of Pelosi's possible travel to the self-governed island.
"I would tell you that we use military equipment all the time to support congressional delegations. This is not unusual in that regard," said the official, who declined to confirm Pelosi's travel.
Still, the aircraft carrier USS Ronald Reagan has been sailing throughout the region, spending at least the past week in the South China Sea and near Singapore, according to Navy photos.
The USS Tripoli and USS America, amphibious assault ships, are also steaming through the nearby Philippine Sea as of Monday, according to the U.S. Naval Institute's Fleet and Marine Tracker.
Pelosi, who is second in line to the U.S. presidency, is provided military security on official travel, senior U.S. defense officials have said. She would be the highest-ranking elected U.S. official to visit the island in 25 years.
Experts on U.S.-China relations for years have said the already tense U.S.-China relationship could break into conflict over Taiwan. U.S. national defense strategies released in 2018 and 2022 list China as the nation's top military threat due in part to simmering tensions over Taiwan.
Chinese President Xi Jinping has repeatedly said reunification with Taiwan is the nation's foremost priority. Meanwhile, the U.S. Navy has stepped up its Taiwan Strait transits in recent years, which China regularly protests.
The Navy has sailed warships through the strait separating Taiwan from mainland China at least six times this year and roughly once a month during the past two years.
---
---
---
---