US, South Korea to update wartime plans due to 'changes to the threats' from North
by
David Choi
Stars and Stripes
December 2, 2021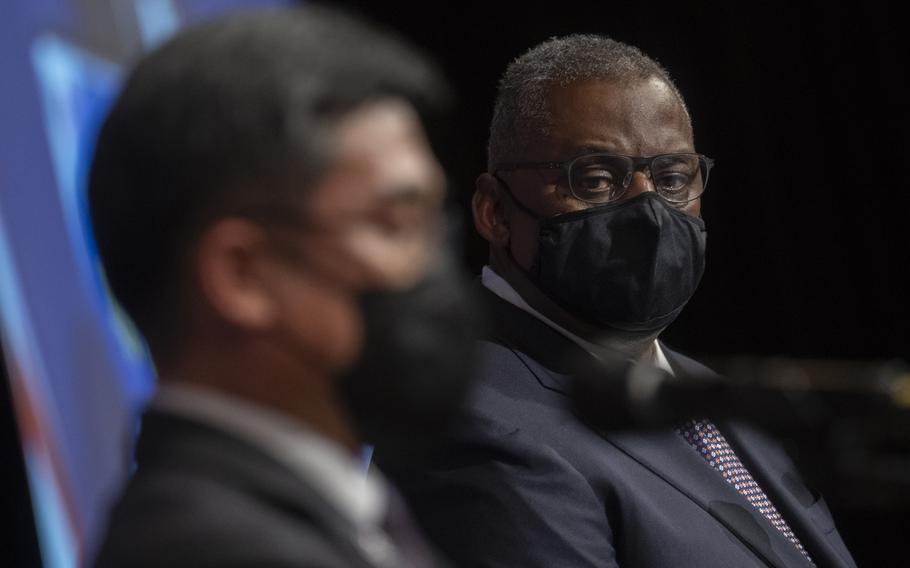 CAMP HUMPHREYS, South Korea — The U.S. and South Korean militaries will update their plans for potential war with North Korea, their civilian leaders said Thursday, an announcement that follows the communist regime's new weapons tests this year.
Defense Secretary Lloyd Austin and South Korean Defense Minister Suh Wook agreed to update the policy that guides their respective militaries, the Strategic Planning Guidance, following their annual security meeting Thursday in Seoul.
However, whether the amended plans will alter the way the allies exercise their forces together was left unanswered. North Korea, which views the annual joint military exercises as a precursor to a full-scale invasion of its country, repeatedly calls for the allies to halt them.
Austin, during a joint press briefing with his South Korean counterpart, did not discuss future plans but noted any changes "will be made together." He described the joint exercises, which were scaled back to virtual settings rather than involving large numbers of troops in the field, as effective and a priority.
The strategic plan, first signed in 2010, needed revision to address emerging threats and situational changes, Suh said at the briefing.
"There have been changes to the threats that we face, as well as changes to our military organization," Suh said through a translator, "… as well as changes in the combined defense structure."
A ministry official, speaking on a customary condition of anonymity, told Stars and Stripes on Thursday that the two militaries agreed to update the plan and that specific details were yet to come.
A joint statement from the U.S.-South Korean Security Council on Thursday specified that the updated strategic plan would "deter North Korea's threats … and provide guidelines to military operational plans for responses in case of necessity."
North Korea since September conducted five weapon tests that renewed tensions on the Korean Peninsula.
The regime separately fired a ballistic missile from a train, launched a long-range cruise missile, test-fired a hypersonic short-range missile, claimed to have launched a new anti-aircraft surface-to-air missile, and said it fired a "new type" of submarine-launched ballistic missile.
South Korea has also made recent military advances. In September, it became the first country without nuclear weapons to successfully test-fire its own submarine-launched ballistic missile.
The U.S. has also changed its military stance in South Korea.
The battalion-sized 5-17th Heavy Armed Reconnaissance Squadron, which was on rotational deployments to South Korea, is expected to be permanently stationed on the peninsula by next year.
The Headquarters and Headquarters Battalion, 2nd Infantry Division Artillery from Joint Base Lewis-McChord, Wash., moved to South Korea in September.
Austin and Joint Chiefs of Staff Gen. Mark Milley traveled to Seoul this week to meet with South Korean leaders. The two sides reaffirmed the military alliance as well as ongoing plans to relocate U.S. assets from Seoul to Pyeongtaek's Camp Humphreys, the largest U.S. military base overseas.
"The two leaders underscored the importance of conducting the [U.S.-South Korea Military Committee] meeting in-person to demonstrate the strength, credibility, and flexibility of the military alliance," the Defense Ministry said in a statement referring to Milley and his Korean counterpart, Gen. Won In-choul. "Gen. Milley emphasized the United States' commitment to [South Korea] and its continued commitment to providing extended deterrence."
---
---
---
---