Budget fully funds Guam missile defense sought by Indo-Pacific Command
By
Stars and Stripes
March 30, 2022
---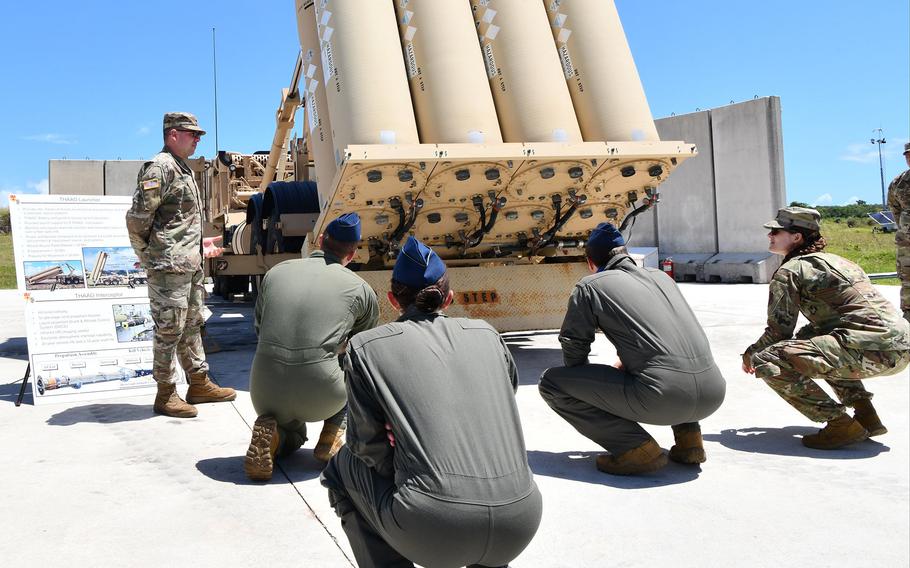 The proposed defense budget unveiled Monday by the White House puts nearly $1 billion, full funding, toward a comprehensive missile defense system for Guam.
Adm. John Aquilino, commander of U.S. Indo-Pacific Command, has several times emphasized the importance of a missile defense system for the U.S. territory that is home to key Navy and Air Force installations.
Aquilino called it his "No. 1 unfunded request" during a House Armed Services Committee meeting earlier this month.
"Our budget invests $892 million for the defense of Guam, including improved missile defense, command, and control capabilities, radar capacity, and new construction," Vice Adm. Ronald Boxall, director for force structure, resources, and assessment of the Joint Staff, said Monday during a Pentagon briefing. The Biden administration's proposal covers defense spending for the fiscal year that begins Oct. 1.
Guam is of growing strategic importance to the United States as China continues to assert itself militarily and politically into the Indo-Pacific region.
As the closest U.S. territory to the contested South China Sea, Guam is seen by the Pentagon as a strategic hub for projecting power into and defense of the region.
Beijing recognizes the island's status. In 2020, China's air force released a video showing a simulated bomber attack on what appeared to be Guam's Andersen Air Force Base.
Guam is also the closest U.S. soil to North Korea, which in recent months has stepped up its testing of ballistic missiles.
"Current forces are capable of defending Guam against today's North Korean ballistic missile threats," Dee Dee Martinez, comptroller at the Missile Defense Agency, said during a separate budget briefing Monday at the Pentagon.
"However, the regional threat to Guam, including from China, continues to rapidly evolve," she said.
Initial funding to enhance Guam's defense was included in the fiscal year 2022 spending bill, which was only passed this month after numerous delays.
"The architecture has now been finalized and includes a combination of integrated [Missile Defense Agency], Army and Navy components," Martinez said.
The Missile Defense Agency would spend $539 million on missile defense "architecture" for Guam, as well as for design and development of multiple land-based radar systems, procurement of weapons systems components and construction planning, she said.
The defense architecture largely builds upon the existing systems: the Army's Terminal High Altitude Area Defense, or THAAD, the Navy's Aegis Combat System aboard ships and ballistic missile defense components developed by the Missile Defense Agency, Vice Adm. Jon Hill, director of the Missile Defense Agency, said at the briefing.
The timeline calls for Guam's missile defense system to be operational by 2026, Hill said.
"The defensive architecture is designed to address the rapidly advancing ballistic and hypersonic cruise missile threat to Guam," Maj. Gen. Jamie Gerard, INDOPACOM chief of staff, said Tuesday during a virtual panel on North Korea hosted by the Missile Defense Advocacy Alliance.
The U.S. is working to develop a network "capable of defending the homeland first and foremost, but also being able to protect our fielded forces and help defend our partners and allies against all threats," Gerard said.
"The Guam defense system is a great example of all of that rolled into one," Gerard said. He described the proposed system as "a 360-degree persistent air and missile defense capability" that is "the most important action the U.S. could take to increase the lethality of the joint force."
---
---
---
---