$773 billion Pentagon budget request focuses on countering China and Russia, and boosts pay for troops and civilian workers by 4.6%
By
Stars and Stripes
March 28, 2022
---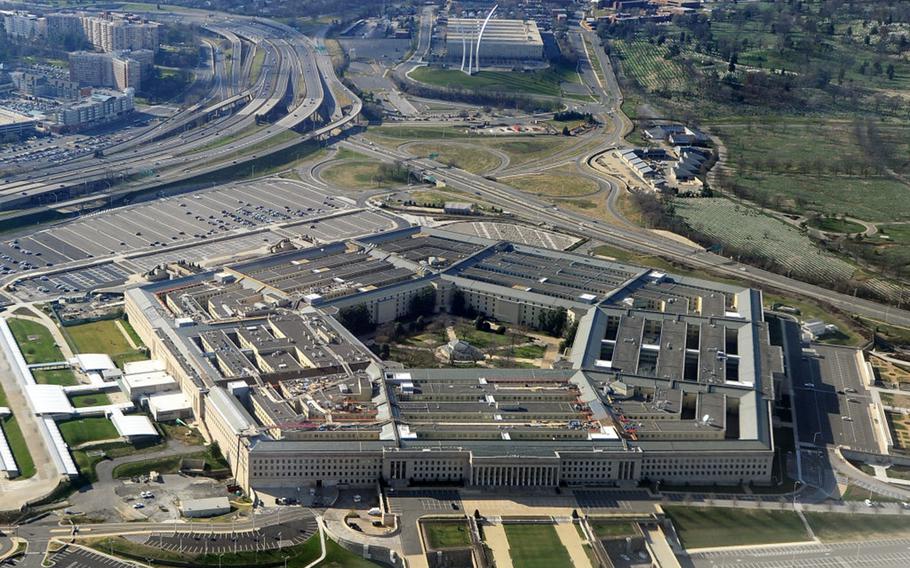 The Pentagon on Monday released a $773 billion budget request for fiscal year 2023, asking Congress for a big spending boost to build new weapons to curb an emergent Chinese military, check Russia's aggression in Europe and boost pay for troops.
President Joe Biden's second Pentagon budget request dwarfs his 2022 request of $715 billion, adding money to account for spikes this year in inflation and an increased emphasis on the modern arms needed to counter the No. 1 national security issue for the U.S. — China, officials said Monday. If adopted by Congress, Biden's 2023 proposal would mark the largest-ever Defense Department budget, surpassing the fiscal year 2022 budget that Capitol Hill lawmakers passed this month, some six months after the start of the fiscal year on Oct. 1. Though Congress approved boosting the Pentagon's budget to $742.3 billion, lawmakers have argued over defense spending in recent years with views ranging from heavy cuts to big boosts.
"I'm calling for one of the largest investments in our national security in history, with the funds needed to ensure that our military remains the best-prepared, best-trained, best-equipped military in the world," Biden said in a statement issued Monday before the federal budget was released to the public. The president noted the request included money to "forcefully respond to [Russian President Vladimir] Putin's aggression against Ukraine."
While the budget request focuses heavily on ensuring U.S. troops are prepared and armed with the capabilities to counter their Chinese and Russian counterparts, Pentagon officials said Friday that the request does not reflect a reaction to Russia's ongoing, brutal invasion of Ukraine launched about one month ago. The budget request was largely finished before Putin ordered his troops into Ukraine on Feb. 24, a senior defense official said Friday, speaking on the condition of anonymity to preview the Pentagon's budget plans.
The official said Pentagon and White House officials would continue discussions on Capitol Hill to respond to Russia's unprovoked aggression and told reporters that it would be "premature" to link the budget discussions with Pentagon plans to further respond to Moscow's actions.
"That doesn't mean our strategy is off in any way," the official said. "We never missed a beat for anything … a dangerous adversary [Russia] did in this attack. But, if you look across the board at their capability [and] their economy, China remains our most challenging strategic threat."
Instead, Pentagon officials crafted the new budget request alongside Biden's new, classified National Defense Strategy, which Defense Department officials submitted to Congress on Monday ahead of the budget rollout. The strategy, which was not made public, labels China as a more pressing threat than Russia, said Kathleen Hicks, the deputy defense secretary.
"Russia poses an acute threat to the world order, as illustrated by its unprovoked invasion and vicious tactics," Hicks told reporters Monday. "Even as we confront Russia's malign activities, the defense strategy describes how the department will act urgently to sustain and strengthen deterrence with the [People's Republic of China] as our most consequential strategic competitor and pacing challenge. The PRC has the military, economic and technological potential to challenge the international system and our interests within it."
With that in mind, the Pentagon intends to invest more heavily in the Pacific than in Europe, according to this budget. The Pentagon intends to spend some $6.1 billion for the Pacific Deterrence Initiative, its 2-year-old effort to combat Chinese military influence in the Indo-Pacific region. The money would provide "integrated fires" in the region, pay for training with partner nations, build new infrastructure in the region and improve the Pentagon's ability to defend Guam.
The budget also calls for a $4.2 billion investment in the Defense Department's European Defense Initiative — the program it launched in 2014 after Russia's first invasion of Ukraine — to defend NATO partners against Russia's increased aggression. That fund largely pays for training in Eastern Europe alongside NATO partners, and it includes some funding to support Ukraine. The official said the proposal does not reflect an influx of American troops on the Continent, where for the first time in decades three heavy armored brigade combat teams are now operating since Russia's attack.
The Pentagon also plans its largest-ever investment in research, development, testing and evaluation, with some $130.1 billion earmarked toward ongoing and new projects in artificial intelligence, microelectronics, space and missile defense capabilities, cyber programs and critical new battlefield capabilities such as hypersonic missiles and directed energy weapons, budget documents show.
Big boosts in RDT&E have been highlights in recent Pentagon requests, as the military looks to build more resilient space and cyber infrastructure and recognizes the need for AI capabilities that defense officials have said could help commanders make better, faster battlefield decisions.
The new budget request also includes new money for troops and personnel programs.
American service members and Defense Department civilians would receive a 4.6% pay boost under Biden's proposal, the largest such raise in two decades, according to the Pentagon.
The proposal calls for about $479 million to fund some 2,000 new hires across the Defense Department for individual focused on "very high priority" issues including diversity, equity, inclusion and sexual harassment, the senior defense official said.
The budget also includes about $1 billion of so-called "flexible funding" to respond to the water contamination crisis at the Navy's Red Hill Bulk Fuel Storage Facility at Joint Base Pearl-Harbor-Hickam, Hawaii, which has been ordered to close, documents show. The official said the money would be used to "take care of families" displaced for their homes on the installation, build new water filtration systems, and help the Navy move to a new "fuel dispersion model for the Pacific."
"I think the point here is that we have strong support and partnership for the White House to put serious money in to show the department's commitment to doing the right thing for our own people, and more importantly, our neighbors in Honolulu, in this area," the officials said. "So, we think that this is something that really shows that we are going to get after this problem."
The budget would fund an active-duty force of 1,328,300 service members, a cut of more than 4,100 troops largely from the Army and Navy, documents show. The Army would lose some 3,000 active-duty soldiers and the Navy would cut 1,184 sailors from its active force. The Marine Corps would lose about 250 active-duty Marines.
The Air Force and Space Force, meanwhile, would see small boosts to their active-force strengths. The Air Force would add about 95 airmen and the fledgling Space Force would increase by 199 guardians.
In all, the Army would get some $177.3 billion in fiscal 2023. The Navy would get $180.5 billion, and the Marine Corps would receive about $50.34 billion. The Air Force would get some $168.5 billion and the Space Force would receive about $24.1 billion.
The Pentagon budget proposal was received with mixed reactions Monday on Capitol Hill, with Republicans largely labelling it too small, especially considering high inflation. 
Sen. James Inhofe of Oklahoma, the top Republican on the Senate Armed Services Committee, demanded more resources for U.S. troops facing an "increasingly dangerous world" than would be provided in Biden's proposal for defense spending. 
"President Biden's defense budget reflects the world he wishes for — but not the world as it is," Inhofe, who is set to retire at the end of 2022, said in a prepared statement. "You simply can't look at the world around us now and think this budget is adequate to confront all the threats we face, let alone to accelerate our attempts to maintain or restore deterrence and secure U.S. interests for our children and grandchildren."
Sen. Jack Reed, D-R.I., chairman of the Senate Armed Services Committee, labeled the Pentagon's proposal for 2023 as a mere "starting point" in his own statement after the budget was made public. 
"This budget request appropriately recognizes China and Russia as the key strategic competitors for our military," Reed said, noting Congress would build its own budget after hearings and reviews of the U.S. military's needs. "Congress must make thoughtful decisions about how we resource and transform our tools of national power. Now that President Biden has issued his budget request, the committee can begin our work of crafting a [National Defense Authorization Act] that meets America's needs now and in the future."
Stars and Stripes reporters Caitlin Doornbos and Svetlana Shkolnikova contributed to this report.
---
---
---
---