Marine Corps proposal grows budget by 2% but cuts active-duty force by 1,500
By
Stars and Stripes
March 28, 2022
---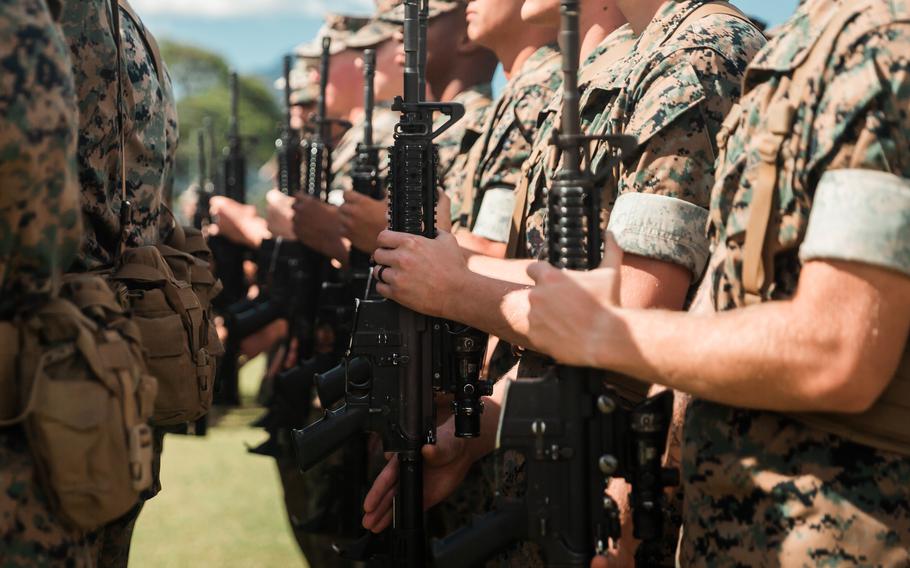 WASHINGTON – The Marine Corps is asking for $50.34 billion in fiscal year 2023, which would invest in multiple modernization projects but shrink the active-duty force by about 1,500, according to the proposed budget released Monday.
The proposed spending plan represents a growth of nearly 2% from the previous fiscal year, the Department of the Navy's top budget officer told reporters at the Pentagon on Monday. The Marine Corps is part of the department.
Coupled with a 5% growth in the Navy's budget, the Marine Corps' budget brings the department's total budget to about $230.8 billion.
"I would admit [that is] a lot more money than we thought we were going to get at the beginning of this process," said Rear Adm. John Gumbleton, the deputy assistant Navy secretary for budget.
Still, the service's proposed budget calls for about 177,000 active-duty Marines — down from the service's 2022 request for 178,500 active-duty troops.
The budget also asks for about $17.3 billion to support personnel, $12.2 billion for procurement, $16.3 billion for operations and maintenance and about $3 billion for research and development.
The Marine Corps is also requesting nearly $4.8 billion in modernized firing platforms — including $4.3 billion for the F-35 Lightning II program, $345 million for anti-ship missile systems and $80 million for long-range fires.
The budget also calls for $885 million in sensor and ship modernization, including $484 million to support the MQ-9A Group 5 unmanned aircraft system program.
Gumbleton said those investments align with the service's Force Design 2030, a modernization effort announced in March 2020 that aims to transition the Marine Corps from a force focused on large-scale amphibious and sustained ashore operations to one optimized to support naval expeditionary campaigns.
The service is also asking for nearly $1.5 billion for military housing projects, which is down about 35% from the previous year.
The $1.5 billion includes about $249 million for three new family housing construction projects on Guam, where the Marine Corps is working to shift its personnel from Okinawa, Japan.
---
---
---
---