North Korea appears to fire its first ballistic missile of new year
by
David Choi
Stars and Stripes
January 5, 2022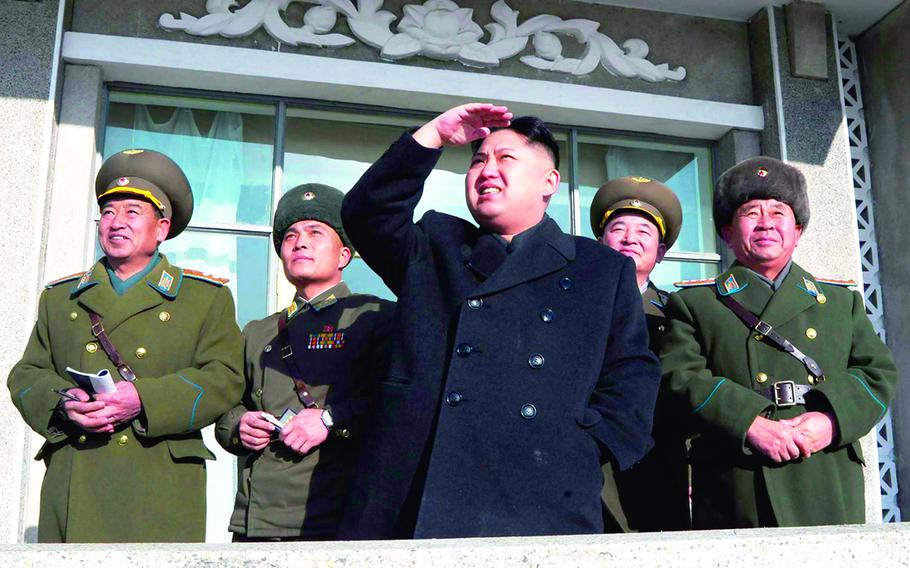 CAMP HUMPHREYS, South Korea — North Korea apparently fired a single ballistic missile toward its eastern coast at 8:10 a.m. Wednesday, South Korea's military announced after the launch.
South Korean and U.S. intelligence agencies are analyzing the launch, the South's Joint Chiefs of Staff said in a text message to reporters.
"Our troops are maintaining their readiness posture and closely monitoring the move of the North Korean troops now," the message said.
In Japan, Defense Minister Nobuo Kishi on Wednesday said the military was analyzing the launch and that initial estimates show the projectile flew about 310 miles and fell into the sea outside of Japan's exclusive economic zone.
Japanese Prime Minister Fumio Kishida described the launch to reporters as "extremely regrettable" and vowed to "strengthen vigilance and surveillance."
"Including the repeated launches of ballistic missiles, North Korea's series of actions are a threat to the peace and security of Japan and the region," Japanese Chief Cabinet Secretary Hirokazu Matsuno said during a press conference. "It is a serious issue not only for Japan, but for the entire international community."
The latest launch is the North's first since the ruling party announced Saturday via state-run media it would "pursue the build-up of the nation's defense capability with more strength without having to slow down even for a moment."
South Korean President Moon Jae-in briefly addressed the launch and insisted "we must not give up dialogue with North Korea," during a railway construction ceremony in Gangwon Province on Wednesday.
The launch comes amid ongoing discussions to formally end the 1950-53 Korean War, which ended with an armistice agreement rather than a peace treaty. Moon, whose term ends in May, has prioritized the goal of ending the decades-long conflict and said it would normalize relations with Pyongyang.
South Korean Foreign Minister Chung Eui-yong at a news conference last month said the U.S. and South Korea "effectively have agreed" on a draft declaration of a formal end to the Korean War.
"Our government views that an end-of-war declaration provides a very useful opportunity to resume dialogue in a current deadlock in talks with North Korea," Chung said.
North Korea last fired what appeared to be a submarine-launched ballistic missile in October, according to the Joint Chiefs of Staff. In the weeks prior to that, it launched an anti-aircraft missile, along with a hypersonic short-range missile.
South Korea's Ministry of Unification on Wednesday afternoon urged North Korea to "respond to our endeavors to make peace and cooperation through dialogue," according to a ministry statement.
"South and North Korea should work together without giving up dialogue between them in order to overcome concern, which is being caused by this launch, by the roots," the ministry said.
U.S. Indo-Pacific Command, which controls all U.S. forces in the Pacific, said in a Wednesday statement it was "aware" of the ballistic missile launch and that it "does not pose an immediate threat to U.S. personnel or territory, or to our allies."
State Department spokesman Ned Price reiterated at a press briefing Tuesday that the U.S. has "no hostile intent toward" North Korea.
"We are prepared to meet without preconditions," he said. "We hope [North Korea] will respond positively to our outreach, but all the while, we're continuing to consult closely with our allies and partners."
North Korea's state-run media had not released information on the launch by Wednesday afternoon. The regime's Foreign Ministry, however, did release a statement saying the U.S. is in an "anachronistic paranoia of world supremacy" and has been "recklessly infringing upon the world peace and international order."
Stars and Stripes reporters Yoo Kyong Chang and Mari Higa contributed to this report.
---
---
---
---