North Korea says it test-fired a 'new type' of submarine-launched ballistic missile
by
David Choi
Stars and Stripes
October 20, 2021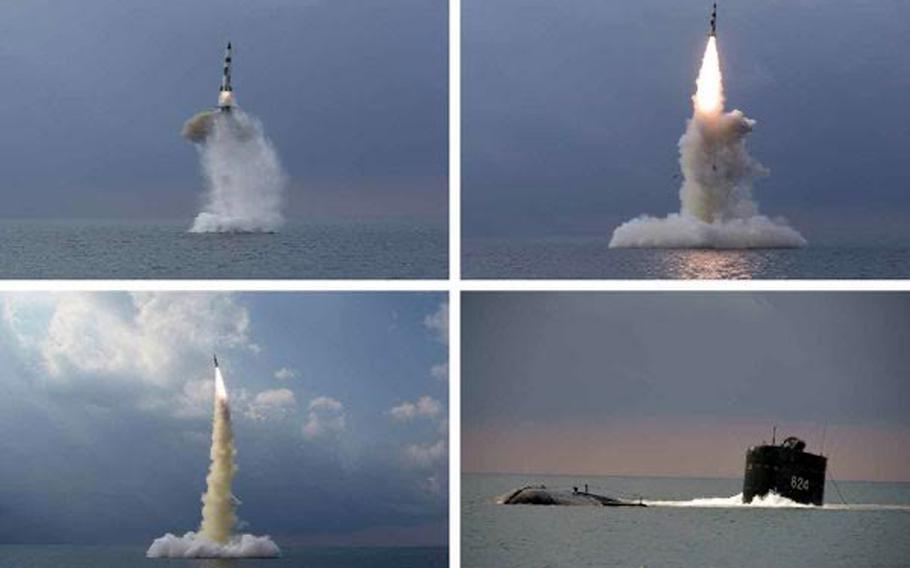 CAMP HUMPHREYS, South Korea — North Korea confirmed Wednesday it has tested a "new type" of submarine-launched ballistic missile, its fifth weapons test in recent weeks, as U.S. intelligence leaders began meeting with their South Korean and Japanese counterparts.
The missile was successfully launched from an older submarine Tuesday and included "lots of advanced control guidance technologies," the state-run Korean Central News Agency said in a statement.
The missile "will greatly contribute to putting the defense technology of the country on a high level and to enhancing the underwater operational capability of our navy," the statement said.
South Korean military officials on Tuesday said they tracked a short-range ballistic missile that flew 279 miles at a maximum altitude of 37 miles. The 10:17 a.m. launch from North Korea's eastern coast was also confirmed by the Japan Coast Guard. No injuries or damages were reported.
Initial estimates indicate the missile flew the same distance but at a lower altitude than North Korea's SLBM launch in 2019, when a Pukguksong-3 SLBM flew 279 miles at a maximum altitude of 565 miles.
The military officials also noted that the missile appeared to have been fired from Sinpo, where a North Korean shipyard is believed to be working on a new ballistic missile submarine.
North Korea launched its 2019 SLBM test from an underwater platform, rather than a newly developed, operational submarine.
North Korea claims its weapons program is purely a defense against international aggression. The communist regime cites annual U.S.-South Korean military drills, which it views as a precursor to a full-scale invasion, and the numerous sanctions against its country to justify its program.
The U.N. Security Council sanctioned North Korea because of its nuclear weapons and ballistic missile tests.
Experts question North Korea's self-defense claims, as an SLBM is typically viewed as a retaliatory, second-strike weapon.
"The significance of this capability is that the North Koreans continue to invest in their sea-based missile program," Ankit Panda, a North Korea analyst and Stanton senior fellow at the Carnegie Endowment for International Peace, told Stars and Stripes by phone Wednesday. "They see that as necessary, even if North Korean submarines are going to be very vulnerable to the U.S. and allies in submarine warfare attacks."
Panda added that sea-based missiles are "more survivable and more difficult to destroy through pre-emptive attack than land-based systems."
North Korea's latest test comes one month after Seoul announced it had successfully test-fired its own SLBM from a submarine. South Korea joins only a handful of nations to successfully develop an SLBM but is the first without a nuclear weapon to do so.
Meanwhile, U.S. intelligence officials, including director of national intelligence Avril Haines, are scheduled to meet with their South Korean and Japanese counterparts in Seoul to discuss North Korean matters this week.
The U.S. special representative for North Korea, Sung Kim, will also be traveling to Seoul and meet with Ambassador Noh Kyu-duk, the South Korean special representative for Korean Peninsula Peace and Security Affairs.