North Korea's submarine missile effort is at 'beginner level,' South Korean defense chief says
by
David Choi
Stars and Stripes
October 22, 2021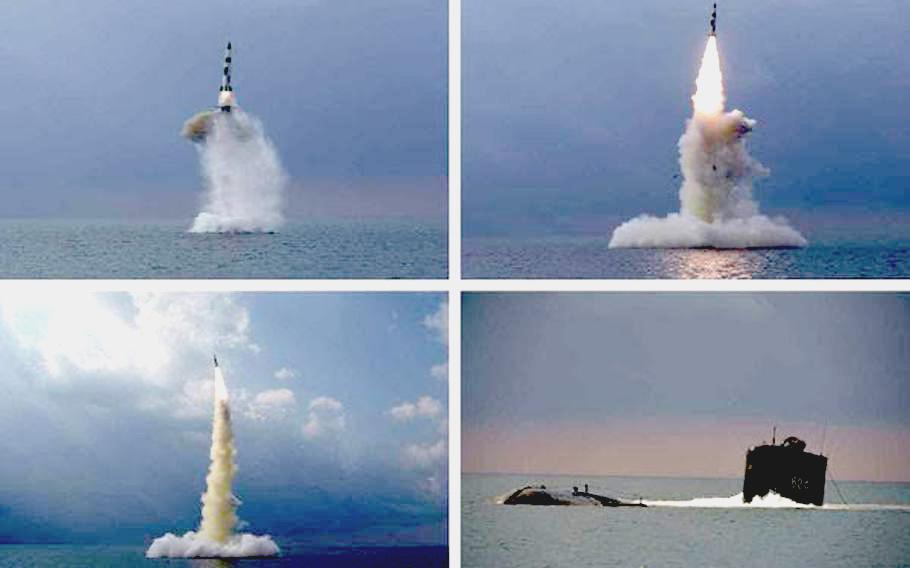 CAMP HUMPHREYS, South Korea — North Korea's submarine-launched ballistic missile program is "at the beginner level" and years behind in development, South Korean military officials told lawmakers Thursday.
Defense Minister Suh Wook during a parliamentary meeting with lawmakers in Seoul said North Korea's SLBM test earlier this week "cannot yet prove" its intended functionality compared to the South's missile capabilities.
Suh's comments follow North Korea's test-firing of at least one SLBM on Tuesday morning. The missile, according to the communist regime's state-run news outlet, was successfully fired from an older submarine and included "lots of advanced control guidance technologies."
South Korean military officials estimated the short-range ballistic missile flew 279 miles at a maximum altitude of 37 miles. The Japanese military, however, said North Korea fired two missiles, an assessment Suh disputed, citing "a number of sources."
"North Korea's SLBM launched this time is, we think that it is at the beginner level and cannot yet prove its platform itself," the defense minister told lawmakers.
South Korea in September joined a handful of other countries to successfully test-fire an SLBM from a submarine and is the first country without nuclear weapons to have done so. South Korean President Moon Jae-in, who attended that test, said the country now had the capability to deter "against omnidirectional threats," including from North Korea.
North Korea is believed to be developing a new submarine capable of launching ballistic missiles. Most of its few dozen submarines are outdated, according to military analysts, and only capable of firing older weapons, such as torpedoes.
Park Jong-seung, the president of the Defense Development Agency, told lawmakers during the briefing that North Korea may be at least five years behind South Korea in its development of submarine-launched missiles. Park noted that the North's SLBM specification had an "abnormal launch platform."
"Our SLBM's accuracy is very high to compare with North Korea's," Park said. "In fact, North Korea is currently conducting various tests, but its videos of precision strikes have been rarely made public. In my judgment, North Korea has no ability to do such a measurement."
North Korea's latest SLBM test is its fifth such weapon test in recent weeks. A North Korean Ministry of Foreign Affairs spokesperson in a statement said the test "was part of the normal activities" and that it "did not pose any threat or damage to the security of the neighboring countries and the region."
"We did not have the U.S. in mind nor aimed at it," the spokesperson said in a statement from the state-run Korean Central News Agency. "There is no need for the U.S. to worry or trouble itself over the test-firing."