South Korea and Japan at odds over missile count from North Korea's latest launch
by
David Choi
Stars and Stripes
October 25, 2021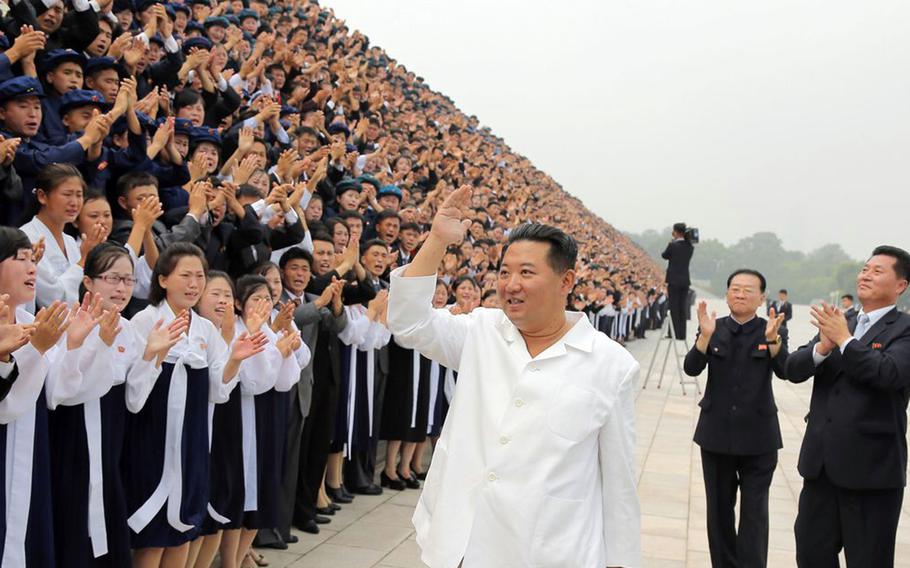 CAMP HUMPHREYS, South Korea — South Korean and Japanese military officials disagree about the number of missiles launched by North Korea last week, despite the two countries sharing intelligence on the test.
North Korea on Oct. 19 fired a "new type" of submarine-launched ballistic missile from its eastern coast, according to the state-run Korean Central News Agency. The communist regime's latest launch — its fifth weapons test in recent weeks — sparked concern among missile experts and defense officials for its wartime implications. Submarine-launched missiles are typically viewed as a retaliatory, second-strike weapon.
South Korean lawmakers also voiced concern, particularly after the country's Ministry of National Defense assessed that Pyongyang fired one short-range ballistic missile, while the Japanese government said it detected two.
The intelligence divide was highlighted during a parliamentary briefing with Defense Minister Suh Wook on Thursday.
"Japan said the North launched two SLBMs," opposition party lawmaker Sung Il-Jong said during the briefing. "We, our military, said the North fired a SLBM. What's right?"
Suh replied: "We think we are right because our detection assets saw it at a close range, and we saw it by using a number of sources."
The defense minister added that the military shared information about the North's missiles "mostly after" a launch "at the request" of Japan.
The two countries are part of the General Security of Military Information Agreement, an intelligence-sharing pact that allows both countries to review military information. Seoul has previously threatened to end the agreement, citing inequities in trade policies and historical wartime grievances.
Suh confirmed the pact is still in effect, but while the two countries "sometimes find an agreement of views," it is up to the recipient of the intelligence to come up with a determination.
The intelligence-sharing pact is "critical for South Korea" and "more than just an agreement," according to Kim Tae Woo, former president of the Korea Institute for National Unification.
"Japan's intelligence, particularly their anti-submarine intelligence system, is superb," Kim told Stars and Stripes by phone Monday. "Japan's [waters] are a hot place for submarine competition between several countries — if North Korea fully deploys a new submarine armed with an SLBM, we very badly need precise intelligence. That's why Japanese help is critical for South Korea's security."
Kim said that while the two militaries have disagreed with each other several times over their intelligence on North Korean missiles, their detection capabilities are "complementary."
"South Korea is in a better position to detect a missile right after launching from North Korea," Kim said. "But if the missile makes some distance in flight, then the Japanese intelligence is in a better position to detect that."
Stars and Stripes reporter Yoo Kyong Chang contributed to this report.