Latest coronavirus wave grows higher at US military bases across Japan
by
Joseph Ditzler
Stars and Stripes
January 4, 2022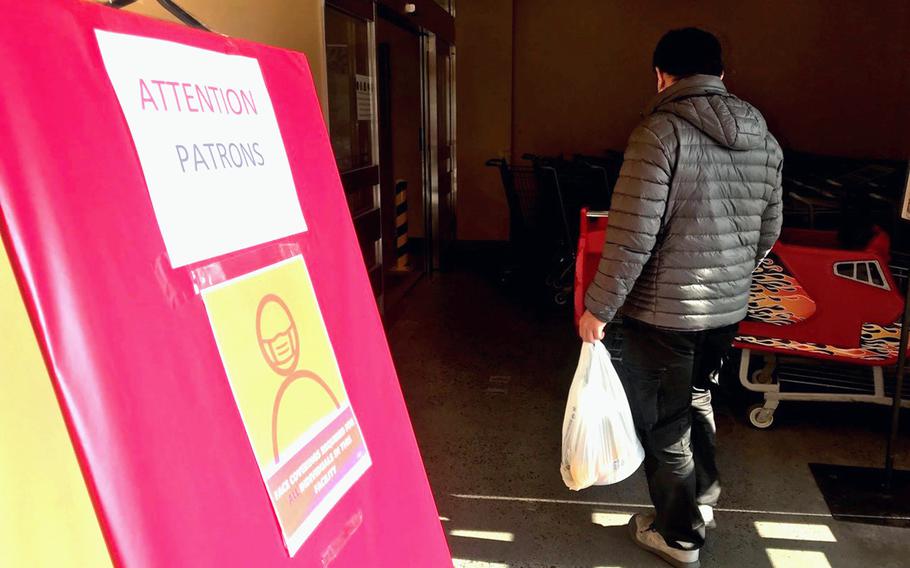 TOKYO — The U.S. military in Japan accounted for another 242 new cases of COVID-19 on Tuesday as the winter coronavirus surge continues, according to military and Japanese reports.
Marine Corps installations reported the bulk of those increases. The total at Marine Corps Air Station Iwakuni, 25 miles south of Hiroshima, grew to 240 with another 50 counted on Monday and 47 on Tuesday, according to base news releases. That cluster started with eight confirmed cases on Dec. 27.
Combined Arms Training Center Camp Fuji, 65 miles southwest of Tokyo, reported another 31 people with COVID-19 on Monday for 41 total since Dec. 27, according to a base news release Tuesday.
Camp Fuji also raised its health protection level to Bravo, the third command to do so since Camp Hansen, Okinawa, on Dec. 17. The commander of Misawa Air Base in northeastern Japan, Col. Jesse Friedel, raised its level to Bravo on Dec. 29, citing a record number of cases on the installation.
Condition Bravo means an increased risk of the virus spreading. It also entails indoor mask mandates and tighter restrictions on group gatherings, among other restrictions.
The coronavirus wave that began in mid-December is attributed by some commanders to personnel returning from holiday leave or relocating to Japan on new assignments. Contact tracing reveals the virus spreading.
Commanders also report the COVID-19 symptoms in this phase are not as severe as the previous phase in summer and fall, although case numbers are growing exponentially.
"It seems like these cases aren't as deadly and people are not being hospitalized as much," said Sarah Hanson, a Marine spouse from Rochester, Minn., to Stars and Stripes at MCAS Iwakuni on Tuesday. "I think they are taking a lot of precautions for something that seems like as similar to the common cold, and we never wore masks when it was the common cold. Though, I understand the precautions, especially being overseas in a different country."
Japan reported another 672 cases Monday, still far below its one-day peak of 25,992 on Aug. 20. Tokyo reported 151 cases Tuesday, the second consecutive day above 100 new infections, according to public broadcaster NHK.
The Okinawa Department of Public Health and Medical Care confirmed another 225 new cases among the island population Tuesday, and 164 among the U.S. military population: three at Kadena Air Base; one at the Marine Corps' Camp Schwab, two at Camp Cortney, three at Camps Hansen and Foster and six at Camp Kinser. The remaining 146 were not specified.
A public health spokesman said the prefecture confirmed 47 cases of the coronavirus' fast-spreading omicron variant on Tuesday for 135 cases since the variant surfaced in November.
Marine Corps Installations Pacific on Monday said it has approximately 420 people with the coronavirus at its installations, which includes Camp Hansen where a cluster emerged in mid-December and grew to more than 200 within 10 days.
Command spokesman Lt. Col. Matt Hilton in an email to Stars and Stripes did not specify the installations affected or a number of new cases. Marine Corps Installations Pacific includes bases in Hawaii, Guam and Japan.
Hilton said nine Japanese employees have tested positive for the coronavirus. The command has imposed stricter safety and preventative measures, including a mask mandate, increased travel testing and more thorough quarantine protocols, Hilton wrote.
"We will continuously update our policies and procedures as the situation warrants," he wrote.
Stars and Stripes reporters Mari Higa, Jonathan Snyder and Matthew M. Burke contributed to this report.
---
---
---
---