Post-holiday COVID-19 surge hits Marine air base in Japan
by
Joseph Ditzler
Stars and Stripes
December 29, 2021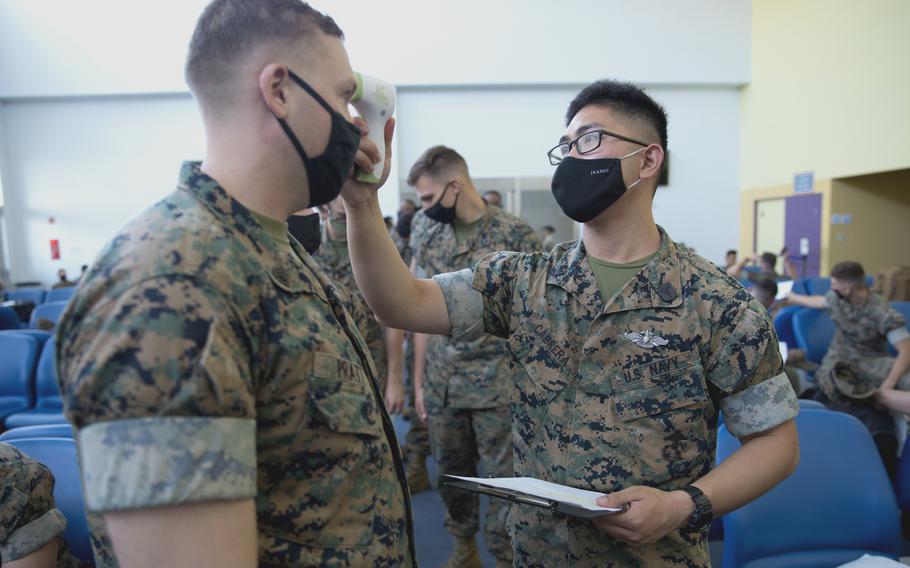 A Marine Corps air base in Japan reported 80 new coronavirus cases Wednesday, more than it experienced in all of January, its pandemic peak, thus far.
Marine Corps Air Station Iwakuni, about 25 miles south of Hiroshima, reported a modest increase, 13 new cases of COVID-19, the coronavirus respiratory disease, over the Christmas weekend, according to base news releases.
But on Wednesday, the air base, where Navy fighter squadrons assigned to the aircraft carrier USS Ronald Reagan are stationed, reported another 80 cases in a succinct news release that provided no further details. Marine Corps fighters and aerial refuelers are also stationed there.
The surge comes as service members, civilian employees and their families return to the air base from holiday travels.
The base commander, Col. Lance Lewis, in an emailed message to the air base community, went to the point.
"Well, there is no easy way to say this so let me be up front; over the past few days, we have seen a surge of cases among our SOFA population," he wrote, referring to the status of forces agreement by which uniformed and civilian members of the U.S. military live in Japan." Like the 'Jelly of the Month Club,' COVID is the holiday gift that keeps on giving."
Lewis imposed a series of restrictions until Jan. 14 aimed at curbing the virus' spread. He imposed a mask requirement in all base facilities for everyone, regardless of vaccination status, and at all times while off the base.
"Being actively engaged in physical training (running, cycling) is the one exception," he said. "Do not fail to adhere to our host nation's request and to the orders of our higher headquarters."
He also ordered a 10 p.m. curfew for base personnel at off-base establishments, including Hiroshima. He banned guests on base who are not part of the military community as well as prohibiting visitors in barracks who are not part of that unit. He encouraged teleworking where possible.
"A number of events over the next two weeks will be cancelled or postponed," he wrote. "Please pay attention to the organizations sponsoring those events for updates."
On Okinawa, a Marine Corps spokesman on Wednesday said all but one of approximately 930 Marines in a rotational unit deployment that arrived between Dec. 7 and Dec. 9 were fully vaccinated; the lone exception was partially vaccinated.
By Dec. 17, several of the Marines, isolated at Camp Hansen, had tested positive for COVID-19. That number grew by Tuesday to 280, according to an email Wednesday to Stars and Stripes from Lt. Col. Matt Hilton, spokesman for Marine Corps Installations Pacific.
"All military COVID-positive personnel remain in isolation," he wrote. "We have conducted aggressive testing and contact-tracing to prevent spread of the virus. In addition, Camp Hansen has increased the frequency of its courtesy patrols in Kin town to ensure good order and discipline — to include the wearing of masks — is properly enforced."
Japanese government authorities expressed regret that the infected Marines were not tested prior to leaving the U.S. aboard a government-contracted flight for Okinawa. Their dissatisfaction prompted a return to pre-travel testing for U.S. military members bound for Japan.
Nonetheless, Hilton wrote, once the Marines landed in Japan they followed a strict restriction-of-movement protocol, never exited the base and did not interact with the population outside the base.
Ten local employees at Marine bases contracted the omicron variant of the coronavirus, according to Okinawa government updates since Friday.
"We hope for a speedy recovery for these employees," Hilton wrote. "The mitigation measures we have instituted across all Marine Corps installations in Japan are intended to protect not only our Marines and their families, but also all our civilian host-nation employees. We recognize that we all have a part to play in keeping our communities safe."
Stars and Stripes reporters Matthew M. Burke and Jonathan Snyder contributed to this report.
---
---
---
---