Admonished by Japan, US military re-imposes pre-travel COVID testing for its personnel
by
Matthew M. Burke and Mari Higa
Stars and Stripes
December 23, 2021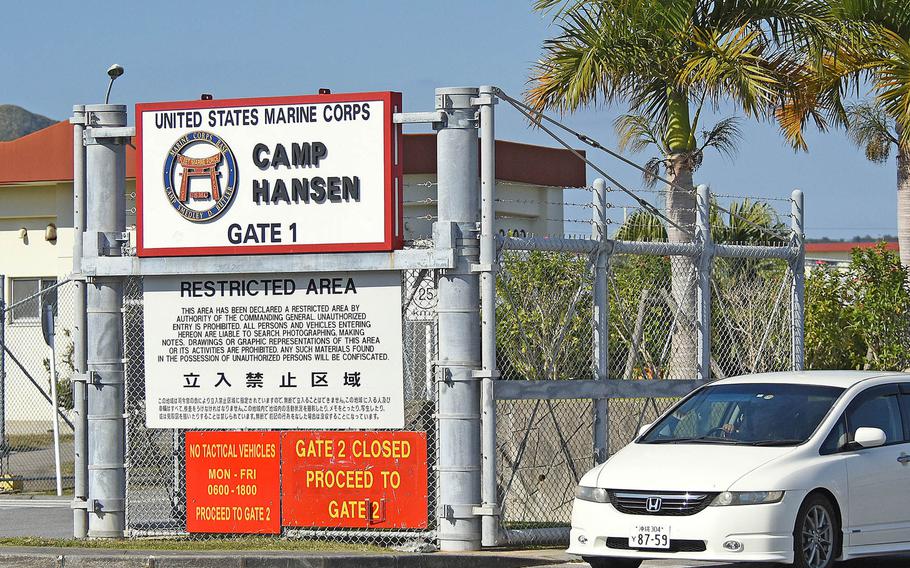 CAMP FOSTER, Okinawa – U.S. Forces Japan re-imposed a testing requirement for personnel heading to Japan on Thursday after the country's foreign minister admonished the U.S. military for breaching its border protection measures.
Japanese Foreign Minister Yoshimasa Hayashi expressed "deep regret" to USFJ commander Lt. Gen. Ricky Rupp that a unit of Marines was not tested for COVID-19 before it arrived on Okinawa aboard a U.S. government flight.
The newly arrived Marines were quarantined at Camp Hansen but permitted base access for five days before being tested, Hayashi said at a Wednesday news conference in Tokyo.
Marine Corps Installations Pacific on Dec. 17 said "multiple" Marines in the group had tested positive for COVID-19, the coronavirus respiratory disease. By Thursday, that cluster had grown to 227, up from 180 on Monday, Chief Cabinet Secretary Hirokazu Matsuno said at a news conference that morning.
Matsuno said he would continue to push the U.S. military to "take more thorough measures" to prevent the virus from spreading and hopefully ease locals' concerns.
USFJ said the Hansen cases have prompted changes, according to a statement emailed to Stars and Stripes by spokeswoman Yukiko Date.
"In light of the current omicron variant, the COVID-19 positive cases at Camp Hansen in Okinawa, and to ensure the health and safety of all SOFA members and the citizens of Japan, USFJ has updated our COVID Health Protection Guidance to require pre-arrival testing for all SOFA members within 72 hours of flights departing for Japan on all forms of transportation," the statement said.
USFJ acknowledged Hayashi's complaint but said it followed guidance from the Centers for Disease Control and Prevention, the Defense Department and Indo-Pacific Command when it discontinued pre-departure testing in September.
The Okinawa Department of Public Health and Medical Care believed the U.S. military was testing its personnel before they boarded flights for Japan until it learned otherwise on Wednesday, a spokesman for the department said during an online press conference on Thursday.
So far, neither the Marines nor Japanese authorities have said the Hansen Marines have contracted the coronavirus' highly transmissible omicron variant.
However, 10 local cases of omicron, all with connections to the Marine Corps, have been reported by Okinawa officials since Friday. The Public Health Department reported four omicron cases on Thursday, along with 21 other coronavirus infections.
Three of the newest omicron cases are from Okinawa City and work at Hansen: two men in their 40s and 50s and woman in her 30s, the public health spokesman said. The fourth case is a child under 10 from Uruma who is associated with a previously reported case, he said. He said they tested positive on Monday.
Japan closed its borders Nov. 29 through Dec. 31 to nearly all new arrivals when the omicron variant first appeared. The government on Tuesday extended the entry ban indefinitely and imposed a 14-day quarantine at government-approved lodging, rather that quarantining at home.
Individuals allowed entry must show proof of a negative COVID-19 test within 72 hours of departing for Japan.
U.S. military personnel flying commercially, including service members, civilian employees, contractors and their families, are permitted to quarantine in the Tokyo area at their homes or on U.S. military bases. Passengers aboard the Patriot Express, including those bound for Okinawa, may also quarantine at home or on their assigned base.
USFJ on Monday increased the quarantine period for all individuals, vaccinated or unvaccinated, in line with Japan's requirement from 10 to 14 days. It also imposed a mask requirement for all new arrivals for five days or until they test negative for COVID-19.
---
---
---
---