Coronavirus cluster grows at Okinawa Marine base as more workers test positive for omicron
by
Matthew M. Burke and Mari Higa
Stars and Stripes
December 22, 2021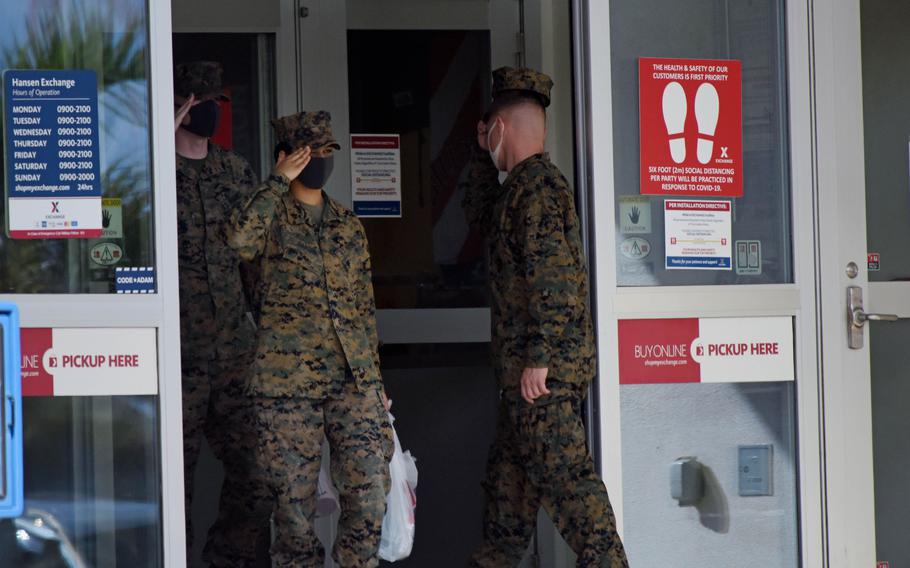 CAMP FOSTER, Okinawa – Two more Okinawans employed at Marine Corps bases on Okinawa tested positive for the omicron variant of the coronavirus last week, a public health official said Wednesday.
An employee in his 30s at Camp Schwab and another in his 20s at Camp Hansen tested positive Friday and Saturday, respectively, a spokesman for the Okinawa Department of Public Health and Medical Care said during an online news conference.
So far, five base workers have contracted the omicron variant since Friday, along with a spouse. Okinawa prefecture reported another six new coronavirus cases Wednesday but did not specify them as omicron.
Meanwhile, the coronavirus cluster at Hansen grew Wednesday by another 17 cases for a total of 217, according to a statement from the Public Health Department. The Marine Corps on Friday said "multiple" Marines in a newly arrived unit for a rotational deployment had tested positive while in quarantine.
The same day, Okinawa Gov. Denny Tamaki announced at a news conference that a Hansen employee, a man in his 50s from Uruma city, had tested positive for the omicron variant.
Two more omicron cases surfaced on Okinawa on Saturday, an American civilian in her 50s who works at Hansen and her Japanese husband, a man in his 60s. On Monday, the prefecture said a third Hansen employee, a woman in her 40s who was a close contact of the first case, had also contracted omicron.
Neither the Marines nor the Japanese government has commented publicly on whether the Hansen cluster included omicron cases. The installations command on Friday said the infected Marines had no contact with the population outside the base.
Tamaki has asked U.S. military officials to test the Marines in the Hansen cluster for omicron, a highly infectious COVID-19 variant discovered last month in South Africa.
Tamaki on Monday also demanded stricter measures, including a lockdown of Hansen and for the U.S. military to stop flying in personnel until the situation "calms down."
The U.S. military has agreed to partner with Japan to test the Hansen Marines for omicron, Chief Cabinet Secretary Hirokazu Matsuno said Wednesday at a press conference in Tokyo, although he did not provide specifics.
"We are informed by the U.S. side that they decided to conduct variant testing on the positive cases from Camp Hansen with the cooperation of Japan and the result will be shared with Japan," Matsuno said. Specimens will also be sent to the U.S. for genome analysis.
Marine officials have declined this week to answer questions from Stars and Stripes about the Hansen cluster.
However, a spokeswoman for Marine Corps Installations Pacific in an email Wednesday to Stars and Stripes, said the command is taking necessary precautions to prevent further spread of the coronavirus. Those measures have long been in place, including putting new and returning arrivals in quarantine, isolating those who test positive and identifying and quarantining their close contacts.
"The safety of our service members, civilians, families and the local community is of the utmost importance to us," MCIPAC spokeswoman 1st Lt. Ashleigh Fairow wrote in the statement. "We will continuously update our policies and procedures as the situation warrants."
---
---
---
---