Another Okinawa base worker tests positive for omicron as Marines' COVID-19 cluster grows
by
Matthew M. Burke and Mari Higa
Stars and Stripes
December 21, 2021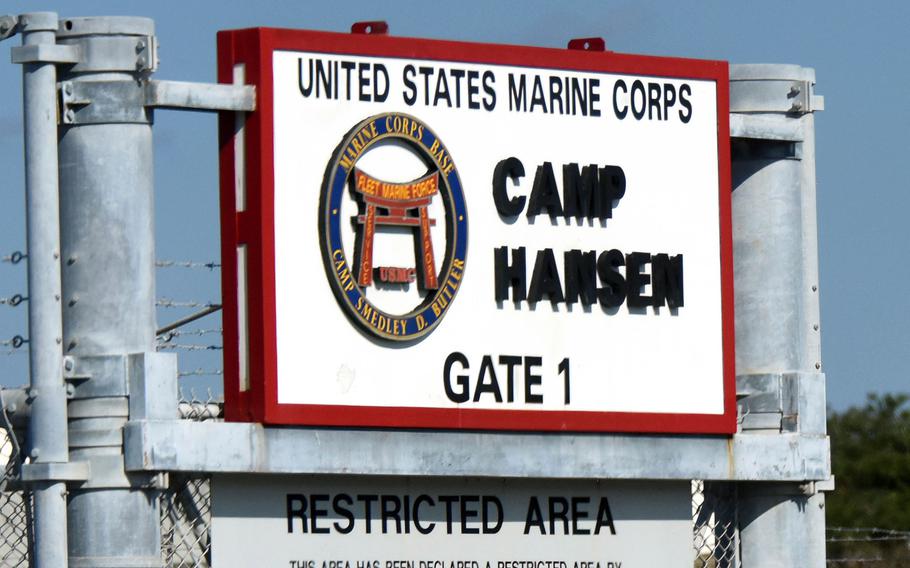 CAMP FOSTER, Okinawa – A third employee at Camp Hansen, a Marine Corps base on Okinawa, has tested positive for the omicron variant of the coronavirus as new cases on the installation approached 200 since Friday.
The worker, a resident of Uruma city in her 40s, was a close contact of the first positive case, though the genetic code of the virus infecting her differed from the first patient, Okinawa Gov. Denny Tamaki said at a press conference in Naha on Monday night.
The number of new COVID-19 cases at Camp Hansen has risen to "about 200," up 20 from the previous day, Japan's Deputy Chief Cabinet Secretary Seiji Kihara told reporters in Tokyo on Tuesday morning. Kihara said the Japanese government understands the concerns of Okinawans.
"U.S. Forces Japan is taking stricter measures to prevent the spread of COVID-19," he said. "Considering the possibility of omicron variant cases, they are testing actively, tracing the close contacts, and isolating those who might be infected."
A cluster of new cases emerged among newly arrived Marines in a rotational unit, according to Marine Corps Installations Pacific on Friday. Neither the Marines nor the Japanese government has commented publicly on whether the cluster included omicron cases. The installations command on Friday said the infected Marines had no contact with the population outside the base.
"If the omicron variant in the base spreads to employees and nearby residents, it will threaten the well-being of Okinawan people," Tamaki said. "This matter should not be overlooked."
New COVID-19 cases on Okinawa are still a relative handful but are on the rise, according to the prefectural Department of Public Health and Medical Care. New cases between Dec. 14 and Monday ranged from one to six but shot up to 11 on Tuesday. The department has identified four, so far, as the omicron variant.
The Marine Corps did not reply to an email seeking comment on Tuesday. It has released no new information about the cluster of new cases since Friday.
The omicron variant will likely spread more easily but more information is needed to determine if it causes more severe illness or death than other variants, according to the Centers for Disease Control and Prevention. White House chief medical advisor Dr. Anthony Fauci said Friday the best protection against the virus is a vaccine booster shot.
The Marines do not have the proper equipment to identify the variant by genome analysis, a spokesman for the prefectural Public Health Department told Stars and Stripes by phone Monday.
Tamaki spoke about the Hansen cluster with the commander of III Marine Expeditionary Force, Lt. Gen. James Bierman Jr., and Japanese deputy minister of foreign affairs Kiyoshi Odawara on Tuesday, a spokesman for Okinawa prefecture's military base affairs division told Stars and Stripes by phone on Tuesday.
Tamaki demanded that the U.S. military stop flying in personnel until the situation "calms down," all military and civilian employees at Hansen get tested, arrangements are made to perform genome analysis to see if the Marines are infected with omicron and that personnel are barred from exiting the base unless they test negative for COVID-19.
USFJ on Monday extended the coronavirus quarantine period, also called restriction of movement, for all incoming personnel affiliated with the U.S. military from 10 days to 14 days, according to a public health order by USFJ commander Lt. Gen. Ricky Rupp. The longer quarantine period applies to everyone, regardless of vaccination status.
USFJ did not respond to an email from Stars and Stripes on Tuesday asking if further changes to travel or liberty policy are planned.
On Friday, Hansen raised its COVID-19 risk level to Health Protection Condition-Bravo, which represents a moderate risk of coronavirus infection and gives commanders leeway to impose further restrictions. The base commander reimposed a mask mandate and canceled indoor dining.
That night, Tamaki announced that a base employee, a man in his 50s from Uruma city, had tested positive for omicron. Two more omicron cases surfaced Saturday in the local population, an American civilian in her 50s who works at Hansen and her Japanese husband, a man in his 60s.
Japan's Chief Cabinet Secretary Matsuno Hirokazu announced Monday that 180 personnel at Hansen had tested positive for coronavirus.
---
---
---
---