Marines raise COVID-19 risk level at Okinawa base after arriving troops test positive
by
Matthew M. Burke 
Stars and Stripes
December 17, 2021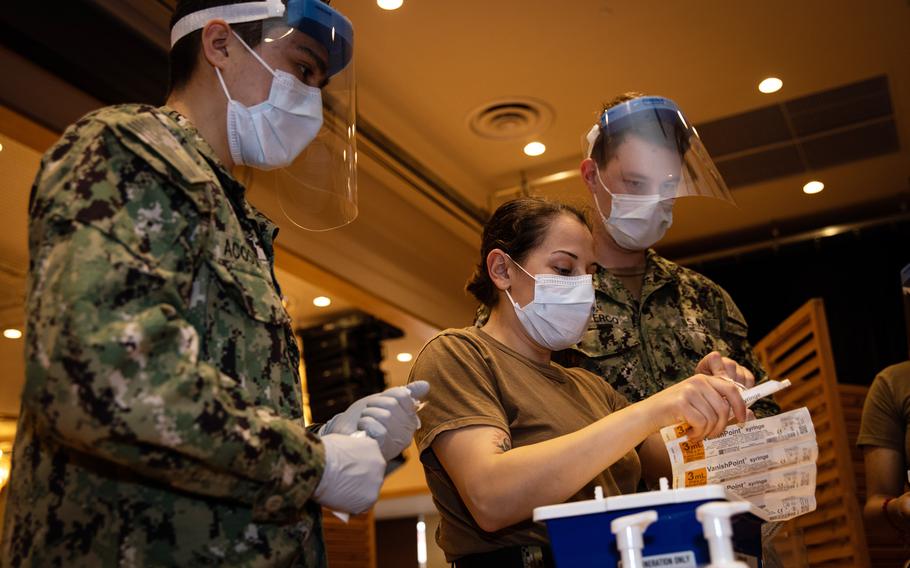 CAMP FOSTER, Okinawa -- The COVID-19 risk level was raised Friday at Camp Hansen, a Marine Corps base on Okinawa, after "multiple" Marines tested positive for the coronavirus respiratory disease, a spokesman for Marine Corps Installations Pacific said.
The Marines tested positive while in quarantine on Hansen after arriving under the unit deployment program, spokesman Lt. Col. Matthew Hilton said in a news release. He said they had no contact with the local population on the island.
"All COVID-positive personnel are currently in isolation, and we are conducting an aggressive testing, contact-tracing and quarantine program in order to prevent the spread of the virus," Hilton said in the statement.
The risk level on Hansen was raised to Health Protection Condition-Bravo, which represents a moderate risk of coronavirus infection and gives commanders leeway to impose further restrictions, according to a post Friday afternoon on Marine Corps Installations Pacific's official Facebook page.
As a result, a mask mandate is back in effect for everyone on the base, regardless of vaccination status, and some base services will be reduced.
Sit-down dining has been suspended at all Marine Corps Community Services facilities, including The Palms and Chili's Express, according to a post on the Hansen official Facebook page. Takeout is still available.
In the unit deployment program, stateside Marine units rotate to Okinawa to train in Asian environments for typically about six months.
Little more is known about the outbreak or when the Marines arrived, what bases and facilities on the island they may have entered or their medical conditions. Marine Installations Pacific did not respond to an email seeking further information Friday afternoon.
New cases of COVID-19 among the Marine Corps on Okinawa have dwindled since August when they reported 25 to 40 new cases per day.
Cases of the coronavirus have spiked in the United States in recent weeks, according to the Centers for Disease Control and Prevention website. This has largely coincided with the arrival of the more easily transmissible omicron variant.
Japan closed its borders on Nov. 30 to most new incoming foreign travelers through the end of December to prevent the variant's spread.
Cases of the coronavirus have flatlined in Okinawa prefecture in recent months. Only six new cases were reported Thursday, 333 fewer than the same day in August, public broadcaster NHK reported. The prefecture hasn't reported a death associated with the coronavirus since Nov. 12.
---
---
---
---