December COVID-19 surge prompts DOD to recommend booster shots across US forces
by
Alex Wilson
Stars and Stripes
December 29, 2021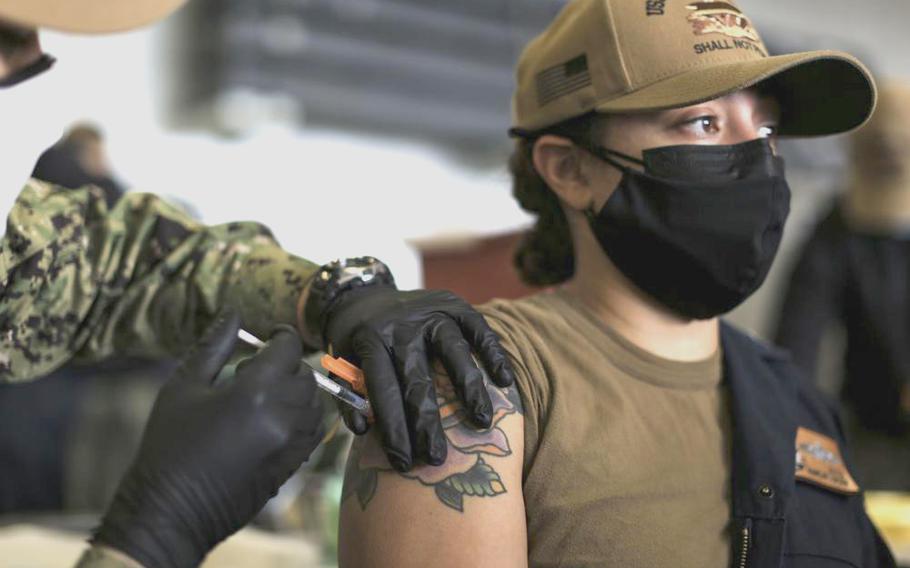 The Department of Defense recommended COVID-19 vaccine booster shots for all eligible civilian employees and service members on Tuesday as the U.S. hit a record number of new coronavirus cases.
The DOD urged anyone over age 18 and already vaccinated to get the booster as a means of mitigating the surge in coronavirus cases associated with the delta and omicron variants, according to a memo from Michael Donley, director for administration and management at the Pentagon.
The same day, the Centers for Disease Control and Prevention reported more 441,278 new coronavirus cases in the U.S., the highest number since the beginning of the pandemic and nearly 150,000 more cases than the previous high of 294,015 on Jan 8.
While active cases are climbing, deaths have steadily decreased from the last significant peak in September. The CDC reported 1,627 deaths on Dec. 27, down from the last peak of 2,394 deaths Sept. 24 or the peak of 4,048 deaths on Jan. 13.
The booster shot is not mandatory for uniformed members and civilian employees, according to Donley's memo. Defense Secretary Lloyd Austin ordered mandatory vaccinations against COVID-19 in August. Each service set its own timeline.
The memo cited a rise in active cases within the area around Washington, D.C.
In addition to urging individuals to get their booster shots, the memo also recommends DOD personnel returning to the workplace after the holidays check themselves for the virus using a home-testing kit approved by the Food and Drug Administration.
The Navy issued a similar advisory on boosters on Dec. 21, signed by Vice Adm. Bill Merz, the Navy's deputy chief of naval operations.
"Because all studies are converging on the need for a vaccine booster to ensure enduring protection, it is essentially becoming the next shot in a series and will likely become mandatory in the near future," Merz said in the memo.
The number of coronavirus cases outside the U.S. has also climbed over the past month. For the week of Dec. 20, the World Health Organization reported a global total of 5.4 million new cases, the highest since May.
For the U.S. military, the surge in new cases has caused some complications.
At Marine Corps base Camp Hansen in Okinawa, Japan, initial reports of "multiple Marines" infected with the coronavirus on Dec. 17 rapidly ballooned into 280 active cases by Tuesday. The situation led Okinawa Gov. Denny Tamaki to criticize U.S. military discipline.
Likewise, 25% of the crew aboard the littoral combat ship USS Milwaukee – about two dozen sailors – tested positive for COVID-19 as of Monday, according to a report from the Associated Press. Some test samples were found to be the omicron variant.
The ship, which was en route the U.S. Southern Command region, was sidelined at Naval Station Guantanamo Bay in Cuba as a result.
---
---
---
---