Navy fatality in Japan linked to COVID-19, but not as the cause
by
Joseph Ditzler
Stars and Stripes
December 28, 2021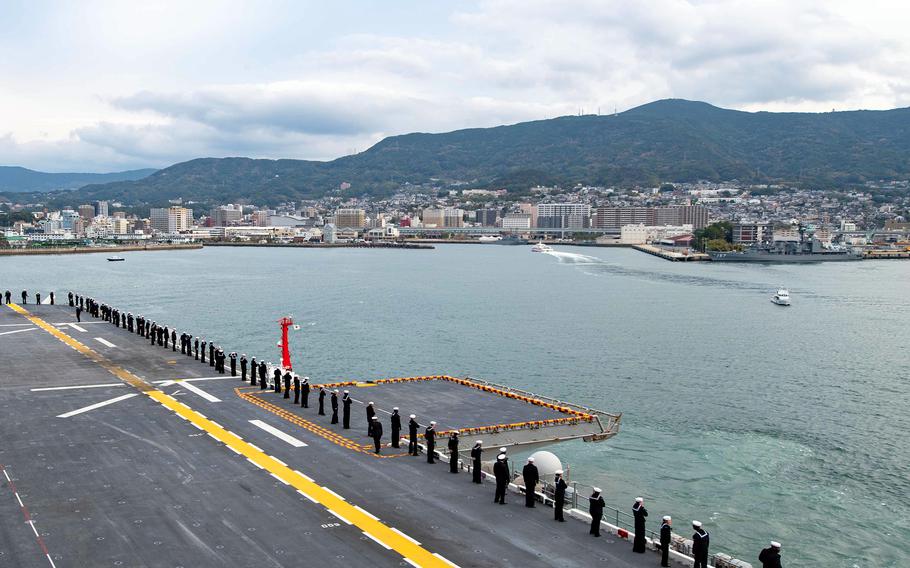 A person from Sasebo Naval Base, Japan, who died in the past week of unknown causes was afterward confirmed positive for the coronavirus, according to a base spokesman on Tuesday.
The deceased was affiliated with the Navy, but the base did not specify in what capacity.
That person was tested prior to receiving care at a Japanese hospital and subsequently died there, base spokesman Aki Nichols told Stars and Stripes in a phone call Tuesday. He said the test came back positive for COVID-19, the coronavirus respiratory disease, after the person's death.
"The cause is unknown," Nichols said. "It's circumstantial as far as we're concerned that the person was positive, we found that out after his death."
He said no further information about the cause of death is forthcoming.
Nichols said he could not confirm any of the person's details, including gender, military unit or organizational affiliation or position under the status of forces agreement, which outlines rights and responsibilities of U.S. service members, civilian employees and family members in Japan.
Another 16 people tested positive in the same period, eight after showing symptoms of COVID-19 and eight during medical screening, according to a base announcement Tuesday on its Facebook page. Sasebo Naval Base has 17 active cases.
The spike in new cases comes after three months of relative quiet at Sasebo, where a U.S. expeditionary strike group is located on the southern island of Kyushu. The 16 cases reported Tuesday are the most Sasebo has confirmed since 14 on Sept. 14.
Other bases in Japan are experiencing similar COVID-19 spurts after months of relatively few or no confirmed cases.
So far in December, Marine Corps Air Station Iwakuni near Hiroshima has reported 16 new cases of COVID-19, the coronavirus respiratory disease, 13 of them since Friday, according to news releases from the base.
Of the 13, three tested positive while in restricted movement, a less strict version of quarantine, according to the base. Eight tested positive over the weekend and five since Monday, according to base news releases Monday and Tuesday.
One person, a Japanese employee of the base, tested positive for the rapidly spreading, month-old omicron variant, according to a response by the MCAS Iwakuni public affairs office to a Facebook comment Dec. 24. All that person's close contacts tested negative, according to the base response.
MCAS Iwakuni is home to the Navy's Carrier Air Wing 5, fighters and other aircraft attached to the aircraft carrier USS Ronald Reagan; Marine Aircraft Group 12, which includes fighters and aerial refuelers; and Fleet Air Wing 31 of the Japan Maritime Self-Defense Force.
A spokesman for the base, 2nd Lt. Aaron Ellis, on Tuesday said by email he could not immediately provide further information.
On Okinawa, a cluster of cases at Camp Hansen, a Marine Corps base, grew from 260 on Monday to 277 on Tuesday, according to Okinawa prefecture. The Marine Corps has not stated whether any of those cases, which arose in a recently arrived Marine rotational unit, are of the omicron variant.
At Kadena Air Base on Okinawa, a Japanese employee tested positive for the omicron variant, according to a spokesman for the prefectural Department of Public Health and Medical Care on Tuesday.
Since Dec. 17, Okinawa authorities have reported eight Japanese employees at Marine bases have tested positive for omicron.
Yokota Air Base in western Tokyo, the headquarters of U.S. Forces Japan, reported 14 active cases on Dec. 22.
Yokosuka Naval Base, homeport of the U.S. 7th Fleet south of Tokyo, confirmed 10 cases so far in December, six of them on Thursday, according to base news releases.
Stars and Stripes reporters Jonathan Snyder, Alex Wilson, Hana Kusumoto and Matthew M. Burke contributed to this report.
Ditzler.joseph@stripes.com Twitter: @JosephDitzler
---
---
---
---