Navy pushes booster shots as best bet for personnel to stay compliant with COVID-19 policies
by
Alison Bath
Stars and Stripes
December 23, 2021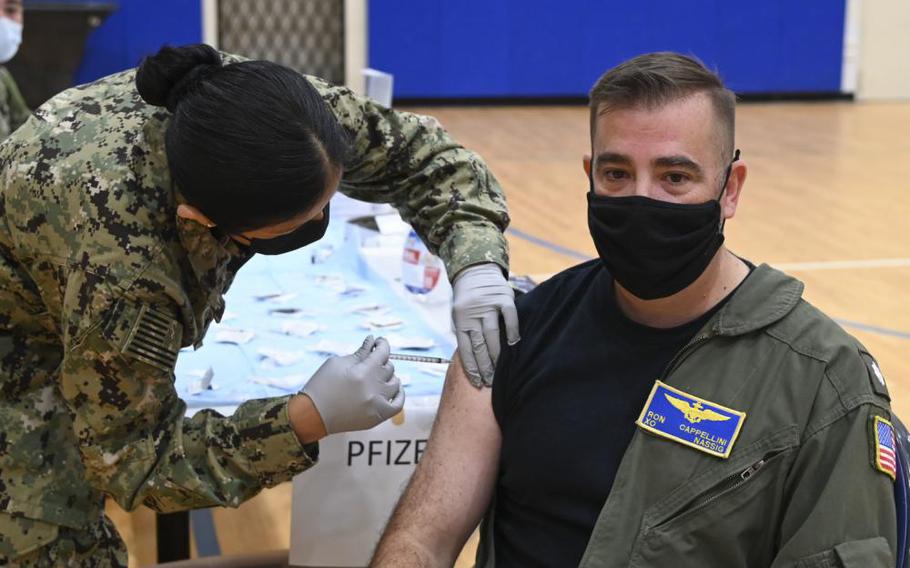 NAPLES, Italy — The Navy is strongly encouraging sailors who have been fully vaccinated for six months or more to get COVID-19 booster shots as base communities confront a surge in infections brought on by the omicron variant.
The advisory, issued Tuesday, stops short of ordering active-duty personnel and reservists to get the jab but acknowledges the waning efficacy of the Pfizer and Moderna vaccines after six months.
It also advises service members who received the Johnson & Johnson shot more than two months ago to get a booster.
"Because all studies are converging on the need for a vaccine booster to ensure enduring protection, it is essentially becoming the next shot in a series and will likely become mandatory in the near future," said Vice Adm. Bill Merz, the Navy's deputy chief of naval operations, who signed the notice.
Service members can receive a booster shot from military or civilian vaccination sites. But sailors who get a booster from a civilian site must notify their command within five working days to ensure that military medical records are up to date, Merz said.
Military dependents and DOD civilian personnel and contractors also are urged to get booster shots.
Meanwhile, overseas naval bases in Italy, Spain and Greece are striving to meet the demand for booster shots and warn about the evolution of COVID-19 restrictions and requirements in host countries.
It wasn't immediately clear Thursday how the notice will affect those bases, but earlier this month, the Naval Hospital in Naples, Italy, reported that it had delivered more than 2,700 booster shots as of Dec. 13.
The base in Naples is home to about 8,500 military members and their families.
Italy is considering several measures in hopes of containing the spread of the virus and encouraging people to get booster shots.
Proposals include mandatory outdoor mask-wearing and reduction of the duration that prior vaccination will be considered valid for obtaining the country's super green pass, media reports said Thursday.
If approved, the vaccination measure would require people to have their last shot within the previous six months starting Feb. 1, the Corriere della Sera daily reported.
Like the EU COVID-19 certificate, the super green pass verifies that the holder has been vaccinated within the previous nine months or has recovered from the virus, allowing access to restaurants, bars and other public venues
Nearly 86% percent of Italy's population age 12 and older has been fully vaccinated, and 16.3 million booster shots had been given, authorities said.
In Spain, Naval Station Rota is encouraging its community to get vaccinated or get a booster shot among other mitigation practices, such as mask-wearing at indoor public places.
"This latest wave of COVID is understandably stressful for everyone," Capt. David Baird, the NS Rota commanding officer, said in a post on the base's Facebook page. "All of us have pandemic fatigue, and all of us simply want to enjoy the holiday season. I offer that we absolutely can still enjoy the holiday season, especially if we take simple mitigation steps."
About 80% of Spain's population of 47 million has been fully vaccinated against COVID-19, and some 10 million have received booster shots.
Spanish lawmakers are considering making mask-wearing outdoors mandatory across the country.
In Greece, the government announced a series of measures Thursday designed to curb the omicron variant.
Starting Friday, all festive public events through Jan. 3 will be canceled. People are also immediately required to wear a KN95 mask on public transportation and in grocery stores, the Greek City Times reported Thursday.
It wasn't certain Thursday how the measures would affect Naval Support Activity Souda Bay in Crete.
But typically, U.S. bases have followed host country laws during the pandemic unless rules from the Defense Department or the Centers for Disease Control and Prevention are tougher.
---
---
---
---