Okinawa governor blasts US military discipline as COVID-19 cases climb at Marine base
by
Matthew M. Burke and Hana Kusumoto
Stars and Stripes
December 27, 2021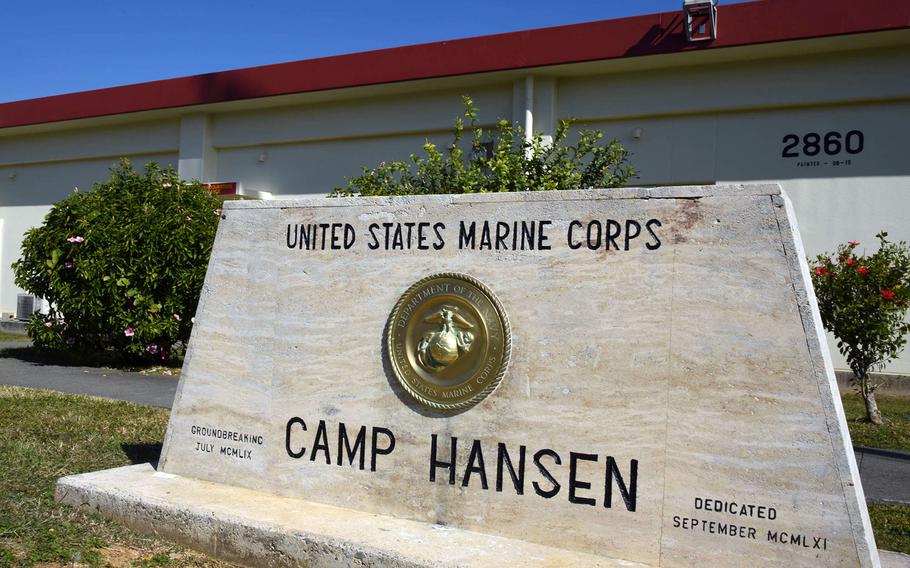 CAMP FOSTER, Okinawa – Okinawa's governor criticized U.S. military discipline on Monday as a coronavirus cluster at Camp Hansen stemming from a rotational Marine Corps unit grew to 260 cases.
Gov. Denny Tamaki, speaking to reporters at the prefectural offices in Naha, said he was alarmed by a pair of service member drunken driving arrests from the past week, especially after imploring the military to follow all guidelines because of the new infections.
"It is regrettable that I have to say that the enforcement of discipline in the military has eased up and lacks management ability," he said.
Tamaki also doubled down on his request for the U.S. to take additional preventative measures against COVID-19. Last week, he asked III Marine Expeditionary Force commander Lt. Gen. James Bierman Jr. to stop flying in new personnel. He also requested that all Hansen workers be tested for the virus, and that U.S. personnel be barred from leaving the base.
Tamaki made similar requests to Chief Cabinet Secretary Hirokazu Hatsuno on Thursday.
Marine Corps Installations Pacific did not respond to an email Monday seeking an update on Hansen's coronavirus infections. However, the number of cases associated with the cluster has risen by 33 since Thursday, according to Okinawa prefectural government data.
No new cases of the highly transmissible omicron variant have been reported since Thursday evening, when the island reported four new omicron infections for a total of 10. All have ties to the U.S. military or work at Hansen.
On Thursday, Marine Forces Japan reinstituted mask mandates for all on-base facilities regardless of vaccination status, according to a post on the MCIPAC Facebook page. The mandate does not apply to those who are eating or actively exercising, including indoor cardio, organized athletics and youth sports.
"Everyone has a responsibility to keep our community safe," III MEF said Monday on its Facebook page. "Individual behavior reflects on all of us."
Vaccinated personnel in quarantine are also restricted to their residence, official duties or the use of essential on-base services until cleared by a test on the fifth day of quarantine, the MCIPAC post said. Unvaccinated personnel are barred from leaving their quarters.
All in-bound travelers are required to take a COVID-19 test within 72 hours of departure, according to the post.
On Dec. 17, the Marine Corps announced that "multiple" Marines arriving for a rotational deployment had tested positive for COVID-19. Case numbers jumped from 180 on Dec. 20 to 227 on Thursday, according to data from Okinawa prefecture.
Immediately after the Marine Corps released a statement about the cluster, Tamaki announced the first omicron case had been detected on the island. As of Monday, neither Marine Corps nor Japanese authorities have confirmed whether any of the Hansen Marines are infected with omicron.
Japanese Foreign Minister Yoshimasa Hayashi expressed his dismay on Wednesday that the Marines had not been tested prior to arriving in Okinawa aboard a U.S. government flight.
U.S. Forces Japan reimposed a testing requirement for personnel heading to Japan the next day. It had previously increased the quarantine period for all individuals, vaccinated or unvaccinated, in line with Japan's requirement from 10 to 14 days.
Okinawa reported five new COVID-19 cases on Monday, bringing the total of active off-base cases to 26, according to prefectural data. For comparison, there was one case on Dec. 13, public broadcaster NHK reported. The island hasn't reported a coronavirus-related death since Nov. 12.
---
---
---
---