Holiday surge brings COVID-19 to US bases in Japan
by
Joseph Ditzler
Stars and Stripes
December 30, 2021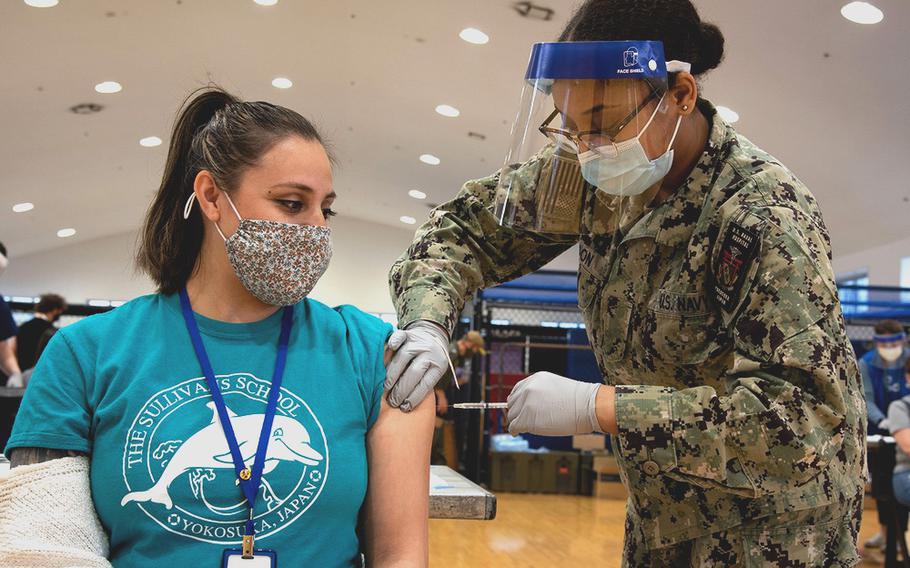 TOKYO – A surge in COVID-19 within the U.S. military in Japan added another 154 new cases at bases from Okinawa to Tokyo this week, due largely to new arrivals and holiday travelers returning to Japan.
Installations that reported no cases in November suddenly had them in double digits.
Yokosuka Naval Base, home of the Navy's 7th Fleet south of Tokyo, reported 75 people tested positive for the coronavirus between Dec. 23 and Thursday, according to a news release Thursday.
Sixty-nine were in quarantine after returning to Japan when they tested positive, according to a base news release Thursday. Three of those were unimmunized.
That many new cases of the coronavirus respiratory disease are a dramatic increase at the base that last reported one case in mid-November. Yokosuka, the largest U.S. naval base in Japan, is not alone in coping with a coronavirus surge as winter closes in and travelers return from holiday trips.
Marine Corps Air Station Iwakuni, 25 miles south of Hiroshima, reported another 27 cases Thursday, bringing to 122 the number of new cases of COVID-19 in a cluster growing there since Dec. 21.
The air base, home to Marine and Navy fighter squadrons, reported 80 COVID-19 cases Wednesday and 13 from the weekend.
Base commander Col. Lance Lewis on Wednesday imposed a temporary mask mandate, a 10 p.m. curfew for establishments in the surrounding communities, including Hiroshima, and a ban on guests on base.
"By implementing these stopgap measures, we will slow the spread, keep ourselves and our host city safe, and keep us in the fight," Lewis wrote on the MCAS Iwakuni Facebook page on Wednesday.
At Kadena Air Base on Okinawa, 22 people tested positive between Saturday and Thursday, according to an update on the base home page. Nine tested positive between Dec. 18 and 24. Kadena has 34 coronavirus patients under observation.
The Marine Corps identified nearly 280 cases since Dec. 17 at Camp Hansen on Okinawa, a cluster that originated in a recently arrived rotational unit. Nearly half of them, 47%, have tested positive for the omicron variant, an easily transmissible version of the coronavirus, according to a report Thursday by the Japanese newspaper Asahi Shimbun.
A spokesman for Marine Corps Installations Pacific did not return an email Thursday from Stars and Stripes seeking comment.
Yokota Air Base in western Tokyo reported 13 new coronavirus patients between Dec. 23 and Tuesday, according to an update Wednesday on the Yokota home page. A total 24 people with the virus are under observation at Yokota.
Naval Air Facility Atsugi, southwest of Tokyo in Kanagawa prefecture, reported 25 cases Thursday in a post on its official Facebook page.
Base commander Capt. Manning Montagnet, in a message to the base, said those cases are "entirely associated" with service members arriving to take up a new duty station or returning from holiday leave.
"And in every case, those who have tested positive are lightly symptomatic or asymptomatic, as most are already fully vaccinated," Montagnet said in a Facebook post Thursday. "The overall good news here is that these individuals who tested positive are OK, were found, and put into [restriction of movement] before any community spread."
U.S. Army Japan, headquartered southwest of Tokyo at Camp Zama, reported six COVID-19 cases on Wednesday for a total of 11 so far in December, according to Army news releases. All 11 tested positive after arriving in Japan, according to the Army.
Returning travelers affiliated with the military are required to quarantine 14 days at their installations or their off-base homes, provided they travel directly to and from their installations.
Japan reported 313 new cases on Wednesday and two deaths, according to the Johns Hopkins Coronavirus Resource Center. Its one-day high, nearly 26,000 new cases, occurred in August.
The United States on Tuesday reported 377,014 new cases, according to Johns Hopkins. Its one-day high, 512,553 new cases, occurred the previous day. It reported 2,105 deaths on Tuesday, about half the 4,048 deaths recorded Jan. 13.
---
---
---
---