Coronavirus cluster at Marine base in Japan grew by 73 cases over holiday weekend
by
Joseph Ditzler
Stars and Stripes
January 3, 2022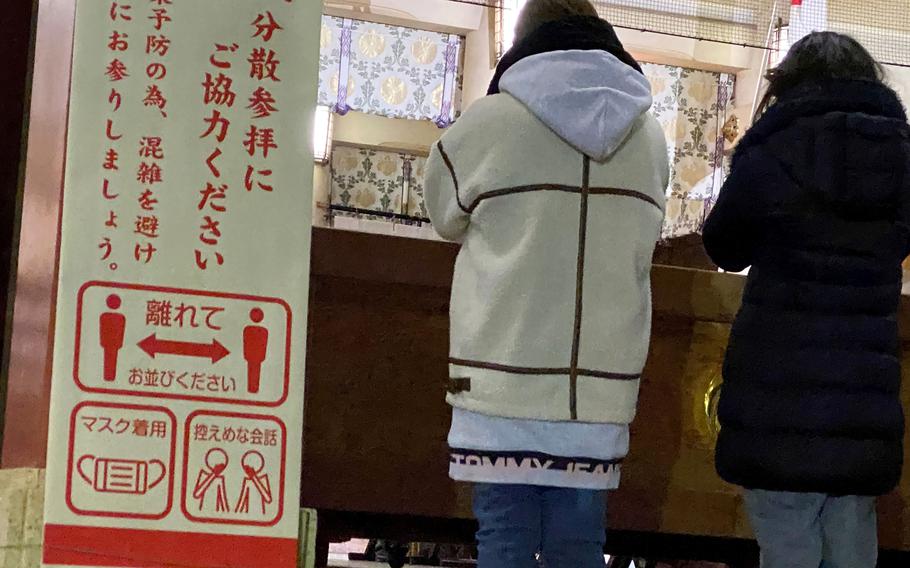 TOKYO — Another 73 people were confirmed positive for COVID-19 at Marine Corps Air Station Iwakuni over the four-day New Year's holiday, according to base news releases Friday and Monday.
The base 25 miles south of Hiroshima has reported 143 cases of the coronavirus respiratory disease since Dec. 27. Its new case numbers surged suddenly but fall short of the 200-plus at Marine Corps bases on Okinawa where a viral cluster erupted in mid-November.
Another Marine Corps installation, Combined Arms Training Center Camp Fuji, reported 10 COVID-19 cases between Dec. 27 and 28, according to a base news release Wednesday.
Tokyo reported 103 new cases Monday, the first time the capital city has confirmed more than 100 infections on one day since Oct. 8, according to NHK.
The public broadcaster also reported Monday that Okinawa prefecture, where the bulk of U.S. forces in Japan are stationed, reported 130 cases Monday, breaking 100 for the first time since Sept. 25.
Okinawa public health authorities reported 235 cases within the U.S. military on Saturday, a single-day record for that population, according to The Asahi newspaper on Sunday. A spokesman for Marine Corps Installations Pacific did not return an email request for comment Monday from Stars and Stripes.
Japan overall reported 477 new cases Sunday, according to the Johns Hopkins Coronavirus Resource Center.
Commanders at U.S. bases have said this new round of COVID-19 within the U.S. military population in Japan arose mostly with returning travelers and new arrivals to Japan. Its symptoms are generally not severe, according to reports from U.S. bases.
At Misawa Air Base, 850 miles north of MCAS Iwakuni, the base commander last week heightened the health protection status and imposed protective measures amid a COVID-19 surge. At the same time, he cautioned his people not to panic.
Most of the people turning up positive are experiencing very mild symptoms or none at all, Air Force Col. Jesse Friedel said Thursday on American Forces Radio.
"The biggest thing, we don't want people to panic and think it's a big threat out there," he said. "The majority of people that are positive we've caught with testing."
There is a downside, however.
"We actually have more cases on the installation than we've ever had," Friedel said.
He did not specify the number of active cases on the base, which has not publicized its coronavirus numbers since reporting 13 in August. Two squadrons of Air Force F-16 Fighting Falcons are stationed at Misawa. The Japan Air Self-Defense Force shares the base and has two squadrons of F-35A Lightning II stealth fighters there.
Friedel on Wednesday raised the health protection condition at Misawa from Alpha, which indicates a limited community transmission of the virus, to Bravo, or increased transmission.
With that, he instituted a mask mandate for all indoor public spaces, with an exception for exercise and related physical activity. Also, unit leaders must sign off on any planned social gatherings of more than 10 people, "with particular concern for gatherings that include members who recently returned" to Misawa Air Base from outside of Japan.
Many of the new cases are traced back to individuals returning from travel to the U.S. or elsewhere or arriving to their new duty station in Misawa, Friedel said.
The coronavirus variant behind the winter wave at Misawa, whether delta or omicron, is not immediately known, Friedel said.
The omicron variant, which surfaced in November and is twice as transmissible as its predecessor delta, is responsible for a growing number of cases in the United States, Col. Melissa Dooley, commander of the Misawa medical group, said Thursday on AFN.
---
---
---
---