North Korea reports testing anti-aircraft missile, its fourth launch in recent weeks
by
David Choi
Stars and Stripes
October 1, 2021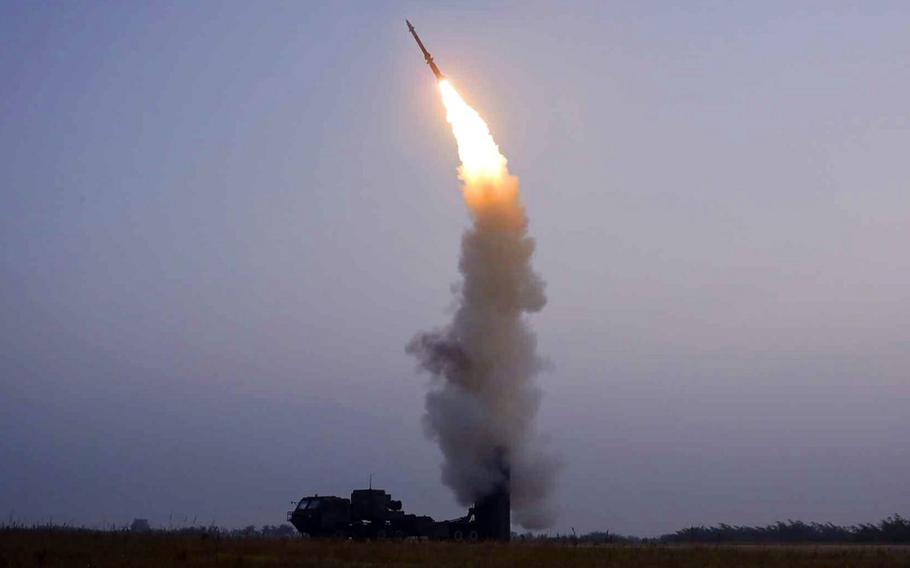 CAMP HUMPHREYS, South Korea — North Korea claimed to have launched a new anti-aircraft missile Thursday, its fourth missile test in recent weeks, as its leaders signaled peaceful overtures amid frozen relations.
The new surface-to-air missile displayed "remarkable combat performance" through "new key technologies," the state-run Korean Central News Agency reported Friday.
North Korean leader Kim Jong Un did not appear to have inspected the test, according to the report.
South Korea's military, which typically gives details of significant missile tests shortly after they are conducted by the North, said it was aware of the latest launch but did not provide further insight.
North Korea's production of surface-to-air missiles is not a novel development; it has tested the missiles in the past decade and claimed they were successful.
At least three other missile variations were launched by North Korea in recent weeks. The communist regime in separate tests last month fired a ballistic missile from a train, launched long-range cruise missiles capable of reaching Japan, and test-fired a hypersonic short-range missile off its eastern coast.
The latest test comes one day after Kim said the inter-Korean communication lines would reopen by early October. The lines were reinstated in July after an extended pause but were again severed after two weeks in an apparent protest to joint U.S.-South Korean military drills.
In a statement through KCNA on Thursday, Kim said the restoration of the hotline was an effort "for realizing the expectations and desire of the entire Korean nation to see the earlier recovery of the North-South relations."
His sister, Kim Yo Jong, relayed the same sentiment in a separate statement last month but added the U.S. and South Korea needed to quit their "hostile policies" against her country.
In her statement, Kim described the notion of formally ending the 1950-53 Korean War as a "good idea," but noted that the declaration would be meaningless if the current "conflicted relationships and antagonistic relations" continued on the peninsula.
South Korean President Moon Jae-in, who has advocated for formally putting an end to the Korean War throughout his presidency, urged the two countries to "come together" in a speech before the United Nations General Assembly in September.
The Koreas remain at war following the signing of an armistice agreement, rather than a peace treaty. Roughly 28,500 U.S. troops are currently stationed in the South.
Stars and Stripes reporter Yoo Kyong Chang contributed to this report.