North Korea says it has test-fired a 'new type' of long-range cruise missile
by
David Choi
Stars and Stripes
September 12, 2021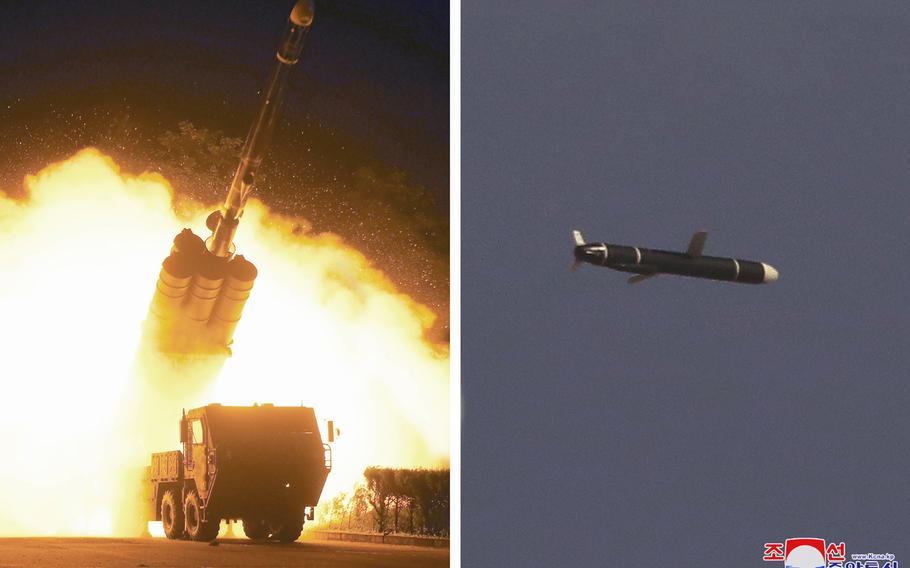 North Korea successfully test-fired a "new type" of long-range cruise missile over the weekend, state-run media reported Monday.
In separate tests on Saturday and Sunday, the missiles flew 932 miles for over two hours before hitting their targets in North Korean airspace and dropping into territorial waters, according to the Korean Central News Agency.
"The efficiency and practicality of the weapon system operation was confirmed to be excellent," the report said.
The missile's range, if accurate, would be enough to reach Tokyo. North Korea tested a short-range ballistic missile in March, in violation of the United Nations Security Council resolutions for the regime.
Ballistic missiles are powered by rockets and fly in a high arch to reach their targets. Cruise missiles are powered by jet engines and fly at lower altitudes, making them more difficult to detect.
South Korea's military is conducting an analysis of the tests with U.S. agencies, the Ministry of National Defense said in a statement to reporters on Monday.
U.S. Indo-Pacific Command, in a separate statement, said it was aware of the reports and "will continue to monitor the situation."
"This activity highlights [North Korea's] continuing focus on developing its military program and the threats that poses to its neighbors and the international community," the statement said "The U.S. commitment to the defense of [South Korea] and Japan remains ironclad."
The tests come as officials for the U.S., Japan and South Korea are expected to meet this week in Tokyo to discuss the denuclearization of the Korean Peninsula, as well as the "immediate resolution" of North Korea's abduction of Japanese citizens.
Leader Kim Jong Un was not mentioned in a list of North Korean officials who witnessed the weekend launches, which happened just days after Pyongyang held a military parade to celebrate 73 years since the nation's founding.
North Korean troops were pictured in Thursday's Rodong Sinmun newspaper parading through Kim Il Sung Square in the center of the capital as thousands of attendees cheered. Kim oversaw the event from a balcony.
The regime did not appear to showcase new weaponry as it has in past parades, based on images published in the state-run newspaper.
During a parade celebrating the 75th anniversary of the ruling Workers' Party in October, the country unveiled a new intercontinental ballistic missile that analysts say could be the "world's largest mobile ICBM."