North Korea holds low-key midnight military parade without showcasing ballistic missiles
by
David Choi
Stars and Stripes
September 9, 2021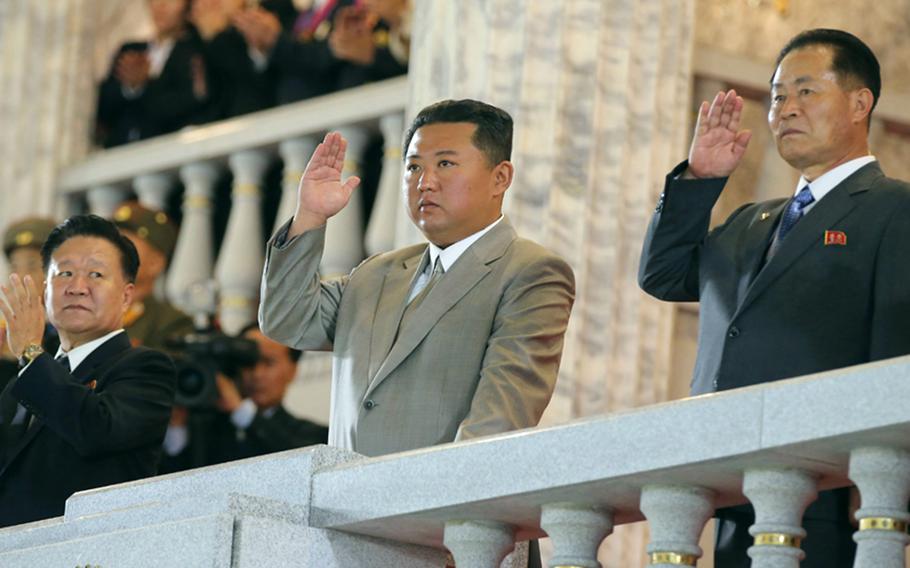 North Korea's midnight military parade celebrating 73 years since the nation's founding Thursday appeared to lack the display of new weaponry that frequently causes friction with South Korea and the United States.
North Korean troops were pictured in the Thursday's Rodong Sinmun newspaper parading through Kim Il Sung Square in the center of Pyongyang, the capital, as thousands of attendees cheered. Leader Kim Jong Un, wearing a beige suit, oversaw the event from a balcony and was seen ceremoniously waving at marching troops.
Based on images published in the state-run publication, the regime did not appear to showcase new weaponry, such as a ballistic missile, as it has in past parades. However, North Korea did parade its artillery systems, traditional cavalry units, dogs and people wearing hazardous materials suits.
North Korea's state-run televised broadcasting agency had yet to show the parade on Thursday afternoon, and a complete line-up of the showcased weapon systems was not immediately known.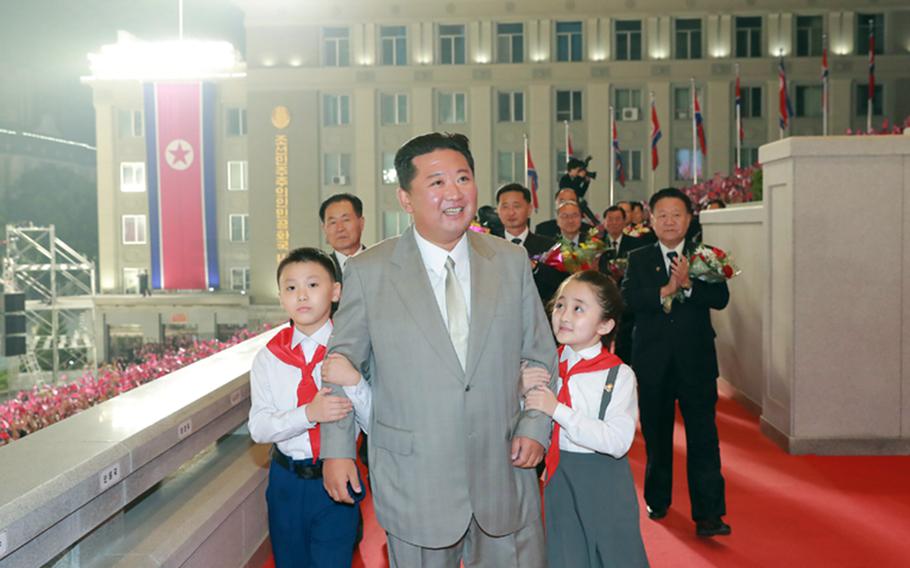 The newspaper also reported that "escort planes" and fighter jets flew over the city square, and parachutists descended from the sky waving their country's flag.
Initial reports suggest the regime may have "wanted to tone down … at least for a moment," as the U.S. and South Korea develop a strategy for North Korea, said Yoo Hoyeol, professor emeritus of North Korean studies at Korea University.
The U.S. envoy for North Korea is expected to meet with his counterparts from South Korea and Japan as soon as next week in Tokyo, according to multiple news reports. Special envoy Sung Kim in August said he was willing to meet with North Korean representatives "anywhere and at any time," and that the U.S. "does not have hostile intentions."
"At this time, the coronavirus is still a problem in this region and there is no reason for him to hurry up" and provoke South Korea and the U.S., Yoo told Stars and Stripes on Thursday. Kim "wants to see what happens in South Korea and the U.S. — North Korea still has time to make preparations."
Despite North Korea reporting no coronavirus cases and rejecting millions of Chinese-made vaccines, analysts believe the country has been severely affected by the pandemic and in need of aid, particularly in the form of eased sanctions.
Soo Kim, a policy analyst for Rand Corp. and an adjunct instructor at American University, told Stars and Stripes on Thursday that the parade did not appear to be a major milestone for the regime. She added it may have merely been an obligatory event conducted with "minimal effort."
North Korea is expected to hold another parade celebrating the ruling party's founding on Oct. 10, a more significant anniversary than the country's founding, Yoo said.
During a parade celebrating the 75th anniversary of the ruling Workers' Party in October, the country unveiled a new intercontinental ballistic missile that analysts say could be the "world's largest mobile ICBM."
South Korea's Ministry of National Defense in a text message to Stars and Stripes on Thursday said it was "carefully" monitoring the parade and that the country's intelligence services were "conducting a detailed analysis … in close coordination with the U.S. intelligence authorities."
Stars and Stripes reporter Yoo Kyong Chang contributed to this report.