North Korea tested a new hypersonic missile, according to state-run media
by
David Choi
Stars and Stripes
September 29, 2021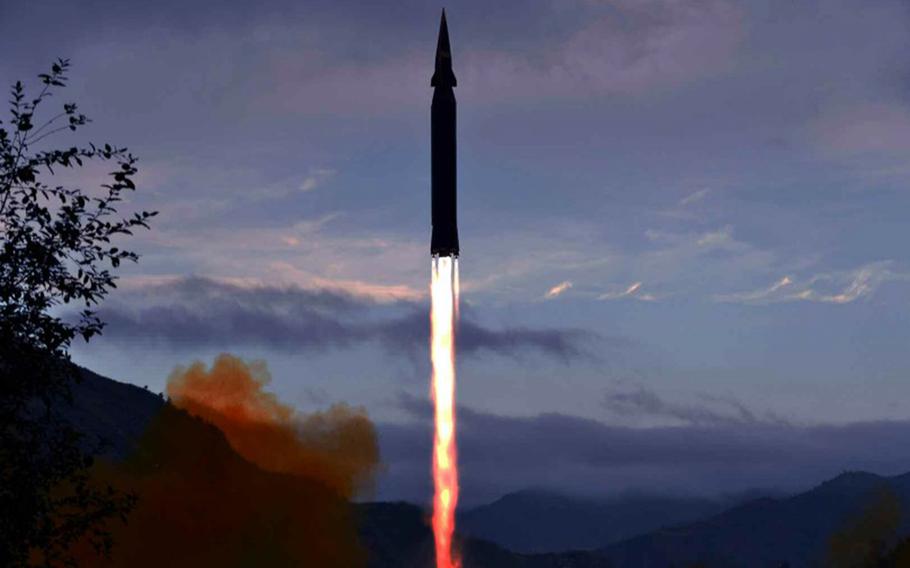 CAMP HUMPHREYS, South Korea — South Korea's military says it noticed "something different" about a North Korean missile launch this week that, according to state-run media, was the successful test of a new hypersonic weapon.
The U.S. and South Korean militaries detected what appeared to be a short-range missile fired into the sea off the peninsula's eastern coast on Tuesday morning. A report the next day by Pyongyang's Korean Central News Agency described the weapon as "a top priority work" and "of great strategic significance." Hypersonic missiles travel several times faster than the speed of sound and are harder to intercept. KCNA did not disclose the weapon's technical specifications. The missile "shows something different" from the North's previous launches, South Korean military officials told Stars and Stripes in a phone interview Wednesday. The officials, speaking on the customary condition of anonymity, declined to provide additional details, noting that U.S. and South Korean intelligence agencies were still analyzing the launch.
North Korean leader Kim Jong Un, in an annual speech early this year, urged the country to boost its weapons program, including developing longer-range intercontinental ballistic missiles, tactical nuclear weapons and hypersonic aircraft. Tuesday's test "ascertained the stability of the engine as well as of missile fuel ampoule that has been introduced for the first time," the KCNA report said. "The test results proved that all the technical specifications met the design requirements."
Fuel ampoules, or airtight capsules, appear to be a "big step" for North Korea's weapons program and could reduce the time spent to launch a missile, said Jeffrey Lewis, a missile expert at the James Martin Center for Nonproliferation Studies at the Middlebury Institute of International Studies, on Twitter.
An Associated Press report Wednesday described liquid-fuel missiles as more vulnerable than solid-fuel missiles because they must be fueled separately and taken to launch sites using trucks that can be seen by enemy satellites or other military assets.
Following the test, U.S. Indo-Pacific Command in a statement said the missile launch did "not pose an immediate threat to U.S. personnel or territory."
In separate tests earlier this month, the communist regime fired a ballistic missile from a train and launched long-range cruise missiles capable of reaching Japan.
The latest test-fire was conducted as North Korea's ambassador to the United Nations repeated allegations that the U.S. was conducting a "hostile policy" against the country. Ambassador Kim Song in a speech before the U.N. General Assembly on Tuesday said the country's weapons program was developed purely as a defensive measure against the U.S. and South Korea.