Nuclear weapons no real advantage for South Korea, former USFK commander says
by
David Choi
Stars and Stripes
September 16, 2021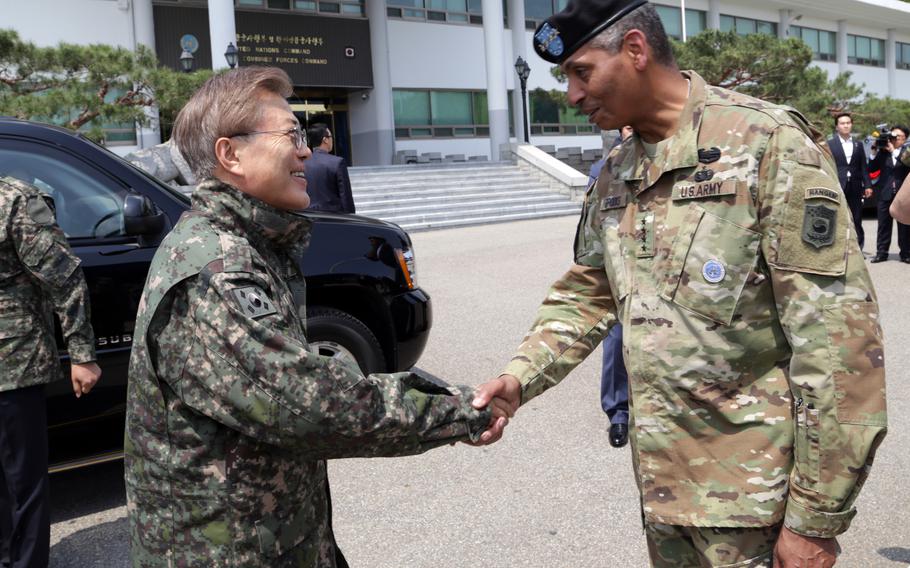 A retired Army general who oversaw all U.S. troops on the Korean Peninsula said he believed nuclear weapons would not give South Korea a strategic advantage and may instead escalate tensions to "an unnecessary degree of danger."
Vincent Brooks, the former commander of U.S. Forces Korea and United Nations Command, spoke during a virtual roundtable discussion hosted by the Korea Defense Veterans Association on Tuesday.
He described South Korea as a "mature democracy" that had "withstood great pressures and tests," but possessing a nuclear weapon would not help it deter threats from North Korea. In light of North Korea's ongoing nuclear program, the subject of Seoul possessing nuclear weapons has been raised by many South Korean politicians in recent years, including primary candidates in the upcoming presidential election.
President Moon Jae-in has ruled out the deployment of nuclear weapons in South Korea, warning during a television interview in 2017 that it may "lead to a nuclear arms race" in the region.
"I'm of the view that South Korea and the alliance have the advantage," Brooks said. "They have the military advantage and the addition of nuclear weapons … does not help that."
The U.S. withdrew its nuclear weapons from the peninsula in 1991 and signed a bilateral defense treaty to protect South Korea from external attacks.
South Korea does not possess nuclear weapons but has made advances in developing its missile program. On Wednesday, it became one of the few nations to successfully test-fire a submarine-launched ballistic missile, an accomplishment Moon described as a deterrent to North Korea's continued provocations.
In addition to its technological advances, decades-old guidelines limiting the range of South Korean-developed ballistic missiles to a maximum range of roughly 500 miles were scrapped by the U.S. and Seoul in May.
Given these advances, Brooks said, he believed the idea of South Korea possessing nuclear weapons "escalates the threshold to one that is an unnecessary degree of danger."
"It's going to be debated and must be debated by the sovereign nation of [South Korea], to decide for itself," Brooks said. "But there are a lot of things that come with the possession of nuclear weapons and it's not all good."
The 42-year Army veteran said Seoul "should be very careful not to open the door to these types of things when they have strength already; and not to do it just to be equalizing" against Pyongyang.
"North Korea is imitating South Korea," Brooks said. "South Korea does not need to imitate North Korea."
North Korea on Wednesday announced it had fired two ballistic missiles across its eastern coast. The missiles flew about 500 miles at a maximum altitude of 37 miles, according to South Korea's Joint Chiefs of Staff.
North Korea's Wednesday test happened just two days after it fired long-range cruise missiles that flew 932 miles for over two hours, according to the country's state-run news agency.
Brooks said that despite North Korea having "numerical superiority," its military lacks technical capabilities and "a will to fight."
North Korea is estimated to have roughly 1.2 million troops, according to the Council on Foreign Relations, compared to South Korea's active-duty force of around 550,000. Roughly 28,500 U.S. troops are also stationed in South Korea.