North Korea fires another missile as its UN ambassador rails against 'hostile' US policy
by
David Choi
Stars and Stripes
September 27, 2021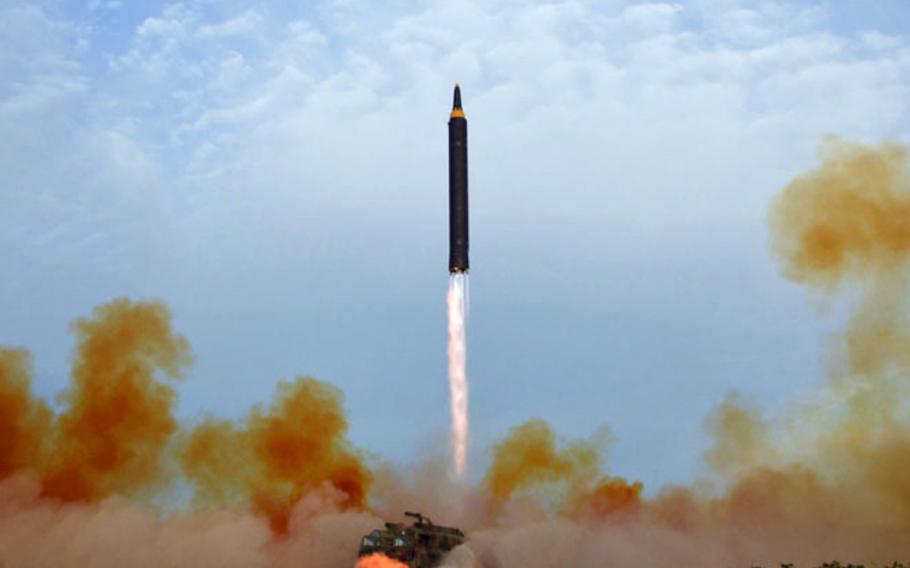 On the same day his country test-fired another missile, North Korea's ambassador to the United Nations accused the United States of more than 70 years of antagonism toward the communist state.
Ambassador Kim Song lambasted the U.S.'s "hostile policy" of stationing troops on the Korean Peninsula and its joint military exercises with South Korea in a speech before the U.N. General Assembly on Monday in New York.
North Korea frequently rails against the deployment of U.S. troops in South Korea and the allies' joint military exercises, which it views as preparation for an invasion of its country. Roughly 28,500 U.S. troops are stationed in the South, most of them 40 miles from Seoul at Camp Humphreys.
Kim also made an apparent jab at the U.S. envoy for North Korea, who repeatedly said in recent months that he was willing to meet with his counterparts "any time without preconditions."
"If the U.S. shows its bold decision to give up its hostile policy, we are also prepared to respond willingly at any time," Kim said. "But it is our judgement that there is no prospect at the present stage for the U.S. to really withdraw its hostile policy towards [North Korea]."
Kim's comments came as North Korea launched what the South believes to be a short-range missile into the sea off its eastern coast on Tuesday. South Korean military officials told reporters the regime had fired the presumptive missile off its eastern coast at 6:40 a.m.
Officials declined to provide additional details Tuesday afternoon but noted U.S. and South Korean intelligence agencies were conducting a "detailed analysis."
U.S. Indo-Pacific Command in a statement said the missile launch did "not pose an immediate threat to U.S. personnel or territory" and that it was indicative of "the destabilizing impact of [North Korea's] illicit weapons program."
South Korean President Moon Jae-in was briefed on the launch and directed the National Security Council to "come up with countermeasures by comprehensively and closely analyzing recent statements of North Korea and situations in relation to the missile launch," the presidential Blue House said in a statement.
Following a National Security Council meeting on Tuesday morning, the Blue House said in a separate statement that senior officials "expressed regret" that the launch took place at "a very imperative time to have a stable situation on the Korean Peninsula."
Also this month, North Korea fired ballistic missiles from a train, as well as long-range cruise missiles capable of reaching Japan.
Pyongyang did not answer its military communication lines with the South on Tuesday.
Stars and Stripes reporter Yoo Kyong Chang contributed to this report.