Pentagon installs Langley as AFRICOM leader in 'historic moment'
By
Nancy Montgomery and John Vandiver
Stars and Stripes
August 9, 2022
---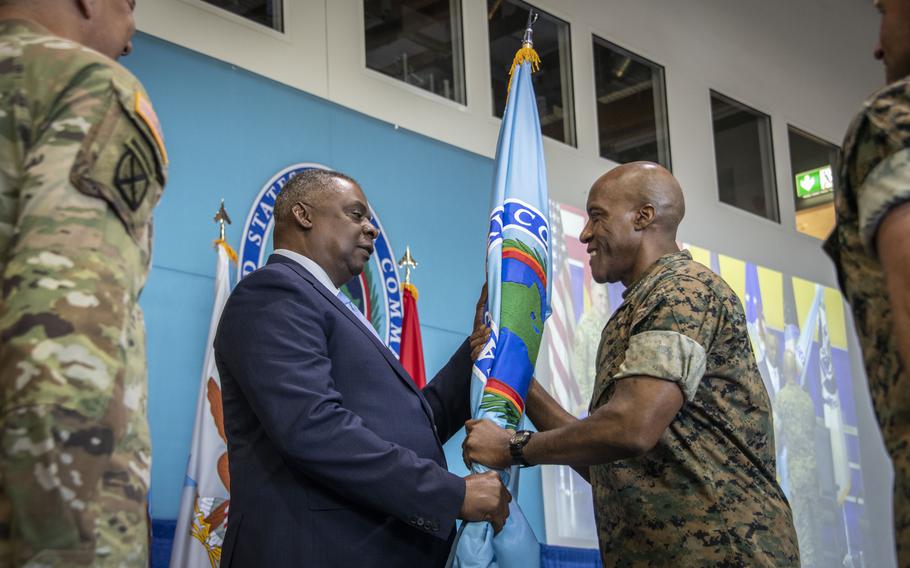 Marine Corps Gen. Michael Langley assumed command Tuesday of U.S. military missions in Africa, where countering China's growing influence and keeping terrorist groups in check will be at the top of the agenda.
Langley replaced Gen. Stephen Townsend, who has led the Stuttgart, Germany-based U.S. Africa Command for the past three years.
"I know I have a lot to do. We have a lot to do," Langley said during a ceremony at the command's Kelley Barracks headquarters. "I'm ready to embark on this mission."
Langley's promotion to lead AFRICOM also represents a momentous occasion for the Marine Corps, as he is the first Black four-star general in the service's 246-year history.
Defense Secretary Lloyd Austin, who himself made history as the first Black leader to hold the top job at the Pentagon, officiated at the ceremony. He called Langley the best fit for the job as Africa is challenged by climate change, mass migration, Chinese and Russian interference, autocracy and terrorism.
"Your extraordinary achievement reminds (Black troops) that they belong," Austin said, adding that the reminder applies to women and others not previously welcomed by the armed forces as well.
"I could not be prouder to stand beside you in this historic moment," Austin continued.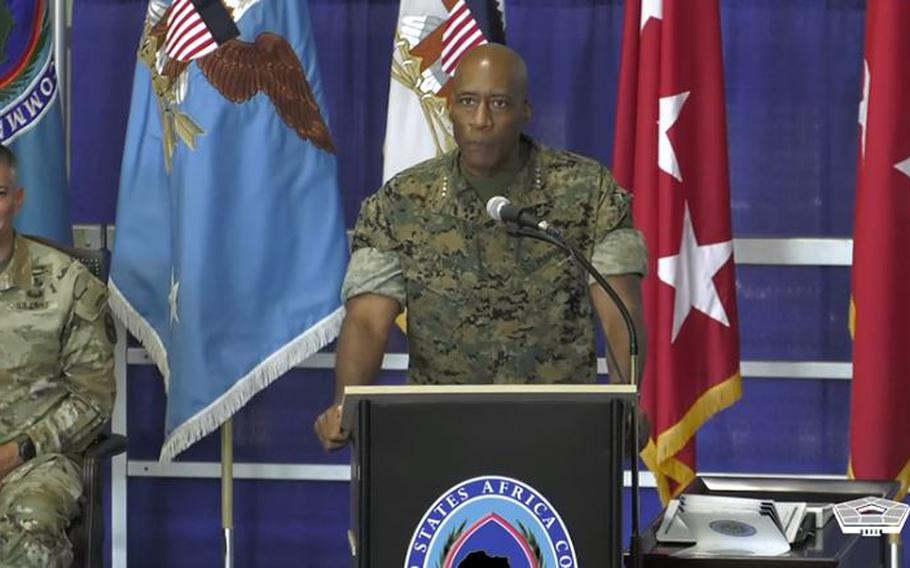 Langley brings a wide range of experience commanding troops, including on the African continent. He led Marine Corps Forces Europe and Africa in Stuttgart for about six months in 2020 and 2021 after his predecessor was removed over allegations of using a racial slur in front of junior Marines.
And before his AFRICOM post, he was in charge of all Marines based on the U.S. East Coast.
"Mike is a selfless and humble man," Gen. Mark Milley, chairman of the joint chiefs of staff, said at the ceremony. "He accomplishes the mission without fanfare. He is what all commanders should be: decisive, able and a man of integrity."
Both Austin and Milley spoke to the importance of the AFRICOM mission, which seeks to provide stability, security and prosperity across a continent more than three times the size of the U.S.
There are 53 countries and 800 ethnic groups in Africa, where religious extremist groups have taken thousands of lives and democratic movements struggle with corrupt autocracies.
"Today, Tunisia's dream of self-government stands endangered," Austin said, noting that in other African nations, the military has pushed out civilian governments.
"A military exists to protect the people, not the other way around," he said.
Austin also mentioned "outsiders" angling to interfere in Africa. He singled out China, which uses African infrastructure projects to seek a foothold for larger ambitions, and Russia. 
He accused the Kremlin of "peddling cheap weapons and mercenaries" to Africa and spreading malign influence to undermine the international rules-based order and the rule of law.
Austin also praised Townsend's work during his three-year AFRICOM command, which began with a heavy focus on counterterrorism operations in Somalia.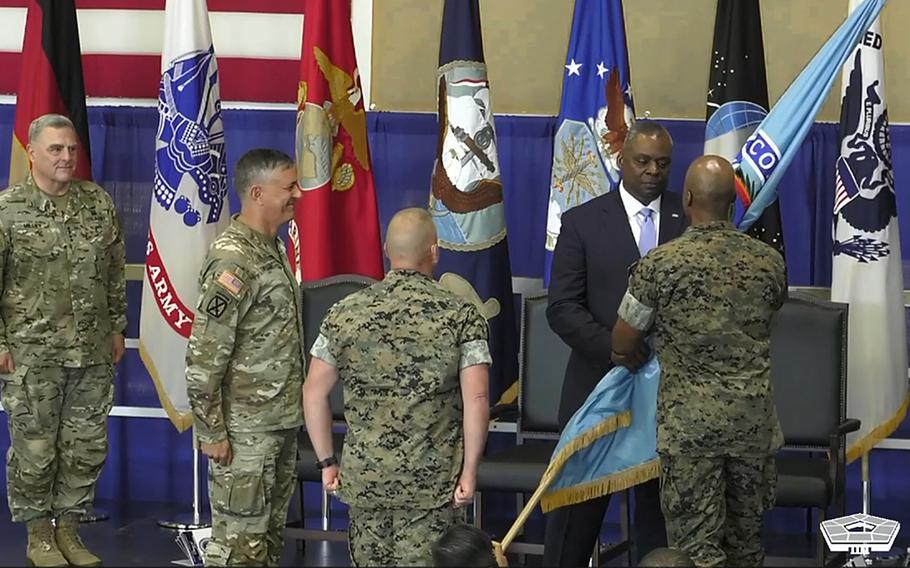 Townsend, who is retiring after a 40-year military career, echoed Milley and Austin on the strategic importance of the continent.
"A few bucks goes a long way in Africa," Townsend said. "I think America can afford it."
U.S. troops have served as advisers to Somalia's fledgling military in its decadeslong fight against al-Shabab, a militant group aligned with al-Qaida.
A sharp increase in drone strikes against al-Shabab also was a major focus for AFRICOM at the outset of Townsend's time in command. 
However, the mission experienced an abrupt shift in late 2020, when former President Donald Trump ordered all U.S. troops out of Somalia.
And in subsequent months, airstrikes in the country came to a halt under President Joe Biden as the new administration reviewed the military's approach in the country. 
In May, however, amid concerns that al-Shabab was gaining ground, Biden ordered U.S. forces back into Somalia to serve as regular advisers. 
Langley's ascension at AFRICOM coincides with a diplomatic tour of the continent by Secretary of State Antony Blinken as the U.S. seeks to demonstrate the seriousness of its commitment to ensuring security and cooperation in Africa.
Langley said during Tuesday's ceremony that he shared the moment with his father, who retired from the Air Force after it wanted to deploy him, a widower with four children under 12.
"He chose to raise me," Langley said. "When I look at my career, I'm an extension of Master Sgt. Willie Langley. This one's for you, Dad."
---
---
---
---