Russia invades Ukraine, military housing woes and more: A look back at Military Matters' 5th season
By
Stars and Stripes
August 25, 2022
---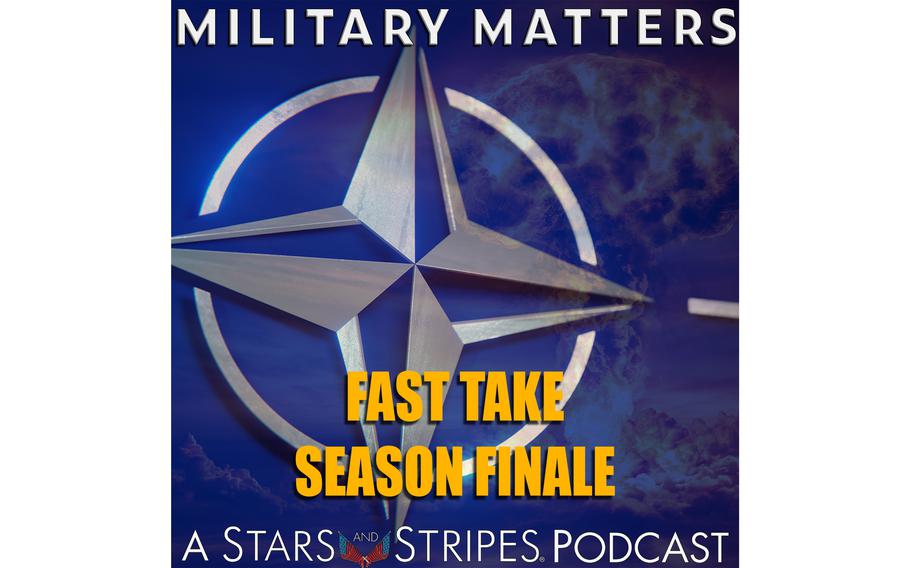 Military Matters' fifth season debuted March 1, less than a week after Russia began its invasion of Ukraine.
The war, now in its sixth month, dominated this season, but co-hosts Rod Rodriguez and Jack Murphy found time to tackle other topics, including the military's housing woes (with Stars and Stripes reporter Rose Thayer taking over for an episode), the suicide of Army intelligence operative Michael Froede and the untold story of Army infantryman Bowe Bergdahl. Rodriguez and Murphy revisit these stories and more in this season wrap-up episode.
Up first, they discussed last week's season finale, which focused on the history of NATO and the nuclear threat from the war in Ukraine.
"What we've seen with [Russian President Vladimir] Putin is that he has been able to rewrite the rules," Murphy said. "We went from Moscow rules in the 1980s to, as a senior CIA officer, Jack Devine, told me in an interview years ago, now we have no rules."
Recent escalating tensions between the West and China over Taiwan, in particular House Speaker Nancy Pelosi's visit to the island, also came up. China claims Taiwan as its own territory to eventually be reunited with the mainland. The U.S.'s One China policy acknowledges the claim without recognizing it.
"Ukraine changes things in some regards," Murphy said. "The Chinese have always held off an invasion of Taiwan for a variety of reasons, one of them certainly being the repercussions, the international implications of doing that. … The United States and the West in general is a very large marketplace for China. The last thing they want to see is that dry up. If there is diminished GDP growth within China domestically, it undermines the legitimacy of the state."
Rodriguez also brought up the military's ongoing struggle with housing amid soaring rent prices across the country.
"I have seen firsthand [a] high-ranking enlisted guy waiting for a house, living in an apartment that is unsustainable for his family, unsustainable," Rodriguez said. "This guy served his country for almost 20 years. He's done well for his country. And [he's] waiting for months to get on-post housing because whatever's out here in the civilian sector, you literally can't afford. And I will tell you, my wife is a real estate agent out here in Florida. These homes are insanely marked up."
You can find Military Matters on Twitter @stripesmmpod.
Follow Jack Murphy on Twitter @jackmurphyrgr and Rod Rodriguez @rodpodrod.
A transcript of the episode can be found here.
Go to www.stripes.com use promo code PODCAST and save 50% on your digital subscription.
---
---
---
---