Episode 8: The truth about Bowe Bergdahl, the POW who deserted his post in Afghanistan
By
Stars and Stripes
July 21, 2022
---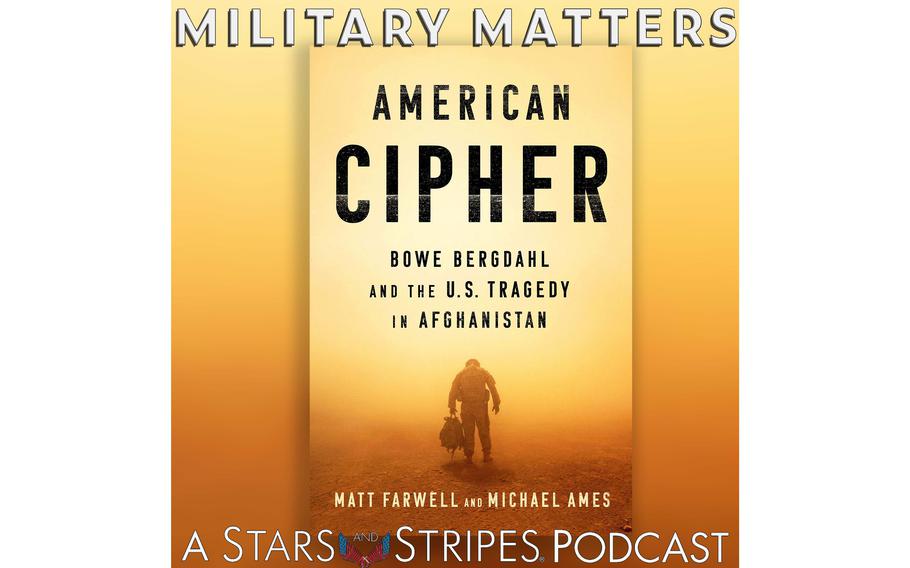 More than a decade after Army infantryman Beaudry "Bowe" Bergdahl deserted his post in Afghanistan and was captured by the Taliban, misconceptions remain about his time as a prisoner of war and his ultimate court-martial and dishonorable discharge.
In this episode of Military Matters, co-host Jack Murphy digs into Bergdahl's story with Michael Ames, co-author with Army veteran Matt Farwell of the book "American Cipher: Bowe Bergdahl and the U.S. Tragedy in Afghanistan."
"The reality that really needs to be known and that should rise over time is that the top commanders in [the] U.S. military in the summer of 2009 — Stan McChrystal, Mike Flynn, David Petraeus — knew that Bowe Bergdahl had been smuggled over the border into Pakistan within three to four days of his disappearance," Ames said. "And then they sent thousands of Americans on so-called searches to go find a guy who they knew was already gone. And that reality remains buried. And it is true. It has been sourced through dozens of sources in the military and the intelligence community."
Bergdahl deserted from Observation Post Mest in Paktika Province, Afghanistan, in 2009 and was then captured by the Taliban. He was held captive, and at some points tortured, until his release in 2014 as part of a controversial prisoner swap for high-ranking Taliban leaders.
But the narrative that Bergdahl had aligned himself with the Taliban, presented by much of the media in the U.S. at the time, was incorrect, Ames said.
"Bergdahl was trying to walk from his outpost to an American base in this silly, stupid stunt that he concocted in his mind," Ames said. "But he was aware enough to know that if he ran into the Taliban, that they were gonna hurt him. And that's exactly what happened. He went out there, he was wearing this head dress to try to, like — he thought he was some sort of mixture of Bear Grylls and Indiana Jones meets Lawrence of Arabia."
Bergdahl pleaded guilty to charges of desertion and misbehavior before the enemy at his 2017 court martial and received a dishonorable discharge and a reduction in rank. He also was fined $1,000 per month from his pay for 10 months with no prison time. But before that, he returned to work for the Army.
"If you just got your information from the American media, you would think along the lines of … this guy was a traitor at worst; at best, he was a deserter who didn't care about America," Ames said. "Meanwhile, inside the military, he was being essentially protected and honored. And they literally gave him awards for his conduct in captivity. And they created just reams of intelligence from what he was able to share in those debriefings."
You can find Military Matters on Twitter @stripesmmpod.
Follow Jack Murphy on Twitter @jackmurphyrgr and Rod Rodriguez @rodpodrod.
A transcript of the episode can be found here.
Go to www.stripes.com, use promo code PODCAST and save 50% on your digital subscription.
---
---
---
---