Episode 9: NATO, Russia and the threat of nuclear war
By
Stars and Stripes
August 16, 2022
---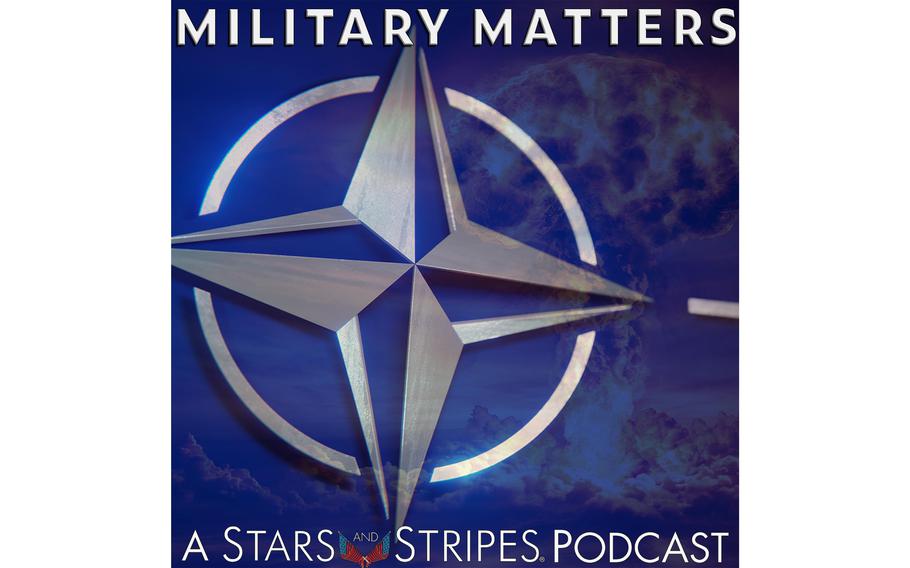 The North Atlantic Treaty Organization, better known as NATO, has been in the news more and more since Russia began its invasion of Ukraine in February. But what is NATO, and how does it relate to the war in Ukraine — and what happens if the situation goes nuclear?
In this week's episode of Military Matters, co-host Rod Rodriguez delves into NATO's history and the nuclear threat raised by the war.
Timothy Sayles, associate professor of history at the University of Toronto and author of "Enduring Alliance: A History of NATO and the Postwar Global Order," explained that NATO is "a treaty, it's an integrated military command and it's a forum where diplomats from different states come together to talk about their interests."
"NATO played a really important role for the decades of the Cold War," Sayles said. "And what's so curious is at the end of the Cold War, when the Berlin Wall fell in 1989, when the Soviet Union itself collapsed in 1991, NATO did not go away."
With NATO countries, the U.S., the UK and France, and Russia all armed with nuclear weapons, there are fears the war in Ukraine could escalate. Russia President Vladimir Putin, in launching the invasion, warned the West of "consequences greater than any you have faced in history." Jeffrey Michaels, a senior fellow at the Barcelona Institute for International Studies, explained why he thinks Russia has been reluctant to follow through on its threats so far.
"Throughout history, throughout the Cold War, throughout the nuclear age, countries have not actually said, 'We're going to take territory and if you don't give it to us, we're going to nuke you,'" Michaels said. "… You could not blackmail the international community in that way; it would be against international law, et cetera, et cetera. So the risks of going down that path are just enormous. And what you would actually get in return is just too inconsequential."
Ulrich Kühn, who leads the research program on Arms Control and Emerging Technologies at the Institute for Peace Research and Security Policy at the University of Hamburg, Germany, also cited the risks of nuclear conflict as a deterrent (essentially, "everyone dies"). But the concern may not be from nuclear weapons, but rather the nuclear power plants in Ukraine such as the Chernobyl Nuclear Power Plant and Europe's largest nuclear power plant in Zaporizhzhia, which was recently shelled, with Russia and Ukraine blaming each other for the attacks.
"We don't know how these reactors might fair against shelling with sophisticated and modern missiles that might deeply penetrate that reactor," Kühn said. "… I would say hopefully this is not an immediate risk, but let's face it. If we come to the point where the worst happens, where there's going to be like a big incident, that would immediately elevate the war to a larger crisis affecting all the surrounding countries."
You can find Military Matters on Twitter @stripesmmpod.
Follow Jack Murphy on Twitter @jackmurphyrgr and Rod Rodriguez @rodpodrod.
A transcript of the episode can be found here.
Go to www.stripes.com, use promo code PODCAST and save 50% on your digital subscription.
---
---
---
---