Episode 4: The Russian economy, sanctions and cryptocurrency
By
Stars and Stripes
April 21, 2022
---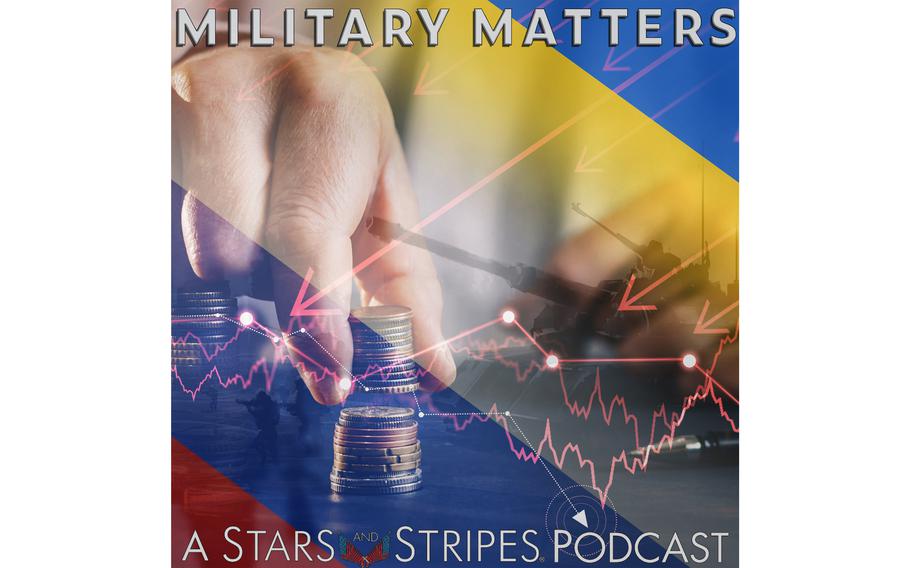 War is expensive. People across the globe are feeling the economic crunch of U.S. and European sanctions against Russian oligarchs — and less formal business boycotts in Russia — as gas and food prices and inflation continue to skyrocket.
On this week's episode of Military Matters, co-hosts Rod Rodriguez and Jack Murphy take a look at what the sanctions have done to Russia's economy and its ability to wage war, as well as what role cryptocurrency has to play in the ongoing crisis.
Murphy again spoke with Russian analyst Nick Trickett, an associate scholar in the Eurasia Program at the Foreign Policy Research Institute, about the sanctions and the ruble's ups and downs in the global economy. While the Russian currency has appeared to make a comeback in recent days, Trickett warned that there's more going on under the surface.
"[The Russians] impose really, really intense capital controls, so people can't get money out of the country very easily or money out of the bank very easily or as easily," he said. "You know, if you're a foreigner, you're having an impossible time selling your assets, or you're not allowed to pull your capital out of the country. And topping it all off, you have the fact that the actual liquidity, like the size of trades of people buying rubles in terms of the daily turn rate, is really, really, really low. So basically the value of the ruble doesn't tell us very much about the health of the Russian economy. It's actually a negative indicator in many respects."
Murphy asked if the war could end up pushing Russia closer to China economically. Trickett said he doesn't see that happening.
"China's going to keep buying Russian commodities where it can as a large economy, but … the Chinese state has definitely done a lot to show that it's really not trying to like totally undermine the sanctions regime or fuse those two economies into like a dragon bear to take on the West," he said.
Next, Rodriguez spoke with cryptocurrency and cyber security expert Rick Jordan about how cryptocurrency has helped to keep Russian oligarchs afloat. While Russia has been locked out of the worldwide SWIFT banking system, and cryptocurrency trading platform Coinbase has blocked many Russians from using its platform, the decentralized nature of cryptocurrency still allows for transactions using private wallets.
"They can still send and receive money all the live long day from their private wallet address, and this happens all the time," Jordan said. "You can go straight from wallet to wallet, and it completely bypasses any sort of system that's in place. That's the whole point of crypto, is that it's decentralized. Whereas Coinbase almost centralizes the decentralization by having what's called a custodial wallet, so they actually have full control over those wallet addresses. … And that's how the Russian oligarchs are still able to transfer money in and out."
You can find Military Matters on Twitter @stripesmmpod.
Follow Jack Murphy on Twitter @jackmurphyrgr and Rod Rodriguez @rodpodrod.
A transcript of the episode can be found here.
Go to www.stripes.com use promo code PODCAST and save 50% on your digital subscription.
---
---
---
---