Fast Take: Why you shouldn't go fight in Ukraine
By
Stars and Stripes
April 7, 2022
---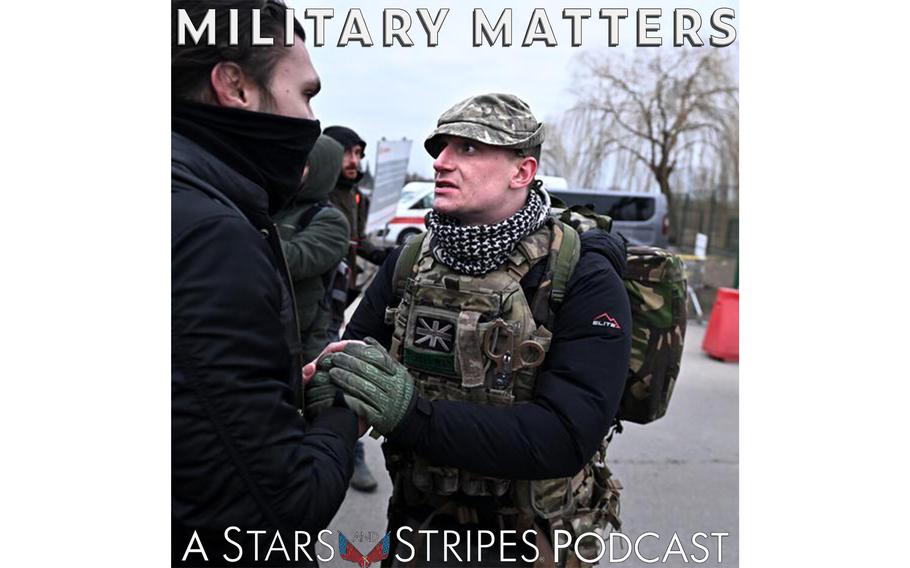 With the war in Ukraine still raging, Russia and Ukraine have both appealed to foreign fighters to volunteer. There have been stories about U.S. military veterans trying to join the fight to help Ukraine and finding themselves in very different situations than what they were used to on an American military deployment.
In this Fast Take episode of Military Matters, host Rod Rodriguez talks to Marine Corps veteran Tim Lynch about his experiences as a military contractor, and his assessment of the risks involved in trying to join the fight in Ukraine. This episode is not an endorsement or encouragement for anyone to go to Ukraine to fight, Rodriguez said.
After retiring from the Marine Corps, Lynch spent almost a decade working in Afghanistan and Iraq as a security contractor. While he says he had a "great time," he warned that military contracting is not for everyone.
"You might be all kinds of motivated, but I think you might find that your — at least my experience was, your living conditions, medical care when you get sick, when I got malaria and stuff — it's not quite up to what you're used to," Lynch said. "And as Americans we are so used to having so much support, that when you're out on your own and any problems you find, you've got to fix yourself. That's not an experience most American military men and women have (and) are good with."
Lynch acknowledged that Ukraine is not Afghanistan. But the risks are still there — beyond the bullets and bombs, service members could stand to lose their security clearances or get caught up in shady situations with less-than-scrupulous contractors, Lynch said.
And beyond all that, it can be hard when you're the only American out there.
"To be in a situation where you've gotta make do with what you've got right now, it's not an easy thing to do," Lynch said. "It can be exciting as hell. It can be rewarding. But … when I think back though, all the time I spent loitering around in places like Nimroz Province (in Afghanistan), where there was no Americans and stuff like that. I'm proud of what I did there but mainly what I remember is, is just being damn lonely all the time. Man, it's hard to be out there on your own for weeks on end."
You can find Military Matters on Twitter @stripesmmpod.
Follow Jack Murphy on Twitter @jackmurphyrgr and Rod Rodriguez @rodpodrod.
A transcript of the episode can be found here.
Go to www.stripes.com use promo code PODCAST and save 50% on your digital subscription.
---
---
---
---