Episode 3: Urban warfare in Ukraine, and what do Russians think of the war?
By
Stars and Stripes
March 31, 2022
---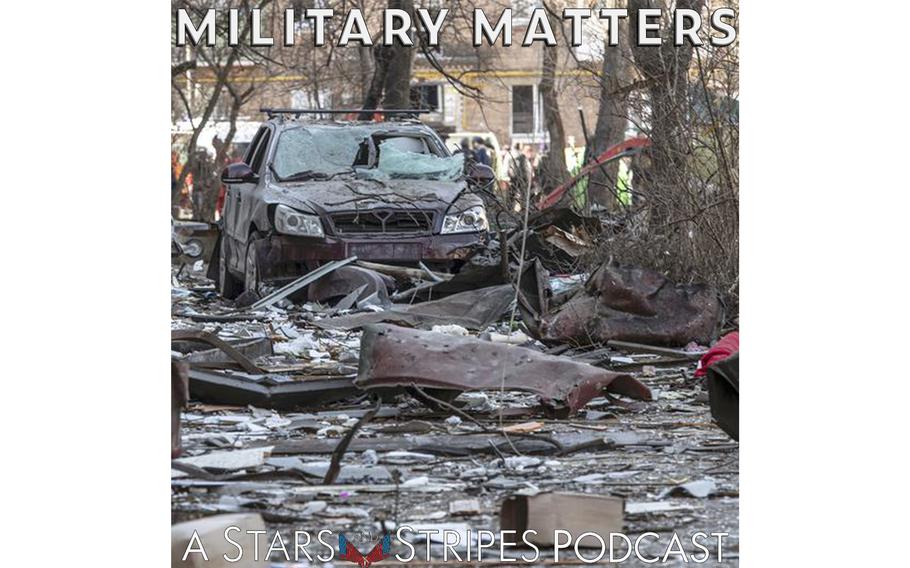 Russia's invasion of Ukraine has entered its second month with no end to the conflict in sight. Talks between the two sides have yielded little in the way of resolution, and analysts are calling this a war of attrition.
In the third and final part of Military Matters' series on Russia, co-host Jack Murphy speaks with Rita Konaev, the associate director of analysis and a research fellow at the Center for Security and Emerging Technology at Georgetown University. Konaev has studied artificial intelligence, Russian military technology and urban warfare, and she offered insight into how this war might play out in the long term.
"The minute that you have an urban warfare component, let alone several of them across an entire country, you are not going to have a quick victory," Konaev said. "I don't care what kind of sophisticated, advanced military you are; you will get bogged down. Urban warfare is a war of attrition. So of all the several mistakes that we've all made along the way, I think the one that we are continuously making is the idea that this is about to end soon, one way or another."
While Ukraine has performed better militarily than many experts believed it would — and has received materiel help from the United States and other countries — Konaev doesn't agree with the perspective that attrition will help Ukraine.
"This leveling of the playing field with the fact that Russia is performing terribly, plus the fact that the Ukrainian military and support units are performing amazingly well, plus the urban warfare, which favors the defense, plus the support from the international community, the military support, that equalization protracts the stalemate and protracts the conflict," she said.
In the second part of the episode, co-host Rod Rodriguez speaks with Golfo Alexopoulos, a professor in the School of Interdisciplinary Global Studies at the University of South Florida in Tampa Bay and director of the university's Institute on Russia, about the attitudes of ordinary Russians toward the war and the crippling sanctions that have been levied by the West on the country.
"If you told the Russian public that their government is bombing innocent civilians, they would be overwhelmingly opposed," Alexopoulos said. "So I think (Russian President Vladimir) Putin is afraid of the truth getting out to Russian citizens. Ordinary Russian citizens are opposed to war, and they would never approve of this. So if they're giving pollsters their approval of war in Ukraine, they're really, really speaking to all the hype about Eastern Ukraine. The actual facts on the ground have been hidden from them."
The sanctions against Russia, designed to hurt Putin and the oligarchs in power, have unfortunately affected ordinary citizens as the Russian economy continues to bottom out.
"Whether they'll blame the West or blame Putin, it's really an open question," Alexopoulos said.
She didn't have a rosy prediction on how the conflict will end.
"I think (Putin's) just going to dig in his heels, become more and more brutal, and that's what worries me the most," Alexopoulos said. "That there's going to be some nuclear disaster, or there's going to be some other environmental catastrophe that draws in more countries. I do worry because Putin is not behaving in a rational way right now. I mean, the fact that he even initiated this war reveals that he's living in a bubble. So it's just hard to know. … My view is that it doesn't end unless Putin falls."
You can find Military Matters on Twitter @stripesmmpod.
Follow Jack Murphy on Twitter @jackmurphyrgr and Rod Rodriguez @rodpodrod.
A transcript of the episode can be found here.
Go to www.stripes.com use promo code PODCAST and save 50% on your digital subscription.
---
---
---
---