Episode 2: War in Ukraine, Russia's military and special operations forces
By
Stars and Stripes
March 17, 2022
---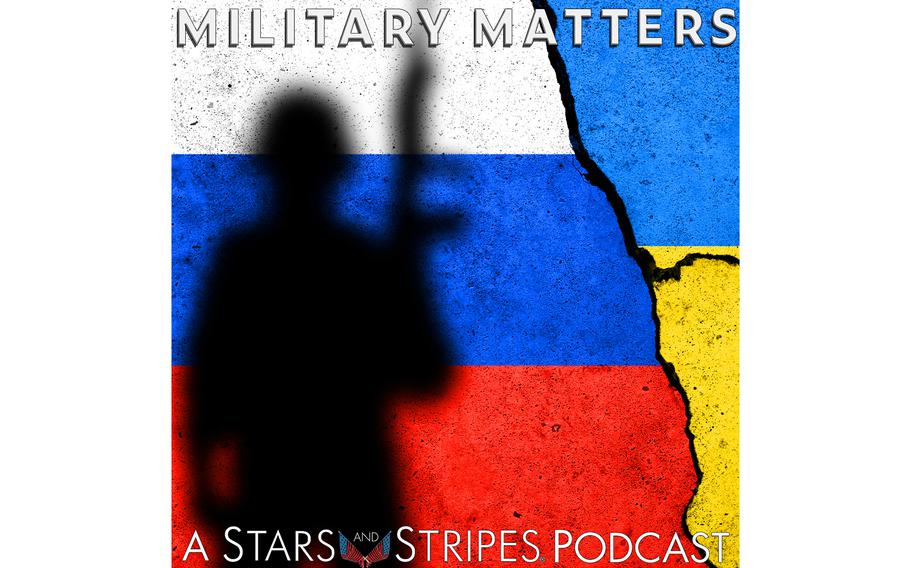 As Russia continues its invasion of Ukraine, there are signs that things may not be playing out according to President Vladimir Putin's plans. News reports have shown abandoned Russian military vehicles with empty gas tanks, young Russian soldiers telling their captors that they thought they were part of a military exercise, not an invasion, and a miles-long convoy of Russian armored vehicles, tanks and artillery stalled outside the Ukrainian capital of Kyiv.
But with recent Russian and U.S. statements pointing to possible biological, chemical or even nuclear warfare on the horizon, things could get much worse. In the second part of Military Matters' series on Russia, co-host Jack Murphy speaks with Russian military and security expert Mark Galeotti about Russia's military and special operations forces, and with journalist and author Tim Weiner about how the West is pushing back against the invasion.
"In many ways what the Ukrainians have is the kind of army that Russia had maybe 15 years ago," Galeotti said. "There are some sort of particular new technologies that have been introduced, particularly, for example, the Javelin anti-tank missile from the United States, the NLAW shoulder fire, disposable anti-tank rocket from the U.K., which gives them some degrees of defensive capability. But if one looks at armor, looks at artillery, and also if one looks at all the panoply of communication systems, detection systems, electronic warfare systems, I mean, on all of these areas, the Russians have a huge sort of strength."
Murphy spoke with Galeotti the day before the invasion started. While not all of Galeotti's predictions came to pass, he did offer insight into how organized crime plays a role for Russian special operations forces, or KSSO. Galeotti cited examples that have played out in Ukraine since Russia annexed Crimea in 2014.
"Often it's silly little things, you know, hand grenade left in a bus shelter type stuff," he said. "But nonetheless, certainly talking to people from the SBU, the Ukrainian security service, their belief is that on the whole, it's not as though highly trained Russian agents were being assigned to carry out this kind of penny-ante sabotage, but rather that they subcontracted it to local criminals."
Galeotti also offered thoughts on what might be driving Putin to act in what could be deemed a rash manner in Ukraine.
"The Ukrainians have become such a thorn in (Putin's) side because they're a sign of failure," Galeotti said. "He still hasn't managed to defeat even the Ukrainians. And that's why he ultimately needs to, or else he will have to acknowledge that both he'd made mistakes — Putin's a man who never makes mistakes — but also that this is something beyond his power."
Murphy spoke with Weiner, author of the 2020 book "The Folly and the Glory: America, Russia, and Political Warfare, 1945–2020," a week into the war in Ukraine. Weiner offered his thoughts on where the war is headed.
"What we're probably in for is a brutal occupation in which tens of thousands of civilians will be killed, cities laid to siege," Weiner said. "And it might not wind up looking like Warsaw in 1945 where not a stone stood upon a stone, and it might not look like Grozny, utterly ruined. But (Putin) has the capacity to bust cities, and a sustained insurgency fought with Stingers and Javelins and whatever else America and the West can run into Ukraine that will also kill thousands, perhaps tens of thousands of Russian soldiers. As with any insurgency, the Ukrainians win by not losing."
You can find Military Matters on Twitter @stripesmmpod.
Follow Jack Murphy on Twitter @jackmurphyrgr and Rod Rodriguez @rodpodrod.
A transcript of the episode can be found here.
Go to www.stripes.com use promo code PODCAST and save 50% on your digital subscription.
---
---
---
---