Fast Take: The global economy and the war in Ukraine
By
Stars and Stripes
May 3, 2022
---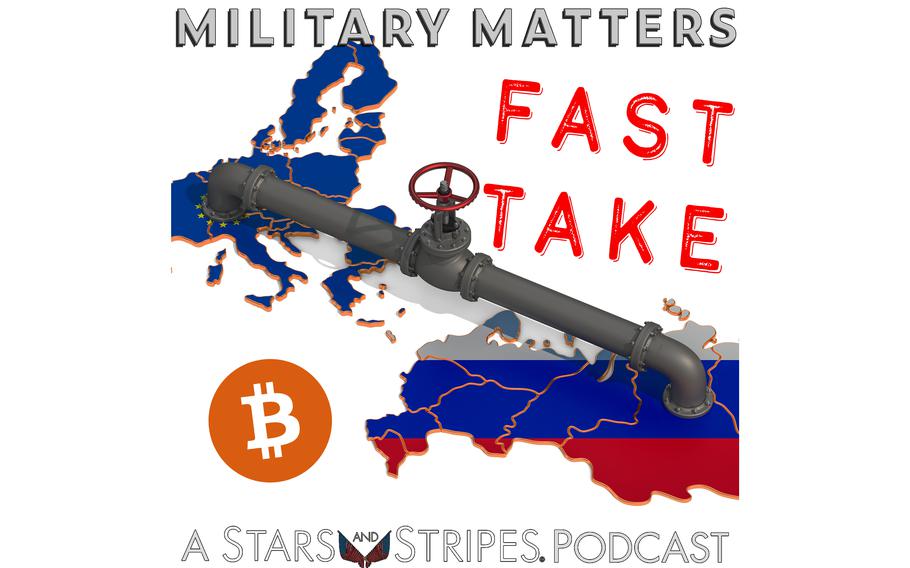 The last episode of Military Matters examined the economic ramifications of the war in Ukraine, for Russia and the entire world, and the role cryptocurrency plays in Russia's war effort.
In this Fast Take episode, co-hosts Rod Rodriguez and Jack Murphy look back on their interviews with Russian analyst Nick Trickett and cryptocurrency expert Rick Jordan.
"There are these kind of silly ideas that I think amateur pundits bat around, and one of them being that we're pushing Russia toward China and that China and Russia are going to interlink with one another and form this sort of isolated Eurasian economy that no longer needs the Western world," Murphy said. "And Nick really pointed out, I think, how silly that is. It is just not realistic; it'll never happen."
Murphy and Rodriguez also discussed Russia's recent decision to cut off natural gas exports to Poland and Bulgaria.
"There's a real question there of who does that hurt more? Does that hurt those countries? Or does it hurt Russia more because those oil pipelines to Europe, that's one of the last sources of revenue they have that hasn't been sanctioned, right?" Murphy said. "So it's one of the few ways they have to actually make money. It's definitely cutting your nose off to spite your face."
Rodriguez and Murphy differed on their views on cryptocurrency. While Murphy expressed skepticism about cryptocurrency culture, Rodriguez pointed out that major financial institutions such as Morgan Stanley have adopted crypto as part of their investment strategy.
"Some folks are really trying hard to make this into a currency, a digital currency, no different than your dollar that you would spend on different types of services and goods," Rodriguez said. "The problem is that cryptocurrency is also an investment tool, very similar to a stock, and something we've talked about in the past is unlike money … you don't purchase movie tickets with Apple stock."
You can find Military Matters on Twitter @stripesmmpod.
Follow Jack Murphy on Twitter @jackmurphyrgr and Rod Rodriguez @rodpodrod.
A transcript of the episode can be found here.
Go to www.stripes.com use promo code PODCAST and save 50% on your digital subscription.
---
---
---
---