US military warns troops in South Korea to 'avoid the red' in new coronavirus policy
by
David Choi
Stars and Stripes
August 27, 2021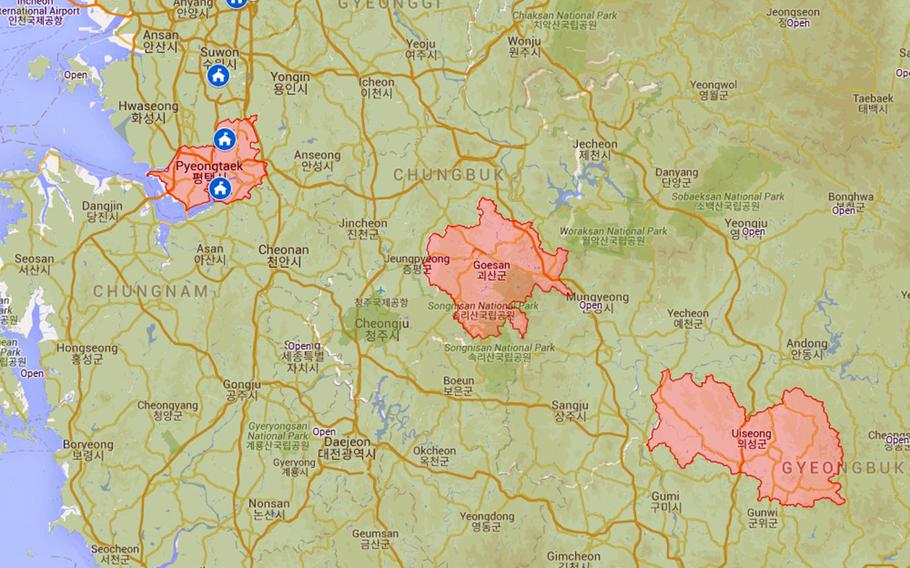 CAMP HUMPHREYS, South Korea — U.S. Forces Korea announced Friday it is implementing "a new method" for mitigating the coronavirus' spread while allowing service members to travel more freely across the peninsula.
USFK — the command responsible for about 28,500 U.S. troops in the country — is regulating travel to roughly 230 South Korean districts based on the number of COVID-19 cases in each area. Troops are prohibited from visiting districts with 50 or more confirmed COVID-19 patients per 100,000 people over a seven-day period, according to a press release.
Among the seven red-zoned areas is Pyeongtaek, home to a large concentration of troops at Osan Air Base and Camp Humphreys. The others are Gangnam and Yeongdeungpo in Seoul, Goesan, Uiseong, Uiryeong and Yeoncheon.
Those who live or work in these areas can travel freely within their district but are encouraged to "minimize activities to the greatest extent possible," the release said. The command is expected to update its incidence rate map on Wednesday evenings.
The new policy, which took effect Saturday, represents a more dynamic method of regulating travel on the peninsula during the pandemic, USFK spokesman Col. Lee Peters said in a Facebook video Friday. It allows service members to freely visit districts based on the rate of COVID-19 infections while limiting trips to a few "hotspot" areas.
Previously, USFK personnel were banned from traveling to wide-ranging areas in the country, such as the greater Seoul area. Those who have not been fully vaccinated are still prohibited from visiting bars, clubs, bathhouses and off-post gyms — even in districts with low incidence rates.
"Avoid the red," USFK tweeted Friday, referring to its map indicating restricted districts in South Korea. "When in doubt, mask up."
The Korea Disease Control and Prevention Agency reported 1,841 new coronavirus cases Friday, down from a daily high of over 2,220 cases earlier in August.
Over 80% of USFK personnel are fully vaccinated, the command said in a statement Monday, adding that it "remains at a high level of readiness" with less than 1% of its active-duty troops currently infected with COVID-19.