South Korea required troops to be vaccinated against COVID-19 before exercise with US military
by
David Choi
Stars and Stripes
August 16, 2021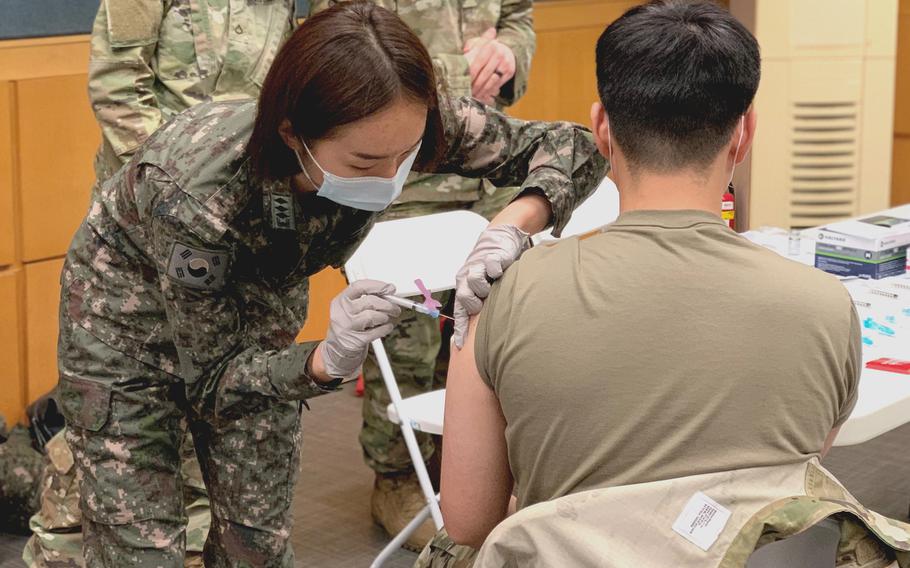 CAMP HUMPHREYS, South Korea — South Korean troops conducting a joint, computer-simulated exercise with their American counterparts were all vaccinated and tested for COVID-19 before training began, a military official said Monday.
A South Korean Ministry of National Defense official speaking on the customary condition of anonymity told Stars and Stripes that due to service members being in close proximity with each other, "it was very important for all of them to get vaccinated."
The two countries are conducting a combined command-post training Aug. 16 to 26. Rather than a large-scale field exercise involving thousands of combat troops, this exercise will primarily focus on computer simulations.
U.S. Forces Korea spokesman Col. Lee Peters, citing the command's policy, did not comment on whether American forces participating in the joint training were all vaccinated.
However, Peters said USFK "can reassure you that we remain aligned with [the defense ministry] on aggressive COVID mitigation measures including conducting training with minimal essential personnel and in distributed locations."
Less than 1% of USFK's force is currently confirmed to be infected with COVID-19 and it "remains at a high level of readiness," according to a command statement Monday. Over 80% of its community, including military spouses and civilian employees, are vaccinated.
Last year's exercise was canceled out of concern for the coronavirus' spread. During the Trump administration, the allies reduced the scale of the exercises as part of diplomatic efforts to convince North Korea to curb its development of nuclear weapons and missiles.
North Korea regularly rails against the joint military exercises and views them as a rehearsal of a military invasion of its country. Senior North Korean official Kim Yong Chol on Tuesday described the announcement of this year's exercise as an "unfavorable prelude further beclouding the future of the inter-Korean relations."
Over 93% of South Korea's 550,000 active-duty force had received at least one dose of a COVID-19 vaccine, a government spokesperson said Aug. 6. The vaccine is voluntary for South Korean troops; however, many of them are pressured by leaders to get inoculated. 
Seven U.S. service members tested positive for the coronavirus on Wednesday and Thursday and were relocated to isolation facilities, according to a USFK statement Friday. Five of the troops were stationed in Osan Air Base, one from Camp Hovey, and one from Camp Humphreys.
Ten USFK-affiliated individuals who recently arrived on the peninsula also tested positive between July 31 and Aug. 13, the command announced Monday.