US military base in Tokyo strictly curtails movements, activities for unvaccinated troops
by
Joseph Ditzler
Stars and Stripes
August 27, 2021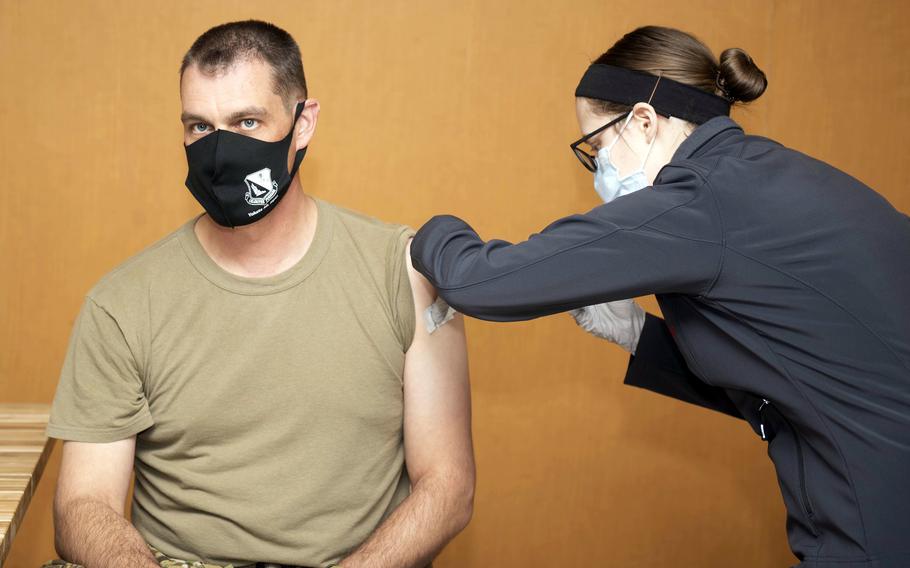 YOKOTA AIR BASE, Japan — Unvaccinated service members won't be allowed off this U.S. installation in western Tokyo until Sept. 9, according to an order from the base commander that took effect Friday.
The new policy also curtails activities by unvaccinated individuals on base, such as attendance at group events and use of the gym.
Base commander Col. Andrew Campbell imposed the order following a risk assessment of extremely high rates of COVID-19 in Japan, characterized by the delta variant, according to base spokeswoman Capt. Caitlin Mott.
"The Delta variant is more contagious than previous strains of the virus with varying levels of severity," she told Stars and Stripes in an email Friday. "This risk assessment called for our action to protect our community."
Japan's fifth wave of coronavirus is creating a record-breaking caseload, though the number of daily COVID-19 fatalities is about a fifth of what it was during the last extreme wave in January. Nearly 43% of the population is fully vaccinated.
Tokyo reported another 3,081 people with the coronavirus Sunday and 3,581 on Saturday, according to public broadcaster NHK and the metropolitan government. For a fifth and sixth consecutive day, the caseload was less than the week prior.
However, the number of severely ill in the capital is at the highest level of the pandemic and fell by one on Sunday to 296, NHK reported.
'Individual responsibility'
Campbell's order appears to be the most stringent restriction on the movement of unvaccinated individuals on any installation in Japan. Bases have permitted vaccinated people greater latitude to travel and engage in activities than unvaccinated members.
But this order goes a step further by restricting access to the surrounding communities.
Large events and social gatherings, including non-mission-essential events at base clubs, award ceremonies and similar activities, are off-limits to unvaccinated individuals. The fitness center is also off-limits.
Campbell's order also forbids unvaccinated visitors to the base, except those on official business or with permission from a sponsor's squadron commander or equivalent authority.
Mott did not comment directly on how the order would be enforced.
"These measures were set forth to protect our community both inside and outside the base," she said. "There is an individual responsibility that we all have to minimize the spread and life-threatening effects of this virus."
Campbell's order comes just days after Defense Secretary Lloyd Austin mandated all active-duty service members get vaccinated with the licensed version of the Pfizer two-dose vaccine. The U.S. Food and Drug Administration granted full approval to the Pfizer vaccine on Monday, the first coronavirus vaccine to attain that level.
The new restrictions were not timed to encourage vaccinations, according to Mott.
"However, we do assert that the vaccine is currently the most effective way to mitigate the COVID threat," she wrote. "It is our responsibility to protect the entire community in which we serve."
USFJ spokesman Maj. Tom Barger said Thursday the command has adequate supplies of the Pfizer vaccine to meet immediate demand.
Campbell's order also stiffens the mask requirement on base, and requires everyone wear masks in high-traffic, common-use areas "where co-mingling with non-familiar individuals … is likely."
The mask mandate does not apply to fully-vaccinated individuals at base indoor fitness facilities.
New military infections
U.S. installations in Japan reported 78 new COVID-19 cases between Aug. 21 and Friday.
Kadena Air Base on Okinawa reported 41, but provided no further information.
Yokota reported 22 new infections from the previous week.
One individual tested positive after arriving in Japan from the United States, the base announced on Friday. Another seven were already quarantined as close contacts. The remaining 14 were identified by public health authorities.
Yokosuka Naval Base, the 7th Fleet's homeport south of Tokyo, said 12 individuals had contracted COVID-19 since Tuesday.
Five were immunized, according to a base news release Friday. Two developed COVID-19 symptoms and three were discovered by contact tracing.
The remaining seven were not immunized. Two turned up during a medical screening and one during contact tracing. Three fell ill with COVID-19 symptoms. Two are base employees.
Naval Air Facility Atsugi, southwest of central Tokyo, had two people turn up positive, one after falling ill and the other after a pre-travel screening, according to a Friday news release.
Marine Corps Air Station Iwakuni, near Hiroshima, had one individual test positive who was not previously in restricted movement, the base announced Friday.